The Open Government Partnership (OGP) has launched an exciting new pilot program designed to more proactively involve subnational governments in the initiative. OGP is a 75 country partnership aiming to secure concrete commitments from governments to promote transparency, empower citizens, fight corruption and harness new technologies to strengthen governance. OGP is looking for subnational governments with committed political and working level reformers, and engaged and energetic partners in civil society, to take part in a pilot program designed to advance open government reform.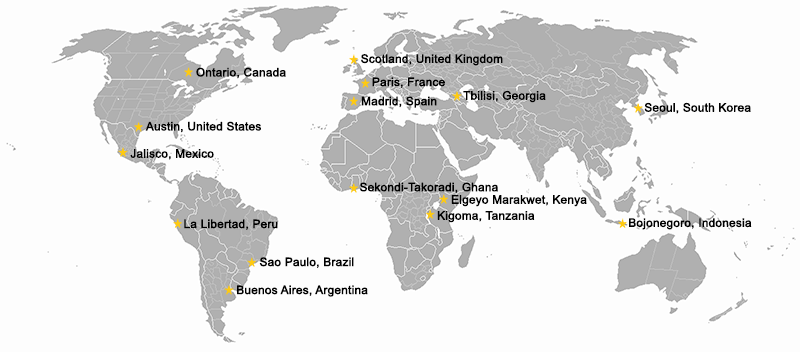 Pioneers' Tier Selected!
Austin, United States
Bojonegoro, Indonesia
Buenos Aires, Argentina
Elgeyo Marakwet, Kenya
Jalisco, Mexico
Kigoma, Tanzania
La Libertad, Peru
Madrid, Spain
Ontario, Canada
Paris, France
Sao Paulo, Brazil
Scotland, United Kingdom
Sekondi-Takoradi, Ghana
Seoul, South Korea
Tbilisi, Georgia
Pilot program | Steering Committee decisions | Background | Examples
Since its launch in 2011 OGP has worked with its 70 national government participants to develop over 100 action plans with over 2,500 specific reform commitments to open up government. These governments are using OGP to engage in peer learning and exchange with counterparts around the world, enabling the spread of new ideas and solutions to public policy challenges. OGP requires civil society organizations to be included in the co-creation of the reform commitments, meaning governments are also experimenting with new forms of open policy-making.
While OGP has learnt a lot about how to support participating governments to make ambitious commitments, share ideas and experience, and how citizens and civil society organisations are using OGP to spur change, the Steering Committee is keen to test new ways by which OGP can make progress and have an impact. The OGP pilot program for subnational governments is one way of doing that. There are numerous organisations and partnerships that work with subnational governments and we want to collaborate with them rather than try to reinvent the wheel. Conversations with some of them and people working in and around subnational governments indicate that there does seem to be space and demand for OGP to play a role and bring the model that is working nationally to a more local level.
The objectives of the pilot program are to:
Foster more diverse political leadership and commitment from different levels of government to OGP and to hold governments accountable at a local level, where many citizens are directly accessing services and information.
Learn how OGP can best support subnational governments in making their regions more open, accountable and responsive to their citizens and determine the best structure for subnational participation in OGP.
Discover and promote new and innovative open government techniques and practices emerging at the subnational level around the world.
Create practical opportunities for subnational governments to learn from each other, share experiences, and build upon the open government work of their counterparts.
Support and empower subnational government reformers with technical expertise and inspiration and create the right conditions and incentives for them to make concrete commitments to open government.
Broaden and deepen participation of civil society organizations (CSOs) in OGP.
Program features
Pioneers' tier
Fourteen subnational governments that are pioneers in open government have been invited to engage directly with OGP in a pilot program. Participants will receive dedicated assistance and advice from the OGP Support Unit and OGP Steering Committee to develop and fulfill independent open government commitments in action plans, in partnership with civil society organisations. They will actively contribute to peer learning and networking activities with other subnational governments.
During the pilot program the commitments and short action plans developed by the pioneers will be assessed by OGP's Independent Reporting Mechanism (IRM). The pilot will give OGP the opportunity to test and assess the IRM's capacity to act as the accountability mechanism for subnational government participation.
No further applications are being accepted for the pioneers' tier.
Leaders' tier
A larger network of subnational open government actors, both from civil society and local governments, that are interested in and/or already innovating around open government will be invited to participate in learning and networking events such as global and regional OGP summits. They will be encouraged to work with their national governments to develop and include subnational commitments in their respective national action plans. We are hoping this will result in an increase in the number of subnational open government commitments in national action plans by the end of the pilot period.
This approach allows us to test two methods for strengthening OGP engagement at the subnational level: first, developing specific subnational commitments on open government using OGP's existing model and support structure; and second, building a global network of subnational governments to foster peer learning and encourage closer involvement with national action plans.
Criteria
Eligible subnational governments for both tiers need to have a minimum population of 250,000 people and the national government of the country needs to be a current OGP participant.
Pioneers' tier applicants also need to:
Commit to respect the open government principles articulated in the Open Government Declaration.
Have commitment from the political leader of the subnational government and staff who can dedicate time to developing and implementing commitments in partnership with civil society.
Have a demonstrated track record of, or commitment to, open government, for example through open data, civic engagement, access to information, budget and fiscal transparency, participatory policymaking.
Express interest in receiving direct, institutional support from OGP to co-create commitments and advance their open government reform efforts.
Have experience of working positively with local civil society and a commitment to protecting civic space and engaging constructively with citizens outside government.
Have a willingness to share experience and insights with peers.
Are willing to take on a formal mentorship role with another subnational government after year one of the pilot program is complete.
As well as being assessed against these criteria, participants will be chosen to reflect different forms of subnational government and different stages of economic and social development.
How to apply to the Leaders' tier:
Leaders' tier:
If you work in or around a subnational government and are interested in being part of this wider network with access to peer learning activities and exchanges, advice and expertise, you should email Brittany Lane to express your interest.
For more information on how to apply, click here. En español, clic aquí.
STEERING COMMITTEE DECISIONS
At the July 2015 working level Steering Committee meeting a small group of members introduced a paper on subnational governments and OGP. This paper presented preliminary thoughts about how to engage subnational governments in OGP, what a pilot phase for this effort might entail, and how to showcase subnational open government innovations at the upcoming Global Summit.
Steering Committee members expressed strong support for this effort, noting that some of the most practical and innovative applications of open government are seen at a local level. Members recognized that OGP could consider various ways of engaging subnational governments, and that we should use a pilot period to understand the pros and cons of different approaches. Steering Committee members felt there was advantage in making sure the initial stages of this work were flexible enough to learn from, and adapt to, what is working.
A number of Steering Committee members volunteered to participate in a temporary task force to: update the issues and options paper; design the pilot phase; work on how to best use the Summit to advance this; and explore other opportunities or partnerships that could be useful.
In October 2015 the temporary task force presented the concept for the pilot and the Steering Committee agreed this resolution:
The Steering Committee commends the work of the subnational task force and agrees to the scope of the pilot program in the draft concept note. The Steering Committee supports the outlined concept, timeline and roadmap, and mandates the subnational task force to continue this work with any further changes to be circulated to the full Steering Committee. An update on the progress of the pilot program should be provided at the next Steering Committee meeting. The full Steering Committee will be responsible for decisions related to subnational engagement arising from the pilot program.
BACKGROUND AND EXAMPLES
Why should the OGP work with subnational governments?
Local governments are closer to the people and their work has a more direct impact on citizen's everyday lives than national level governments. With increased populations in urban areas come increasing demands for services and the need for more effective and responsive local level governments. But it's not just city governments that are facing new challenges that could benefit from the OGP's support. States, regions, provinces, and counties deliver crucial services, especially within federalized systems, where much of healthcare and education is administered at the state and local county levels. These subnational governments can often be more nimble than national level governments and are in closer proximity to the people they exist to serve. This makes the impact they can have through participating in OGP sizeable. They are also often inadequately resourced and thereby have a greater need for support.
Improved visibility of the types of open government initiatives happening at all levels of government will help OGP to better serve not just subnational but national level governments as well. Many innovations and open government reforms are happening at the local level. If, as a partnership, we fail to engage with subnational governments, we will miss out on crucial opportunities to learn about more innovative and effective open government reform programs. By engaging, we capitalize on opportunities to discover examples, share them, and better support both national and subnational governments in their reform efforts.
Subnational governments are in need of a mechanism to convene and support them in moving towards more open and accountable local governments. To our best knowledge, no other organization is actively working to specifically support subnational governments in their work to advance open government. While there are organisations that provide institutional support to strengthen local civil society chapters, their focus is on broader transparency efforts and not specifically geared to helping to build partnerships between local governments and CSOs to make their governments more open, accountable and responsive to citizens.
The case for subnational governments to engage with OGP
To derive inspiration and receive recognition for open government innovations and reforms at the local level. There is no existing international forum that brings together subnational governments to reward such efforts and document their impact on transparency, accountability and citizen engagement.
To learn from each other as part of a larger open government network. There is no existing network of open government reformers at the subnational level. Subnational governments could use the opportunity of becoming part of OGP to benefit from a peer-to-peer learning experience with other subnational government figures and civil society organizations championing similar open government reform.
To receive institutional support from an international partnership with a strong reputation in open government. OGP has developed a strong partnership of national governments and CSOs that combines the best practical knowledge on policies and practices related to transparency and open government, with a platform to reward and incentivize meaningful, measurable reform. Subnational governments could benefit significantly from this institutional support and network.
To learn new ways to make local governments run more openly and efficiently. Subnational governments want clear, concrete support to help their cities, states, provinces, and regions run better. Cities and other subnational governments around the world have been facing the challenge of trying to do more with less. Populations are increasing while many cities are facing budget shortages and ever-increasing demands from their citizens to provide services.
Increased global visibility and positive publicity. Just as national governments benefit from the global platform and visibility associated with joining OGP, subnational governments would receive the same benefits. Engaging subnational governments and civil society organizations in OGP increases international exposure and visibility for reform-minded mayors, governors, and local civil society leaders. Many of these subnational governments and their civil society counterparts aspire to be global actors pioneering local solutions to global problems. OGP can highlight and amplify these efforts in the international domain.
The rationale laid out above for engaging subnational governments does not by any means diminish the value of supporting national level governments. Many national level institutions have a far-reaching impact and create overarching policy frameworks that have a very real effect on people's lives. Moreover, national level governments can serve as open government leaders for their respective countries, exerting influence, paving the way, and supporting other institutions through leading by example. The aim of the subnational pilot program is to complement and reinforce these national efforts.
EXAMPLES
1. Mexico City: Institutionalizing Innovation and Citizen-Centered Programs
At 21 million people, Mexico City is the biggest city in the western hemisphere and larger than most countries in the world. The challenges of implementing open government reforms in this context are immense but global cities like Mexico City are poised to take the lead on issues that nation-states would have tackled in the past. For example, elected in 2012, Mayor Miguel Angel Mancera founded the Laboratorio Para la Ciudad (Mexico City Government Innovation Lab), which is run as a creative think tank to institutionalize innovation inside city government. The Lab recently spearheaded an open government law for the city that encourages residents to participate in the design of public policies and requires that city agencies take their suggestions into account. The city also collaborated with students through the "Yo Propongo" initiative in which students took tablets out into the community to find out more about people's problems. These conversations informed the city's four year policy agenda, helping Mexico City to be more citizen-centered and were used to improve their policies.
Mexico City's "Lab" is also home to Codigo DF (Code for Mexico City), a program that pairs technology fellows with Mexico City government departments where they work in partnership to use technology to devise solutions to problems facing city residents. For example one fellow created an application that pulls from the city's taxi registration data to help residents to differentiate between legal and illegal taxis, empowering them to make smarter and safer transportation decisions. Another fellow created a website that aggregates the multitude of policies and requirements that drivers must abide by to do their part in mitigating Mexico City's high pollution rates by allowing citizens to input their vehicle information and receive tailored compliance information. By making this data actionable and putting the citizen at the center of the experience, Verificalo makes it vastly easier for citizens to comply with clean air regulations and helps Mexico City mitigate air pollution.
2. The Philippines Seal of Good Local Governance Program (The Seal): Incentivizing Local Governments to be More Transparent and Better Serve their Residents
Many national level governments have also taken important strides to advance open government reform work at the local level in their countries. Using a comprehensive indicator assessment and performance-based grants incentive system, the Philippines "Seal of Good Local Governance" (The Seal) program aims to: 1. Improve government service delivery by fostering openness and participation; and 2. Improve the capacity of local governments.
To confer the Seal, a total of 1,676 civil society organizations assess 1,715 provincial, city and municipal governments based on a set of criteria that fall under six umbrella areas: (1) Financial Good Housekeeping; (2) Disaster Preparedness; (3) Social Protection, (4) Business Friendliness and Competitiveness; (5) Peace and Order; and (6) Environmental Management. To make assessment possible, local government must first open up their information. As a result of the program today more than 90% of 1715 provincial, city and municipal governments regularly upload their financial documents to a "Full Disclosure Policy Portal," which can be viewed and downloaded by citizens at anytime. Local governments who meet the program's criteria are conferred with the Seal and can then access incentive packages, such as grants and loans from financing institutions to implement projects in support of the Millennium Development Goals. Through performance-based grants such as these, around 15,000 development projects amounting to $1.2 billion dollars were implemented across 1,500 local governments.
The program has had significant results on local governments. For example, in 2009, before the program was implemented, 480 local governments obtained "adverse financial audit findings." In 2013, this number was reduced to only 120, a 75% decrease. Moreover, access to some services at the local level has also improved considerably. For instance, before the implementation of the scaled-up Seal in 2013, only 56% of city and municipal governments offered complete maternal care services, compared to 67% a year after the program began. As a further testament to the Seal's usefulness, banks and many government agencies are now using it as a requirement for local governments to access development loans, grants and programs.
3. Amsterdam 'Indische Buurt' Neighborhood: Participatory Budgeting at the Very Local Level
Since the City of Porto Alegre, Brazil, pioneered participatory budgeting, many governments have used the practice to engage residents in an action-oriented way at the local level. The City of Amsterdam took this one step further when it piloted a one year participatory budgeting project not just at the city but at the neighborhood level in IndischeBuurt, where they found that localizing a program to that degree was a very effective way to get citizens involved. Upon being informed of the pilot program and that they would have a say in the allocation of public money, local residents who were previously uninvolved in neighborhood activities began to emerge in high numbers. They were then trained in budget practices so that they could most effectively contribute to the new collaborative form of budget allocation and monitoring.
The trained pilot groups began by commenting on the municipality's 2013 'perspective paper and proposed budget,' complemented by an array of facts and figures that the local authorities displayed by creating a website, organized by neighborhood. The community members also produced their own perspective paper detailing their priorities for the neighborhood of IndischeBuurt. For example, while studying the budget, the community members discovered that there had been under spending on youth and education, as compared to official reports and municipal plans. The group worked jointly with their local government counterpart to create new programs for youth and education in the neighborhood.
4. New Orleans: Using Live Data to Address Abandoned Buildings
The city of New Orleans has long faced problems with blighted, abandoned, and derelict properties (problems made worse in the wake of Hurricane Katrina in 2005). Broken windows, caved-in roofs, and abandoned buildings have a negative effect on the way residents think and feel about their city. These — and other symptoms of blight — are more than just eyesores. Blight becomes everyone's problem when it leads to increased crime and lower property values throughout neighborhoods. This is a problem faced by many cities across the world. After Hurricane Katrina hit, the city of New Orleans had 35,000 abandoned properties and no restoration tracking system to address them. Original estimates made the creation of such a system a 3-year multimillion-dollar project.
To tackle this problem, the City of New Orleans partnered with the non-profit technology organization Code for America to create a public-facing web platform to help residents report on new properties and track those already being processed by the city's enforcement system. By merging live data from across multiple city departments into a simple interface, this newly created web platform, BlightStatus, helped to tell clear stories about individual properties, and what was being done to deal with them, in a way that anybody could understand. The platform kept citizens informed and equipped city officials with the data they needed to tackle the problem in an efficient and data-driven manner, saving the city millions of dollars.