The Next Level: Open Contracting in Ottawa
He fled from the Taliban when he was 16. With little knowledge of English, he arrived in the UK and was barely granted asylum. With determination, he convinced a university to give him a chance and went on to become a successful civil engineer in London before returning home to Afghanistan to help rebuild his country.
Speaking from the stage at the Ottawa OGP Summit, Yama Yari had the open government audience mesmerized as he described his remarkable path from a Taliban target to becoming Afghanistan's youngest government minister. He has an outstanding track record of achieving results, leading what he describes as the biggest institutional reform in Afghanistan's recent history, despite facing regular threats from powerful vested interests and warlords.
Open contracting was at the core of his reforms as he led a newly-established National Procurement Agency to stop the money hemorrhaging from the Afghan budget. He's now merging five transport agencies to rebuild the war-torn country's air, road and rail infrastructure. Reforms that he has overseen have saved over $500 million, helped blacklist 100 fraudulent firms, and for the first time in 17 years, the public works ministry is spending 98% of its budget.
Yama Yari is one of the rockstar reformers in our growing open contracting community, working to open up public contracts and improve public services around the world. The Summit was also the perfect moment for us to celebrate that community and launch our new strategy.
Our vision is to transform public contracting. Transparency was the right place to start, but it would be the wrong place to stop. Our partners told us to work more politically, shape incentives better, and push for more sustained use and quality of the data to make sure the feedback loop gets closed, and to bring in new allies like journalists and business.
We know that open contracting can be transformational. We had a great example of this with Ukraine's Prozorro reforms, which won the Open Government Award in 2016 (and saved the country over $1bn and counting). And other open contracting reformers continue to push themselves and the Open Contracting Partnership (OCP) to aim for ambitious goals. But we also know that change is hard and requires many political elements to align.
Our new strategy is shaped around those issues and around supporting more agile, performance-driven reforms to public contracts. In the table below, you can see what we've learned to gain more impact, more reliably. Tell us what you think – we are always in the market for smart ideas.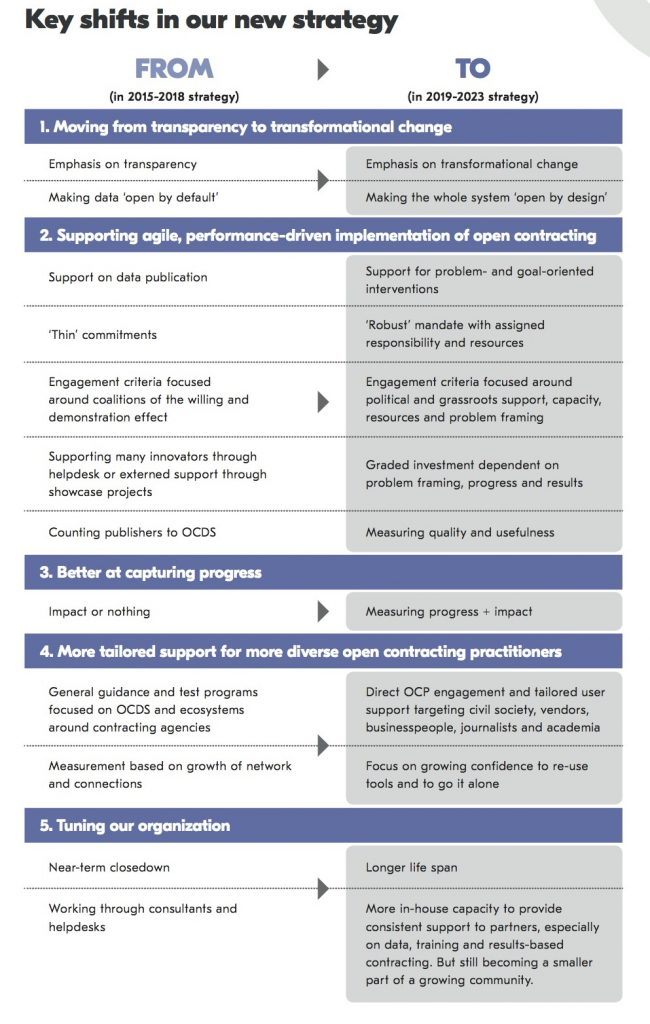 More generally, open contracting was buzzing at the Ottawa summit with more than twenty crowded sessions and events during the week, including the launch of a new local-level reformer network led by Hivos.
The growing diversity and depth of the open contracting community and the potential for real impact on everyday goods and services to citizens is framed very nicely by the OGP's new Global Report, which summarizes some of the impressive developments we saw over our first four years at OCP.
And while it was nice to learn whether the Prime Minister of Canada prefers The Weeknd over Drake, I'd have preferred to hear more about the lessons learned from the SNC Lavalin affair and the two to three other big contracting scandals in Canada at the moment. The Canadian government is just starting to move on open contracting and should step up on beneficial ownership reforms as well.
According to OGP's Independent Reporting Mechanism, open contracting commitments achieve better results compared to others. More than two of every five open contracting commitments achieved significant changes in levels of transparency in procurement. This is more than double the rate of "successful" commitments overall.
We need to not only sustain that hit rate but raise it further to real systemic impacts.
That transformation requires a bold vision and the courage to go up against vested interests. Elite private interests are still all too common, as Mukelani Dimba, the new OCP Vice Chair pointed out in Ottawa, and "poor public procurement systems are either the entry points or enablers for state capture by private interests." Backroom deals and divvying up secret government contracts are the epitome of closed government and dubious public spending.
As we shut the door on vested interests, we must open another one to a new, more diverse marketplace. Governments spend a third of their money buying goods and services from the private sector, but women-owned businesses supply only 1% of this market. This needs to change as our colleague Hera Hussain made clear from the main stage this year when she launched OGP's inspiring campaign #BreaktheRoles to ensure that gender and inclusion is embedded across OGP. Inclusion is fundamental for fair and effective procurement and a key part of our strategy.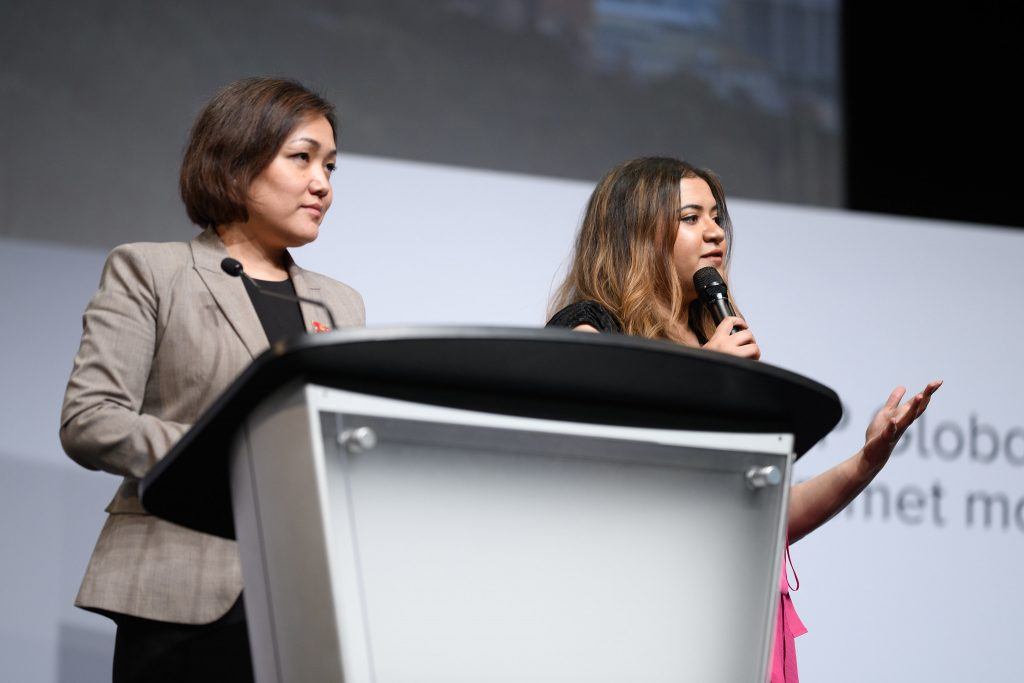 Hera Hussain (OCP) and Kyrgyz Parliamentarian Aida Kasymalieva launching the Break the Roles campaign at the OGP Global Summit in Canada.
Open contracting must bring benefits for everyone, redistribute power, and build new alliances. At the OCP strategy launch, our new Chair, Sally Hughes, who leads the Global Contract Management Association, said that to deliver on our new vision, "requires a partnership built on honesty, fairness, openness. A readiness to change. A willingness to trust."
The next step for us is to continue to put all these lessons into practice. To that end, we are launching a bold new program – Open Contracting Lift – that will help your work achieve more impact, sooner. It will help teams of bold procurement reformers propel their ambitious plans towards systemic change. We want to help you go further and empower you to turn your vision into reality. Keep an eye out for the official launch on 1 July.
Public contracts matter. Yama Yari's story inspires us so much because it's a reminder that opening up contracts can bring about real change for people. Public contracting is the perfect vehicle to deliver on the promise of smarter, more open and more responsive government. To achieve that impact, reforms need consistent leadership and a relentless focus on moving the ball ever forward. We are stoked about the growing number of partners who are joining us to double down and deliver on that promise. We can't wait to dive in with you all to realize this ambitious vision while learning from setbacks and celebrating progress on the way.
Escapó del régimen Talibán cuando tenía 16 años. Llegó al Reino Unido hablando poco inglés y ahí consiguió que le dieran asilo. Logró convencer a una universidad que le diera la oportunidad de estudiar ingeniería civil en Londres y finalmente regresó a Afganistán para ayudar a reconstruir su país.
En el escenario, durante la Cumbre de OGP de Ottawa, Yama Yari cautivó a la audiencia mientras contaba su historia, relatando cómo pasó de ser un blanco del Talibán al ministro de gobierno más joven de Afganistán. Con un historial extraordinario de resultados, lideró lo que él describe como la reforma institucional más importante de la historia reciente de Afganistán, a pesar de ser amenazado constantemente por personas con intereses y caudillos.
Como cabeza de la nueva institución nacional de procuración, la contratación abierta fue el centro de sus reformas, pues buscaba proteger el dinero que se perdía del presupuesto afgano. Actualmente está trabajando en fusionar cinco agencias de transporte para reconstruir la infraestructura aérea, de caminos y ferroviaria que había sido dañada por la guerra. Las reformas que supervisó han resultado en ahorros de más de US$500 millones, ayudó a poner en una lista negra a 100 empresas fraudulentas y, por primera vez en 17 años, el ministerio de obras públicas está gastando el 98% de su presupuesto.
Yama Yari es uno de los reformadores estrella de nuestra – cada vez más grande – comunidad de contratación abierta que está trabajando en abrir los contratos y mejorar los servicios públicos de todo el mundo. La cumbre fue el momento perfecto para celebrar nuestra comunidad y lanzar nuestra nueva estrategia.
Nuestra visión es transformar la contratación pública. La transparencia fue un buen inicio, pero no debemos parar ahí. Nuestros socios nos pidieron trabajar más a nivel político, diseñar mejores incentivos e impulsar un uso más constante y una mayor calidad de los datos para asegurar la retroalimentación e incorporar a nuevos aliados como los periodistas y el sector privado.
Sabemos que la contratación abierta puede ser transformacional. Tenemos un ejemplo excelente de ello con las reformas de Ucrania de ProZorro que ganaron el premio de gobierno abierto en 2016 (y que le han ahorrado al país más de US$1000 millones hasta la fecha). Existen muchos otros reformadores de contratación abierta que siguen esforzándose en alcanzar sus objetivos ambiciosos. Pero sabemos que es difícil lograr cambios y que requieren de la alineación de muchos elementos políticos.
Nuestra nueva estrategia está enmarcada en esos temas y en el apoyo a reformas más ágiles y enfocadas en el desempeño. En la siguiente tabla presentamos nuestras lecciones aprendidas para lograr más impactos de manera más confiable. Dinos qué opinas, siempre estamos buscando buenas ideas.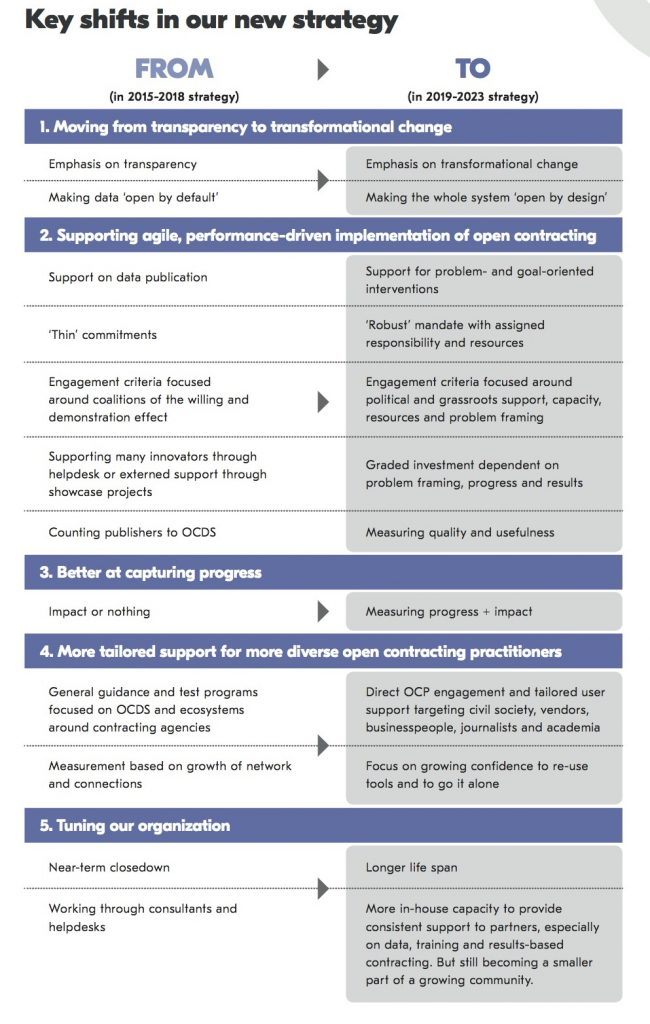 En general, la contratación sonó mucho en la Cumbre de Ottawa, con más de 20 sesiones y eventos muy concurridos, incluyendo el lanzamiento de una nueva red de reformadores a nivel local que lideró Hivos.
La creciente diversidad y profundidad de la comunidad de la contratación abierta y el potencial de impactos reales en los bienes y servicios que reciben los ciudadanos se refleja en el informe global de OGP, el cual resume algunos de los avances más impresionantes que hemos visto en los primeros cuatro años de OGP.
Aunque fue interesante escuchar que el primer ministro de Canadá prefiere The Weekend en lugar de Drake, hubiera preferido escuchar sobre las lecciones aprendidas en el asunto de SNC Lavalin y de los dos o tres escándalos de contratación que están sonando en Canadá en este momento. El Gobierno de Canadá está empezando a avanzar en la contratación abierta y debería también redoblar sus esfuerzos de beneficiarios reales.
Según el Mecanismo de Revisión Independiente de OGP, los compromisos de contratación abierta han logrado mejores resultados que los de otros temas. Más de dos de cada cinco compromisos de contratación abierta han logrado cambios en los niveles de transparencia en los procesos de procuración. Esto es más del doble de la calificación que reciben los compromisos en total.
Necesitamos no solo sostener este resultado, sino mejorarlo para lograr impactos sistémicos reales.
La transformación requiere de una visión audaz y de la valentía que requiere luchar contra los intereses. Los intereses privados son muy comunes, como Mukelani Dumba, nuevo vicepresidente de OCP señaló en Ottawa y "los sistemas de procuración pública pobres son los puntos de entrada o facilitan los intereses privados". Los acuerdos oscuros y la división de gobiernos de contrato en secreto son el epítome de los gobiernos cerrados y del uso opaco de recursos.
Además de cerrarle la puerta a los intereses, debemos abrirla a un nuevo mercado más diverso. Los gobiernos gastan un tercio de sus recursos adquiriendo bienes y servicios del sector privado, pero las empresas de mujeres solamente tienen 1% de participación en este mercado. Esto tiene que cambiar, como lo mencionó nuestra colega Hera Hussain en el escenario principal este año cuando lanzó la campaña de OGP #BreaktheRoles para asegurar que el género y la inclusión estén integrados en todos los procesos de OGP. La inclusión es fundamental para la procuración justa y efectiva y una parte clave de nuestra estrategia.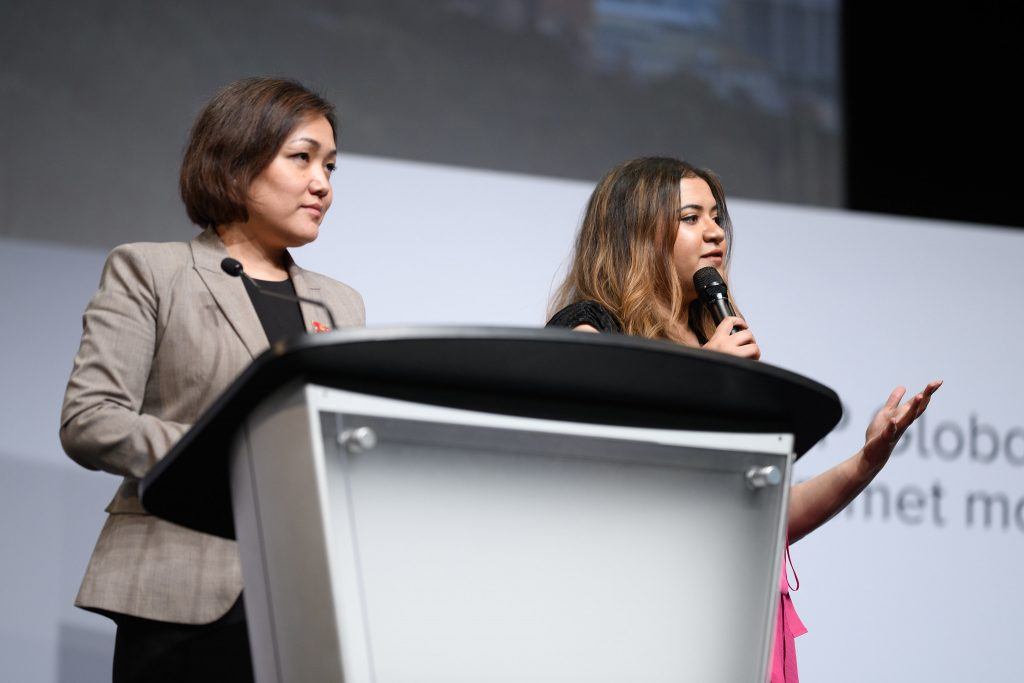 Hera Hussain (OCP) y la Parlamentaria de la República Kyrgyz Aida Kasymalieva lanzan la campaña de Break the Roles en la Cumbre Global de OGP en Canadá. 
La contratación abierta debe generar beneficios para todas las personas, redistribuir el poder y establecer nuevas alianzas. En el evento de lanzamiento de la nueva estrategia de OCP, nuestra nueva presidenta, Sally Hughes, quien lidera la Global Contract Management Association, dijo que para alcanzar nuestra visión "requerimos de una alianza construida en la confianza, justicia y apertura. Lista para cambiar. Dispuesta a confiar."
El siguiente paso es seguir implementando estas lecciones. Para ello, estamos lanzando un nuevo programa – Open Contracting Lift – que te ayudará a lograr que tu trabajo tenga más impacto en menos tiempo. Ayudará a los equipos de reformadores de procuración a impulsar sus planes hacia un cambio sistémico. Queremos ayudarte a ir más allá y empoderarte para lograr que tu visión sea una realidad. El primero de julio será el lanzamiento oficial.
Los contratos abiertos importan. La historia de Yama Yari es tan inspiradora porque nos recuerda que abrir los contratos es una acción que puede lograr cambios verdaderos para la gente. La contratación abierta es un vehículo perfecto para cumplir con la promesa de un gobierno más inteligente, abierto y responsable. Para ello, las reformas necesitan de un liderazgo constante y un enfoque incesante para seguir impulsando el movimiento. Estamos muy emocionados por ver que cada vez más personas se unen para cumplir esa promesa y estamos preparados para trabajar contigo para alcanzar esta visión, aprender de nuestros fracasos y celebrar nuestros avances.
Related Content
Advancing Thematic Priorities
Advancing Thematic Priorities
Anti-Corruption: Open Contracting
Anti-Corruption: Open Contracting
Open Contracting Fact Sheet
Open Contracting Fact Sheet