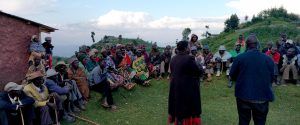 Inclusive Contracting in Elgeyo-Marakwet, Kenya
Lessons from Reformers: Although Kenya requires that 30% of procurement opportunities be allocated to women, youth, and people with disabilities, these groups still face significant obstacles in the procurement market.
Lecciones de los Reformadores: Si bien Kenia exige que el 30% de las oportunidades de contratación se asignen a mujeres, jóvenes y personas con discapacidad, estos grupos aún enfrentan obstáculos importantes en el mercado de contrataciones.
Leçons à Tirer des Réformateurs : Bien que Kenya exige que 30 % des marchés publics soient octroyés aux femmes, aux jeunes et aux personnes handicapées, ces groupes rencontrent toujours des obstacles importants dans ce secteur.