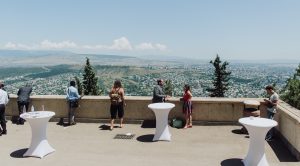 A Decade Towards Open Governance: The Latest OGP Results from the Eastern Partnership Countries
Armenia, Georgia, the Republic of Moldova, and Ukraine - joined OGP in 2011. Though different in many ways, these countries shared a strong incentive to use their participation in OGP to address Soviet legacies of opaque and highly centralized governance.
Armenia, Georgia, Moldavia y Ucrania, se incorporaron a OGP en 2011. Aunque son diferentes en muchos sentidos, estos países comparten el incentivo de utilizar su participación en OGP para atender la herencia soviética de la gobernanza opaca y altamente centralizada.