The Republic of Korea hosted the 2021 Open Government Partnership (OGP) Global Summit in Seoul and virtually December 15-17, 2021.
Heads of State and Government Address the Open Gov Community at the 2021 OGP Global Summit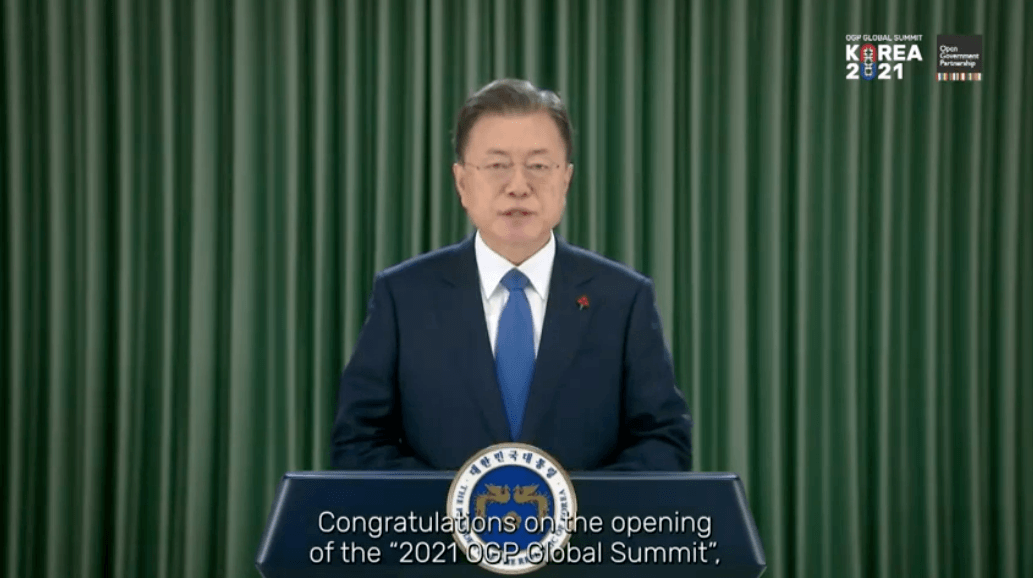 President Moon Jae-in (Republic of Korea)

 Prime Minister Justin Trudeau (Canada)

 Presidente Guillermo Lasso Mendoza (Ecuador)

 Prime Minister Kaja Kallas (Estonia)

 President Emmanuel Macron (France)

 Prime Minister Irakli Garibashvili (Georgia)

 President Joko Widodo (Indonesia)

 President Uhuru Kenyatta (Kenya)

 Head of Government Aziz Akhannouch (Morocco)

 President Muhammadu Buhari (Nigeria)

 Prime Minister Denys Shmyhal (Ukraine)

 U.S. President Joe Biden (United States of America)
Similar to recent and upcoming global gatherings, such as the 2020 and 2021 UN General Debates, OGP minister and local leaders were invited to send short written or pre-recorded video statements to be presented during the Summit on the OGP website. See the submitted statements below.
Key: VIDEO

LETTER

NATIONAL
Brazil


Burkina Faso


Colombia


Chile


Côte d'Ivoire


Czech Republic


Dominican Republic


Ecuador


Ghana


Ireland


Jamaica


Jordan


Montenegro


Morocco


New Zealand


Norway


Panama


Paraguay


Philippines


Portugal


Romania


Serbia


Spain


United States


Uruguay

LOCAL
Abuja, Nigeria


Banggai, Indonesia


Banská Bystrica, Slovakia


Basque Country, Spain


Buenos Aires, Argentina


Córdoba (Province), Argentina


El Kef, Tunisia


Gwangju, South Korea


Jalisco, Mexico


Kaduna, Nigeria


Khmelnytskyi, Ukraine


Madrid, Spain


Palermo, Italy


Peñalolén, Chile


Quintana Roo, Mexico


Quito, Ecuador


Rosario, Argentina


Santa Catarina, Brazil


Santo Domingo de los Tsáchilas, Ecuador


São Paulo, Brazil


Shama, Ghana


Tangier-Tetouan-Al-Hoceima, Morocco


Tirana, Albania


West Nusa Tenggara, Indonesia