About OGP
Read OGP's most recent Annual Report here.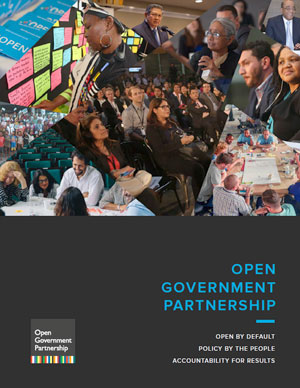 • Read our new brochure to find out more!
• ¡Lea nuestro nuevo folleto para más información!
• Lisez notre nouvelle brochure pour plus d'informations!
• Lesen Sie unsere neue Broschüre für weitere Informationen! (Unofficial Translation / Inoffizielle Übersetzung)
WHAT IS THE OPEN GOVERNMENT PARTNERSHIP?
Open Government Partnership brings together government reformers and civil society leaders to create action plans that make governments more inclusive, responsive and accountable. In the spirit of multi-stakeholder collaboration, OGP is overseen by a Steering Committee including representatives of governments and civil society organizations.
To become a member of OGP, participating countries must endorse a high-level Open Government Declaration, deliver a country action plan developed with public consultation, and commit to independent reporting on their progress going forward.
The Open Government Partnership formally launched on September 20, 2011, when the 8 founding governments (Brazil, Indonesia, Mexico, Norway, the Philippines, South Africa, the United Kingdom and the United States) endorsed the Open Government Declaration and announced their country action plans. Since 2011, 79 OGP participating countries and 20 subnational governments have made over 3,100 commitments to make their governments more open and accountable.
RELATED