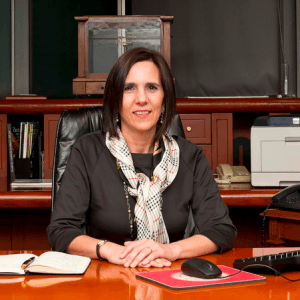 Dra. Lourdes Melgar Palacios
Dr. Lourdes Melgar was appointed Undersecretary of Hydrocarbons for the Secretariat of Energy by President Enrique Peña Nieto on 5 February 2014 and named to the Board of Directors of Petróleos Mexicanos (PEMEX) on 7 October 2014. Prior to this, she worked as Undersecretary of Electricity, a position she began on 12 December 2012. She was Director General of International Affairs from 1998 to 2002.
She has worked as an independent consultant in the area of energy for international organizations such as the World Bank and the Inter-American Development Bank, as well as for various Mexican companies. Between 1993 and 2007 she occupied a number of positions related to Mexican foreign relations.
In the academic arena, she was founding director of the Center for Sustainability and Business at the EGADE Business School at the Monterrey Institute of Technology, as well as a visiting researcher at the Woodrow Wilson International Center for Scholars and at the Center for International Energy and Environmental Policy at the University of Texas at Austin. She has authored academic articles on energy security and sustainable development, transboundary deposits, and the transition to a low-carbon economy. The National Council of Science and Technology (CONACYT) has designated her a Level I National Researcher.
In 2014 she was elected vice-president of the Mexican chapter of the International Women's Forum, and since 2007 she has been a member of the Mexican Council on Foreign Relations. In 2012 the magazine Petróleo y Energía presented her with the Recognition of Achievement in Energy award for her academic and scientific work.
She did her undergraduate studies at Mount Holyoke College and obtained a doctorate in Political Science, with a focus on Political Economy, from MIT.
Fue nombrada por el C. Presidente de la República, Lic. Enrique Peña Nieto, como Subsecretaria de Hidrocarburos de la Secretaría de Energía, el 5 de febrero de 2014, y como Consejera del Consejo de Administración de Petróleos Mexicanos, el 7 de octubre de 2014. Previamente se desempeñó como Subsecretaria de Electricidad, cargo que ejerció a partir del 12 de diciembre de 2012 y fue también Directora General de Asuntos Internacionales, de 1998 a 2002.
Fue consultora independiente sobre temas energéticos para organismos internacionales como el Banco Mundial y el Banco Interamericano de Desarrollo, así como para diversas empresas mexicanas. Entre 1993 y 2007, ocupó diversos puestos dentro de la diplomacia mexicana.
En el ámbito académico, fue Directora Fundadora del Centro de Sostenibilidad y Negocios de la EGADE Business School México del Tecnológico de Monterrey, así como investigadora visitante en el Woodrow Wilson International Center for Scholars y en el Center for International Energy and Environmental Policy de la Universidad de Texas. Es autora de diversos artículos académicos sobre seguridad energética y desarrollo sustentable, yacimientos transfronterizos y transición hacia una economía baja en carbono. Cuenta con la distinción de Investigador Nacional Nivel I del Sistema Nacional de Investigadores del Consejo Nacional de Ciencia y Tecnología (CONACYT).
En 2014 fue electa vice-presidenta del Capítulo México del International Women Forum. Es miembro del Consejo Mexicano de Asuntos Internacionales desde el año 2007. Recibió el Reconocimiento al Logro Energético 2012, por su Trayectoria Académico-Científica, otorgado por la revista Petróleo y Energía.
Es egresada del Mount Holyoke College y cuenta con un doctorado en Ciencia Política, con especialidad en economía política, por el Instituto Tecnológico de Massachusetts (MIT).