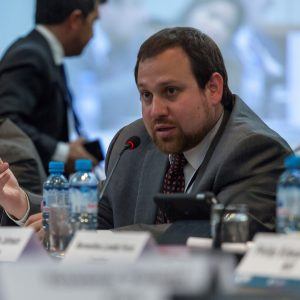 Federico Sosa Otero
Open Government Director General, Government of Paraguay
fsosa@stp.gov.py
Mr. Sosa Otero is the Director General of the Open Government General Directorate in the Ministry of Technical Planning for Economic and Social Development of Paraguay.
Mr. Sosa Otero is responsible for monitoring the implementation of Paraguay's Third National Action Plan for Open Government, for the period 2016-2018 and will be responsible for efforts leading up to the development of Paraguay's Fourth National Action 2018-2020. Paraguay's Third NAP comprises 10 goals, with 62 commitments, and is being implemented by 26 different government institutions, included the STP. It was co-created with the assistance of more than a dozen of CSOs and 600 individuals provided input.
Mr. Sosa Otero took the helm of the Directorate in December 1st and since then has imprinted a fresh approach to Paraguay's Open Government activities, leading new outreach efforts with Civil Society and convincing Paraguay's STP and Ministry of Foreign Affair's leadership of the benefits of having Paraguay run for the first time for the Open Government Alliance Steering Committee.
Mr. Sosa Otero is also the STP's lead point person in Paraguay's involvement with the Organization for Economic Cooperation and Development (OECD) and its work with its several committees. He is supervising Paraguay's ongoing Public Governance Review and Multi Country Dimensional Review multiple-year studies. Paraguay recently acceded to OECD's Development Center on March 1st.
Prior to joining the STP, Mr. Sosa Otero worked for six years in the U.S. Embassy in Asuncion, Paraguay, first as the Information Resource Center Director (2009-2011) in the Public Diplomacy section and secondly as the local Political Specialist in the Pol Econ Section (2011-2016). In his later role, Mr. Sosa Otero worked on the Human Rights, Child and Forced Labor, Religious Freedom and Trafficking in Persons Report and also assisted in the monitoring of the 1st and 2nd NAP plans since 2011.
Mr. Sosa Otero earned a Bachelor of Arts Degree in Economics and Political Science, with a concentration in Latin American Studies from Williams College in 2004 and earned a Masters in Business Administration degree from the American University in Asuncion, Paraguay. He is fluent in English, Spanish, Portuguese, Italian and Guarani.
/ / /
El Sr. Sosa Otero es el Director General de la Dirección General de Gobierno Abierto del Ministerio de Planificación Técnica para el Desarrollo Económico y Social del Paraguay. El Sr. Sosa Otero es responsable de monitorear la implementación del Tercer Plan de Acción de Gobierno Abierto (PAGA) del Paraguay para el período 2016-2018 y es responsable del desarrollo del Cuarto Plan de Acción de Gobierno Abierto 2018-2020 del Paraguay. El Tercer PAGA de Paraguay comprende 10 metas, con 62 compromisos, y está siendo implementado por 26 instituciones gubernamentales diferentes, incluyendo la STP.
El Sr. Sosa Otero asumió la dirección de la Dirección en diciembre 2016 y desde entonces ha imprimido un nuevo enfoque a las actividades del Gobierno Abierto de Paraguay, liderando nuevos esfuerzos de divulgación de acciones con la Sociedad Civil y convenciendo a las autoridades de la STP y al Ministerio de Asuntos Extranjeros de los beneficios de que Paraguay se postule por primera vez al Comité Directivo de la Alianza Abierta de Gobierno. Aunque Paraguay no fue electo, fue uno de los países que más votos recibieron de sus pares. El Sr. Sosa Otero es también coordinador en la STP de la participación de Paraguay en la Organización para la Cooperación y el Desarrollo Económico (OCDE) y en su trabajo con varios comités y varios estudios de la OCDE, entre ellos el PGR y el MCDR.
Antes de unirse al STP, el Sr. Sosa Otero trabajó durante siete años en la Embajada de los Estados Unidos en Asunción, Paraguay, primero como Director del Centro de Recursos de Información (2009-2011) en la sección de Diplomacia Pública y segundo como Especialista Político en la Sección Política – Económica (2011-2016). En su cargo anterior, el Sr. Sosa Otero trabajó en el Informe del Departamento de Estado de los EE.UU. sobre Derechos Humanos, Trabajo Infantil y Trabajo Forzoso, Libertad Religiosa y Trata de Personas.
El Sr. Sosa Otero obtuvo una Licenciatura en Ciencias Económicas y Ciencias Políticas con una concentración en Estudios Latinoamericanos de la Universidad de Williams College en Estados Unidos en 2004 y recibió una Maestría en Administración de Empresas de la Universidad Americana de Asunción, Paraguay. Habla con fluidez inglés, español, portugués, italiano y guaraní.