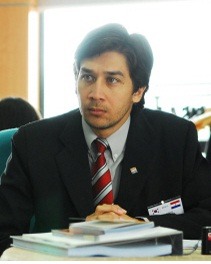 Jorge Galeano Paredes
Jorge represents the Open Government Board that consists of government and non-government organizations to guarantee social participation in the design, implementation and monitoring of Action Plans. He serves from the Open Government Unit of the Technical Secretariat for Planning for Socioeconomic and Development Planning (STP). He worked as the Paraguayan representative at the regional meetings in Chile 2013 and Costa Rica 2014, where he presented the Paraguayan process of international participation. Jorge was the General Secretary at STP during 2004-2005 and 2010-2014.
~~
Desde la Unidad de Gobierno Abierto de la Secretaría Técnica de Planificación del Desarrollo Económico y Social (STP) es el representante en la Mesa Conjunta de Gobierno Abierto conformada entre organizaciones gubernamentales y organizaciones no gubernamentales para garantizar la participación en el diseño, implementación y seguimiento de los Planes de Acción. Actuó como representante paraguayo en los Encuentros Regionales de Chile 2013 y Costa Rica 2014 donde le tocó exponer detalles del proceso paraguayo de participación en la instancia internacional. Anteriormente se desempeñó como Secretario General de la STP en los periodos 2004-2005 y 2010-2014.