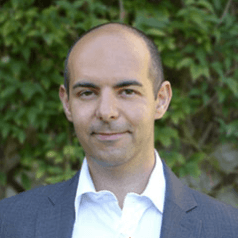 Lancelot Pecquet
Lancelot Pecquet helps organizations find their way and evolve in a fast-changing world. After working about ten years as a researcher in mathematics and computer science in France, USA and Australia, he became a management consultant in 2006 and founded a strategy consultancy in 2011.
Lancelot teaches strategy and new digitally enabled approaches for companies, public actors and civil society organizations, in various academic institutions such as the Paris Institute of Political Studies (Sciences Po), the National School of Administration (ENA), ESSEC Business School orCentraleSupélec Engineering School.
Lancelot has been contributing to several non-profit initiatives for the past 25 years. He served for about 15 years, as a volunteer, first aid and emergency response director, and chairman of several management and supervisory boards at the Red Cross. In 2013, he cofounded République citoyenne, a civil society organization that aims at stimulating citizens' critical thinking on democratic practices and, in 2016, Open Democracy Now, a civic tech initiative that organizes hackathons to develop free and open-source software for open government.
After studying at ENS-Lyon, Lancelot graduated in mathematics (UGA, MSc), computer science (Inria/UPMC Sorbonne Universités, PhD), philosophy (Paris-Sorbonne Université, BA) and strategy (INSEAD Executive MBA).
He is board member of Inria Alumni, steering committee member "IT for digital transformation" at the Systematic Innovation Cluster and independent expert for Etalab, the French Prime minister's task force for open data, open government and data-driven transformation.