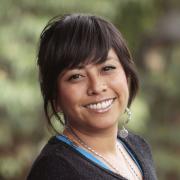 Tannia Medina
Tannia es Coordinadora de Networking y de la Red de Ciudades en WRI México, encargada de promover el intercambio de experiencias y conocimiento entre las ciudades miembro; además de gestionar la vinculación entre la organización y los gobiernos, la academia y otras instituciones de la sociedad civil con el objetivo de fortalecer técnicamente los proyectos que promuevan el desarrollo urbano sustentable. Además, es el contacto entre la red de expertos nacional e internacional de WRI y las ciudades miembro de la Red.
Ha colaborado en proyectos de investigación enfocados en políticas públicas medioambientales, diseño urbano, planeación participativa, gobernanza urbana y movilidad sustentable. Ha participado como conferencista en diversos foros internacionales tratando temas como el ciclismo en los jóvenes, transformaciones diarias en las prácticas humanas como resultado de proyectos urbanos, regeneración de antiguos barrios industriales y planeación centrada en las personas.
Es maestra en Políticas Metropolitanas de Planeación y licenciada en Ciencias Políticas por la Universidad Autónoma Metropolitana. Asimismo, realizó una estancia en el Centro Internacional de la Universidad de Sevilla y está especializada en Diseño Urbano y Sistemas de Información Geográfica, Inteligencia Territorial, Diseño centrado en las personas y diagnósticos participativos.
///
Tannia coordinates the Cities Network of WRI Mexico to promote the exchange of experiences and knowledge among member cities, in addition to managing the linkage of our organization with various governmental, academic and civil society institutions, in order to strengthen and contribute technically to projects that promote the sustainable development of cities. She also brings together national, international and WRI experts with our member cities.
Tannia has collaborated in research projects on issues of public environmental policy, urban design, participatory planning, urban governance and sustainable mobility. She has participated as a speaker in international forums with topics such as the use of cycling in young people, transformations in everyday human practices as a result of urban projects, regeneration of old industrial neighborhoods and processes of people-centered planning.
Tannia has a Master in Planning and Metropolitan Policies by the Universidad Autónoma Metropolitana and a degree in Political Science. She made a stay at the International Center of the University of Seville. She is specialist in Urban Design and in the use of methods such as Geographic Information Systems, Territorial Intelligence, Human Center Design and participatory diagnostics.