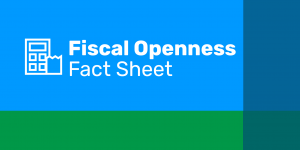 ---
Overview
Every year, governments collect and spend billions of taxpayer funds on policies that impact citizens directly and substantially, such as in education and health care. Citizens have a right to know how their governments are collecting and spending their money. Fiscal openness across the budget and fiscal cycle – through transparency, public participation and legislative oversight – allows citizens to hold their government accountable and reduce waste. Over time, open budgeting can ensure that government spending reflects the people's interests and needs.
Open budgets have been one of the mainstays of the open government movement. While much progress has been made in budget transparency through OGP action plans, improving public participation and accountability – areas with the most potential for results – remain challenges.
Recommendations – updated May 2019
Participation gets results:

OGP members can consider moving beyond budget transparency and look for ways to increase citizen participation throughout the entire budget cycle. According to early IRM data, commitments that encouraged public participation in budgeting significantly opened up decision-making processes.

Sector-specific budgeting can improve public service delivery:

OGP members can consider applying open and participatory budgeting to the health, education, and environmental sectors, etc.

Gender budgeting and inclusion:

OGP members can use budgeting as an opportunity to advance gender equality and women's empowerment by including gender-responsive budget reviews – budgeting that ensures that public resources are allocated in ways that promote gender-equitable spending and represent the interests of all citizens.
---
Model Commitments
Initial Commitments
Allow public access to budget hearings in the legislature
Publish a Citizens' Budget
Publish Executive's Budget Proposal and Audit Reports
Publish the four core budget documents
Intermediate Commitments
Consult with the public on budget preparation
Enable effective oversight by legislatures and supreme audit institutions
Publish all budget reports as open data
Publish all eight key budget reports
Advanced Commitments
Enable citizen participation in budgeting
Publish information on resources received by service delivery units
Publish off budget financial information
Innovative Commitments
Fully implement the GIFT Principles on fiscal transparency