OGP National Handbook – Rules and Guidance for Participants (2021)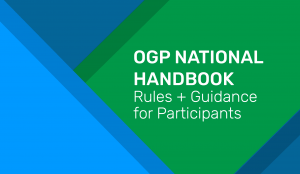 Version 4.2 (Formerly OGP POC Manual) – Updated February 2021
The OGP Support Unit proudly presents the 2021 edition of the OGP National Handbook: Rules and Guidance for Participants, available in English, Spanish and French.
This handbook provides crisp and clear information about all things OGP for participating countries, including:
Description of roles and responsibilities of domestic actors;
Action plan cycles with updated calendars,
Rules about delays and extensions,
Advice on how to manage electoral/transitional processes, and
General guidance on how to develop an action plan and Self-Assessment Reports.
You can find the handbook for OGP Local members here.
New in the 2021 edition:
Updated IRM description and calendars based on the IRM refresh and the new research products. Sections 1.3, and 2.
Introducing Challenge Commitments. Section 4.3.
New section with Guidelines for National-Local integration in national action plans.
This handbook was designed to be used together with the OGP Participation and Co-Creation Toolkit, which provides guidance on developing successful co-creation and implementation processes in line with the requirements established in the OGP Participation and Co-Creation Standards.