Hungary (Withdrawn)
On December 7, 2016, the OGP Steering Committee received a letter from the Government of Hungary announcing its immediate withdrawal from the partnership. The Government of Hungary had been under review by OGP since July 2015 for concerns raised by civil society organizations regarding their space to operate in the country.

# # #
The following text was contributed by the Government of Hungary July 10, 2012.
Hungary joined the Open Government Partnership in 2012 and regards its participation in this global partnership initiative as an opportunity, which strengthens and completes Hungary's efforts to create an open and at the same time effective governance.
The Government attaches utmost importance to the cooperation with civil organizations. The active and broad participation of civil organizations and citizens in drafting Hungary's first national action plan was assured by several Working Group sessions, the consultation with civil organizations prior to it, and the general public consultation before its final approval. This long, multiple-round consultation process, allowing for personal and also written contributions, resulted in commitments promoting open governance, public participation and integrity in public administration.
Many of the commitments made, were initially recommended by civil organizations. The commitments are a part of a comprehensive anti-corruption program launched in 2012 entitled Corruption Prevention Program in Public Administration. This puts the commitments into a broad strategic framework, ensuring the necessary financial and organizational background for the implementation and the harmony with other related measures adopted by the Government. Hungary's commitments on open governance are primarily linked to the improvement of the integrity of public administration agencies but they also touch on the fields of improving the quality of public services and improving the efficiency of using community resources.
The Ministry of Public Administration and Justice supporting the effective implementation of the OGP commitments holds in-person consultations with the civil organizations and experts regularly on a monthly basis. These monthly consultations give an opportunity to civil stakeholders to get up-to-date and accurate information, articulate their opinion and provide the Ministry with further suggestions.
Hungary's Letter of Intent to Join OGP: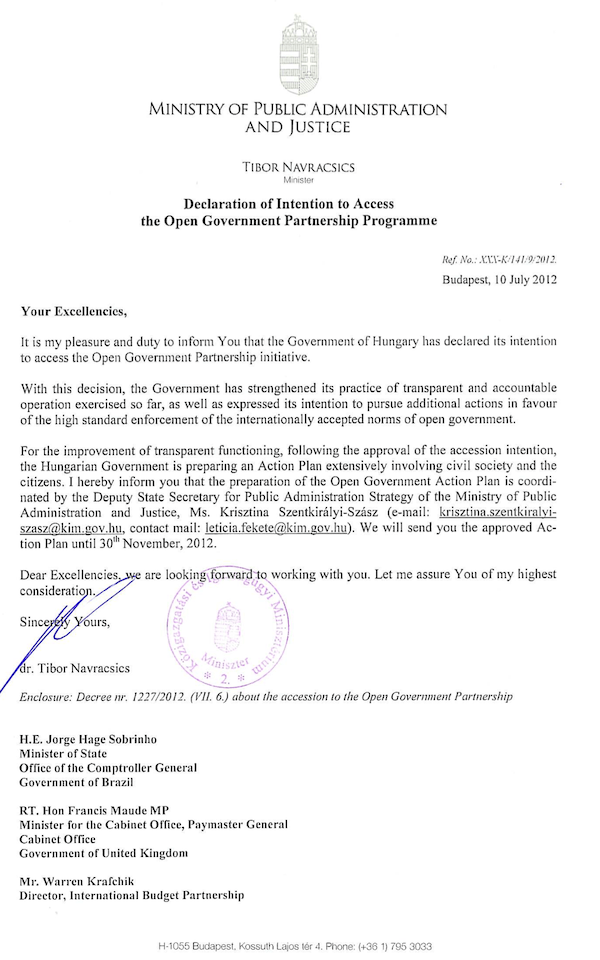 Commitments from last action plan (8)
These commitments are from the most recently processed action plan. The action plan submitted by the government is available below. Because these commitments have not been reviewed by the IRM, the data available may be limited. IRM-reviewed commitments appear in the next section.
IRM-Reviewed commitments (5)
Only those commitments reviewed by the OGP's Independent Reporting Mechanism appear in the dynamic tool below. The most current commitments can be found in this country's most recent action plan below.
Reports
Letters
---