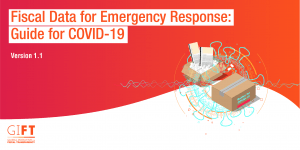 Fiscal Data for Emergency Response: Guide for COVID-19
The COVID-19 pandemic has forced many governments to launch emergency spending and tax policy measures to mitigate the impact on the health of their people and economies. GIFT's practical guide helps practitioners identify the datasets and data fields that are required for informed internal decision-making and transparent disclosure of information related to emergency responses.
La pandemia del COVID-19 ha llevado a muchos gobiernos a presentar medidas de emergencia y políticas fiscales para mitigar los impactos potencialmente catastróficos a la salud de las personas y las economías. GIFT desarrolló una guía práctica para ayudar a identificar los datos que son necesarios para tomar decisiones informadas y para procurar la transparencia de información en el marco de la respuesta a la emergencia.