Fiscal Data for Emergency Response: Guide for COVID-19
The COVID-19 pandemic has forced many governments to launch emergency spending and tax policy measures to mitigate the potentially catastrophic impact on the health of their people and economies. The speed of these adjustments has challenged traditional approaches to managing risks, inefficiencies, budgetary allocations and corruption. At the same time, fiscal rules have been put on hold. Budget balances, debt obligations and revenue adjustments in many countries exceed any level that would have been deemed acceptable before March 2020.
In a context in which rapid decision-making has become the norm, traditional mechanisms for providing information to the public have fragmented or broken down. Some governments have succeeded in disclosing information on emergency responses transparently, but many have not had the political will or the tools to do so.
This has required the public finance community to reflect on the preparedness of current reporting instruments and internal data architecture of governments to monitor rapid adjustments and their impact to inform time-sensitive decision-making, coordination and monitoring. Equally important is the type, disaggregation and format in which such information is required by the public and other external stakeholders to facilitate policy discussion, assist implementation and enforce accountability.
The Global Initiative for Fiscal Transparency (GIFT) network, with support of the OGP Multi-Donor Trust Fund, has created a practical guide to help practitioners identify the datasets and data fields that are required for informed internal decision-making and transparent disclosure of information related to emergency responses. GIFT is a global network integrated by stewards and partners from ministries of finance—or equivalent—, civil society organizations, expert agencies and international financial institutions. As part of the dialogue, peer-learning and knowledge exchange within the network, this guide has been developed as the product of global consultations and collective work with experts in the fiscal, open data and open government arenas. Its structure observes a user-centered and purpose-oriented approach and results from the engagement of representatives from nine ministries of finance, 16 civil society expert organizations and 12 international organizations in co-creation workshops.
The guide includes 15 datasets and 13 time series grouped into four dimensions as follows:
Emergency and countercyclical spending (including budget adjustments, extra-budgetary funds, performance indicators, investments, payroll and procurement);

Tax relief measures and deferrals;

Revenue adjustments and additional funding sources (covering revenue adjustments, contingent tax collections, loans and other debt instruments, and external development and humanitarian resource flows); and

The macroeconomic impact of the emergency fiscal measures.
Each dataset is further disaggregated into more than 370 relevant data fields. The guide also includes examples of how the data can be used by governments and other stakeholders for various purposes of management, monitoring and evaluation.
Bearing in mind that data quality and availability is an important limitation in many countries—particularly for such an extensive list of data fields, as the guide lists all of the relevant data sets, not country specific—and that the measures taken and administration specificities vary from country to country, the Guide includes a section with a method to prioritize and customize the tool for application in different national contexts, and key prerequisites for publication, including data availability and quality. This method will also allow identifying data gaps that administrations would like to fill, to build a more integrated and comprehensive fiscal data architecture for internal decision making and transparency.
This guide is for:
 

Ministries of finance (or equivalent)

– to support the development of a stronger data architecture, as well as to assist the process of identifying what data to publish to enable transparency and oversight.

 

Civil society/advocacy groups

– to simplify the process of prioritizing data needs for monitoring, analysis, and participation.

 

Oversight institutions

– to contribute to the task of identifying the data sources required to develop diverse analysis, oversight and auditing.
Reality check:  Unfortunately, we need to recognize that this is not the only emergency that the world faces nowadays or will face in the future—especially considering the effects of climate change— therefore we need to work on building the data architecture that will allow us to react fast with efficiency and transparency, and not compromising the sustainable development and equality gains.
 Lorena Rivero and Juan Pablo Guerrero are part of the Global Initiative for Fiscal Transparency's (GIFT) Coordination Team.
La pandemia del COVID-19 ha llevado a muchos gobiernos a presentar medidas de emergencia y políticas fiscales para mitigar los impactos potencialmente catastróficos a la salud de las personas y las economías. La velocidad de estos ajustes está cuestionando las metodologías tradicionales de manejo de riesgos, las ineficiencias, presupuestos y corrupción. Al mismo tiempo, las normas fiscales se han puesto en pausa. Los saldos presupuestarios, obligaciones crediticias y ajustes de ingresos en muchos países han excedido lo que antes de marzo de 2020 hubiera sido considerado como aceptable.  
 En un contexto en el que la toma acelerada de decisiones es la norma, los mecanismos tradicionales de publicación de información se han fragmentado. Algunos gobiernos han logrado dar a conocer información sobre sus medidas de emergencia de forma transparente, pero muchos otros no han mostrado la voluntad o no han tenido las herramientas necesarias para hacerlo.  
En ese contexto, la comunidad de finanzas públicas ha reflexionado sobre el nivel de preparación de los instrumentos de reporte y las arquitecturas internas de datos que actualmente existen para monitorear los ajustes rápidos y su impacto para informar la toma de decisiones urgentes, la coordinación y el monitoreo. Además, con el fin de facilitar discusiones de políticas, apoyar en la implementación y aplicar la rendición de cuentas es importante tomar en cuenta el tipo de información, cómo se desglosa y en qué formato se publica.
La Iniciativa Global para la Transparencia Fiscal (GIFT por sus siglas en inglés), con apoyo del Fideicomiso de OGP, creó una guía práctica para ayudar a identificar los datos que son necesarios para tomar decisiones informadas y para la transparencia de información en el marco de la respuesta a la emergencia. GIFT es una red global formada por administradores y socios de los ministerios de finanzas (o su equivalente), organizaciones de la sociedad civil, agencias de expertos e instituciones financieras internacionales. Como parte del diálogo e intercambio de conocimiento que se lleva a cabo al interior de la red, esta guía se desarrolló como producto de una serie de consultas globales y el trabajo colectivo de expertos en los campos fiscales, de datos abiertos y gobierno abierto. Su estructura está enfocada en los usuarios y en sus objetivos y es resultado del trabajo de representantes de 19 ministerios de finanzas, 16 organizaciones de la sociedad expertas y 12 organizaciones internacionales a lo largo de una serie de talleres de cocreación.
La guía incluye 15 conjuntos de datos y 13 series de tiempo agrupadas en cuatro dimensiones, como se describe a continuación:
Gastos de emergencia y anticíclicos (incluyendo ajustes a presupuestos, fondos extrapresupuestarios, indicadores de desempeño, inversiones, nómina y adquisiciones);

Medidas fiscales y prórrogas;

Ajustes de ingresos y fuentes adicionales de financiamiento (ajustes de ingresos, recaudación fiscal supeditada, créditos y otros instrumentos de deuda, flujos de recursos externos de desarrollo y humanitarios) y

El impacto macroeconómico de las medidas fiscales de emergencia.
Cada conjunto de datos está desagregado en más de 370 de campos. Además, la guía incluye ejemplos de cómo los gobiernos y otros actores pueden utilizar los datos para diferentes fines de manejo, monitoreo y evaluación. 
Tomando en cuenta que la calidad y disponibilidad de datos es una limitante en muchos países (la guía incluye una lista larga de datos y no está adaptada a cada país) y que las medidas y los detalles varían entre los países, ésta incluye una sección con una metodología para priorizar y personalizar la herramienta para ser aplicada en diferentes contextos nacionales, así como requisitos para su publicación, incluyendo la disponibilidad y calidad de datos. Esta metodología, además, ayudará a identificar vacíos de datos que las administraciones deberán cubrir con el fin de establecer una arquitectura de datos más completa, tanto para la toma de decisiones como para la transparencia.
La guía es para:
Ministerios de finanzas (o su equivalente)

para apoyar el desarrollo de una arquitectura de datos más solida y para ayudar en el proceso de identificación de qué datos deberán ser publicados para lograr la transparencia y supervisión.

Grupos de la sociedad civil

para simplificar el proceso de priorización de necesidad de datos para el monitoreo, análisis y participación.

Instituciones de supervisión

para contribuir a la tarea de identificar las fuentes de datos que son necesarias para llevar a cabo análisis de supervisión y auditoría.
 Desafortunadamente, tenemos que reconocer que ésta no es la única emergencia que el mundo está enfrentando o que enfrentará en el futuro – sobre todo si tomamos en cuenta los impactos del cambio climático. Por lo tanto, necesitamos trabajar en desarrollar la arquitectura de datos que nos permitirá reaccionar con velocidad, eficiencia y transparencia y sin comprometer el desarrollo sustentable y la equidad
La pandemia del COVID-19 ha llevado a muchos gobiernos a presentar medidas de emergencia y políticas fiscales para mitigar los impactos potencialmente catastróficos a la salud de las personas y las economías. GIFT desarrolló una guía práctica para ayudar a identificar los datos que son necesarios para tomar decisiones informadas y para procurar la transparencia de información en el marco de la respuesta a la emergencia.
Lorena Rivero y Juan Pablo Guerrero son miembros del equipo de la Iniciativa Global para la Transparencia Fiscal (GIFT).
Related Content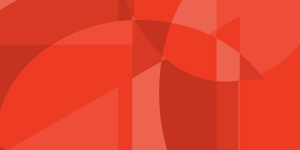 A Guide to Open Government and the Coronavirus: Fiscal Openness
The COVID-19 pandemic has weakened economies, increased public debt, and exacerbated existing inequalities. Governments across the world are in the process of enacting emergency responses, including reallocating budgets to the…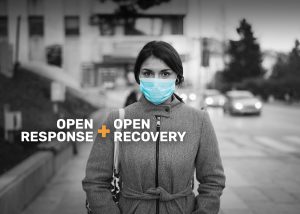 Open Response + Open Recovery
Our community's fundamental values of accountability, transparency, inclusivity, and responsiveness are vital as we move through COVID-19 response to recovery. Find resources, events and examples from OGP and partners.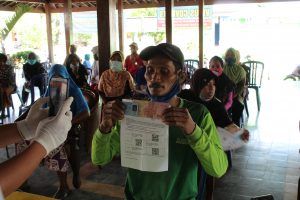 Challenges and Solutions
Making Trillion Dollar Stimulus and Safety Nets Work for All: The Essential Steps We Can Take Now
OGP CEO Sanjay Pradhan calls on governments, citizens, civil society, businesses and others to join together to shape COVID-19 stimulus and safety nets and follow the money to save millions…