OGP in the News – #OGPArgentina and Beyond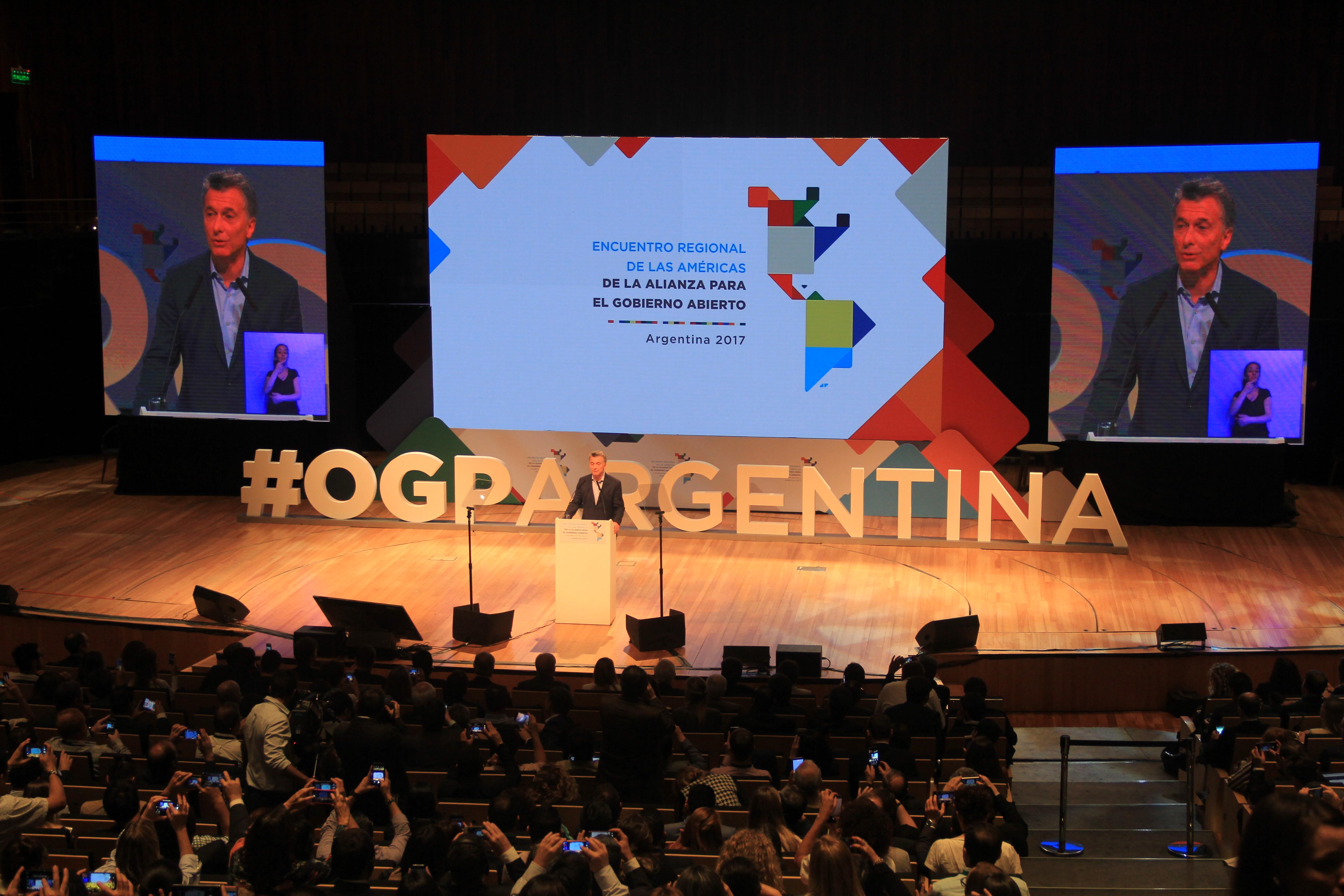 A weekly round-up of Open Government Partnership (OGP) media coverage around the world. Want to receive OGP in the News directly in your email inbox? Subscribe here.
Many of our friends in the open government community flocked to Argentina's capital, Buenos Aires, to attend the OGP Americas Regional Meeting on November 21-22. With over 1500 attendees, and speeches by Argentine President Mauricio Macri, Mayor of Buenos Aires, Horacio Larreta, OECD Deputy Secretary-General, Mari Kiviniemi, and many more, the event attracted media attention across the region. OGP was mentioned over 500 times before, during and the week following the meeting with top hits out of Argentina, Mexico, the United States, Canada, and Colombia. Video of the opening plenary can be found here.
The OGP Americas Regional Meeting – represented by the #OGPArgentina hashtag – also made a splash on social media. Tweeted over 10.7K times, #OGPArgentina was the top trending hashtag in Buenos Aires and one of the top three trending hashtags in Argentina on November 21st. Furthermore, OGP welcomed two young journalists from Orange Magazine to "take over" the OGP Instagram account. Anya and Felipe filmed the week's open government activities, and conducted a series of interviews with #OGPArgentina participants. Their work can be found on both OGP's Instagram account and Facebook page.
Leading Argentine daily La Nación, along with La Prensa and Ámbito Financiero, covered the meeting's opening plenary at Buenos Aires' Centro Cultural Kirchner (CCK) on November 21st. Sharing the stage with President Macri and Mayor Larreta, Minister of Modernization Andres Ibarra highlighted Argentina's recent open government progress, pointing out that the country advanced to 17th place on the Global Open Data Index. He went on to say that he hopes Argentina will be among the index's top ten countries by 2019. Echoing this call for continued transparency, President Macri was quoted as saying, "We want a state that sheds light on those dark recesses that lead to corrupt practices." Conceding that the government must overcome resistance from those who "do not want us to advance in these policies of open government," President Macri's final message was one of hope: "We have tools that none had before. We have everything to make it a reality in the future."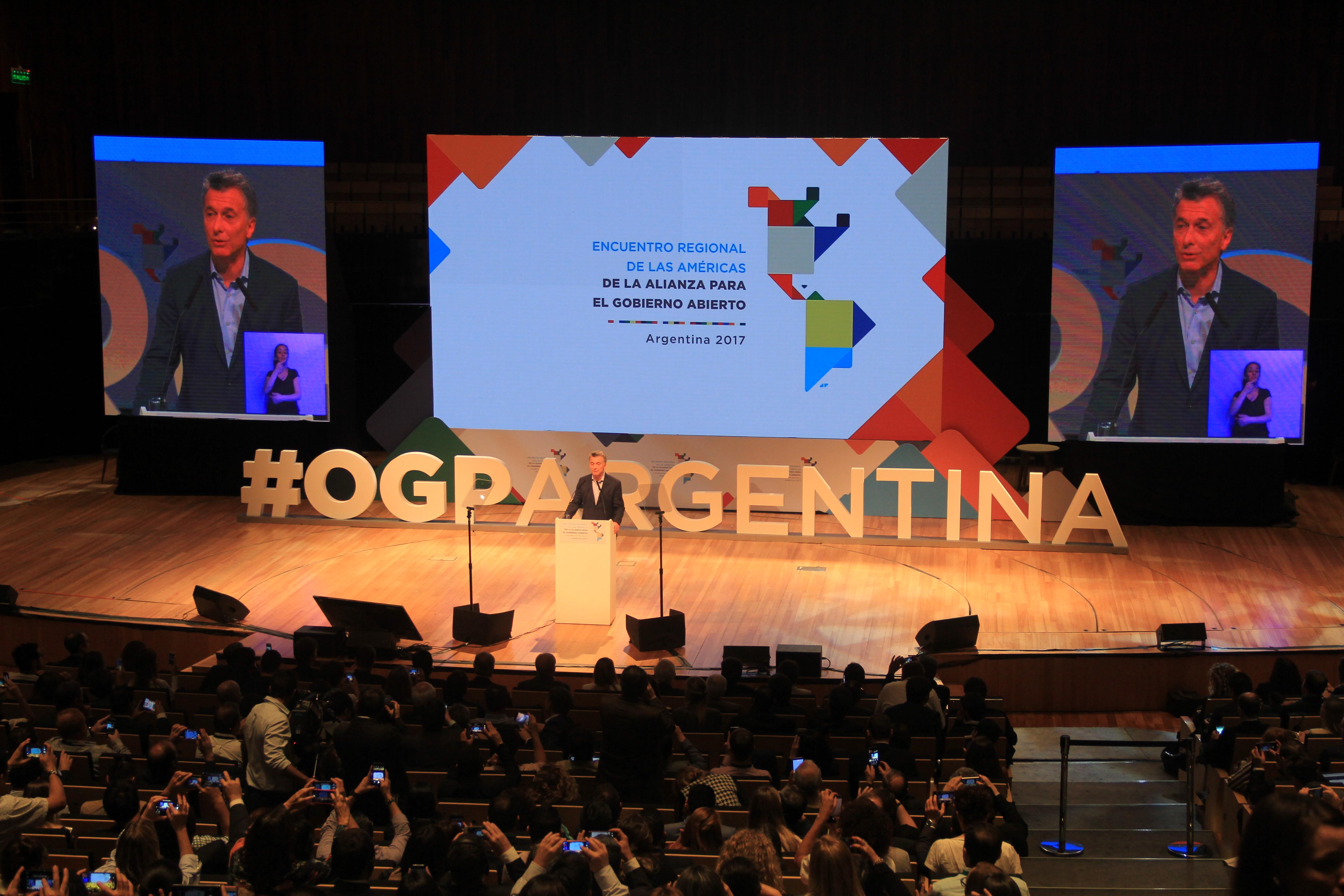 OGP Chief Executive Officer Sanjay Pradhan also spoke at the opening ceremony of the Americas Regional Meeting. Published in both the print and online editions of Buenos Aires daily El Cronista, Sanjay's remarks encouraged OGP countries in the Americas region to scale up the number of transformative open government reforms they commit to implementing. He outlined three priority areas, including the protection of civic space, the empowerment of women and marginalized groups, and the fight against corruption. Concluding his call to action, Pradhan described Latin America as the "vibrant heart of OGP" and the "one region that can stand up to corruption and fight vested powers for ordinary citizens."
The host city also recapped the event on the Buenos Aires Ciudad website. A pioneer in OGP's Subnational Pilot Program, Buenos Aires was represented throughout the two-day event. At the opening ceremony, Buenos Aires Mayor Horacio Larreta described the city's "Open Government Ecosystem," which ensures that "data is available and residents have more information to participate in and co-create solutions." Moderating one of the 60-plus panels on the OGP Subnational Program, the city's Undersecretary of Strategic Management and Institutional Quality, Álvaro Herrero, emphasized that open government initiatives need to identify and respond to citizens' needs. Buenos Aires Undersecretary of Political Reform and Legislative Affairs, Hernán Charosky, meanwhile, spoke on the panel titled "Building trust between the Government and Civil Society." According to the article, the event reaffirmed the commitment of all those "dedicated to strengthening the democratic system, transparency, and citizen participation to improve the relationship between citizens and government."
And while #OGPArgentina has ended, the OGP agenda for the coming weeks is packed full with more #opengov excitement. The Asia Pacific Leaders Forum on Open Government, or #APLF2017, will be taking place in Jakarta, Indonesia on December 14. In the lead-up to this day-long event, GovInsider is running a series of opinion pieces on inspiring open government stories in the Asia-Pacific region. Most recently, the news outlet profiled the Citizen Participatory Audit (CPA) program in the Philippines. Chairman of the Commission on Audit (COA), Michael G. Aguinaldo, described how this ongoing OGP commitment welcomes ordinary citizens on board the national audit teams "to make government more effective, transparent, and accountable." Reflecting on the success of the program, he says, "The CPA bears witness to the truth of public service: government and civil society are stronger and wiser when they work together." GovInsider has also featured pieces by Suyoto Ngartep Mustajab, Regent of Subnational Pionneer Bojonegoro, Indonesia and Raden Siliwanti of Indonesia's Ministry of National Development Planning. Stay tuned for more!
Finally, in the midst of Open Government Week in Argentina, another exciting OGP development occured. The Kyrgyz Republic officially joined OGP, becoming the first country in Central Asia to join the Partnership! In an OGP press release, the country's Prime Minister, Sapar Isakov, commented, "In the Kyrgyz government, we strongly believe that only openness and transparency will lead us towards sustainable development."
Last but not least, hosted in a number of Buenos Aires' architectural wonders, #OGPArgentina was an Instagram-worthy occasion. See the week's photo highlights here.
Of course, we can't catch everything in our news round-ups, so if you see we've missed something or think a particular story ought to be featured, please send it to jacqueline.mcgraw@opengovpartnership.org.