Communicating Open Government – A How-To Guide (OECD/OGP)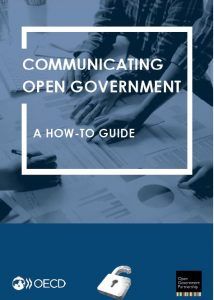 This guide is a resource for individuals tasked with explaining, encouraging, and building support for open government, understood as a culture of governance that promotes the principles of transparency, integrity, accountability and citizen participation for democracy and inclusive growth. The publication targets public officials in charge of steering and implementing strategies and initiatives in the field of open government, as well as communication officers in public institutions that are looking to play a bigger role in this context. The guide is also a useful tool for anyone who is interested in making governments more open, including journalists and civil society.
There is a growing recognition within administrations that public institutions need to engage, build partnerships and co-create policies and services with a variety of stakeholders in order to improve public policies and services. Public communication, understood as all communication initiatives carried out by public institutions in favour of the public interest, is an integral part of these processes, as it allows for two-way communication between governments and citizens. Such a dialogue is a prerequisite for citizen participation in public life. Additionally, public communication can be used as an instrument of policymaking and trust-building, and as a means to strengthen the impact of reforms, by changing citizen behaviours and increasing their buy-in.
Yet, more often than not, administrations see the communication function as the unilateral provision of information, and more generally as a risk, rather than an opportunity. This can lead governments to refrain from communicating or to miscommunicate, which can yield disastrous consequences. Examples of this include spreading a culture of secrecy, facilitating corruption, widening the gap between government and citizens, and creating negative attitudes towards policies and services.