Democracy Beyond the Ballot Box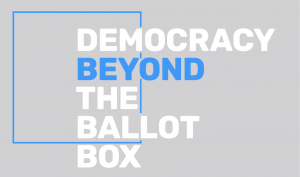 How Does Government Serve its Citizens, Instead of Itself?
In 2011, government leaders and civil society advocates came together to create a unique partnership – one that combines these powerful forces to promote accountable, responsive and inclusive governance.
Seventy-nine countries and a growing number of local governments — representing more than two billion people – along with thousands of civil society organizations are members of the Open Government Partnership (OGP).
How OGP Works
Upon joining OGP, governments work with civil society to co-create two-year action plans, with concrete steps – commitments – across a broad range of issues. This model allows civil society organizations and direct citizen engagement to play a role in shaping and overseeing governments. Collectively, nearly, 4,000 commitments have been made globally.
OGP's Independent Reporting Mechanism monitors all action plans to ensure governments follow through on commitments.