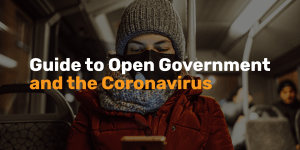 A Guide to Open Government and the Coronavirus
This guide is a one-stop shop for the best current resources on how open government projects and approaches can support tackling the pandemic.
Nos encontramos en un momento de gran incertidumbre para los gobiernos, la sociedad civil y la ciudadanía. En el contexto del reto sin precedentes que representa la pandemia de coronavirus, los gobiernos están probando políticas y metodologías en tiempo real...
En ce moment, l'incertitude est à son maximum pour les gouvernements, la société civile et les citoyens. Face au défi unique que représente le Coronavirus, de nouvelles politiques et approches sont testées en temps réel...