Protecting Civic Space, Promoting Smart Digital Governance Key Topics at Open Government Partnership Meeting in Berlin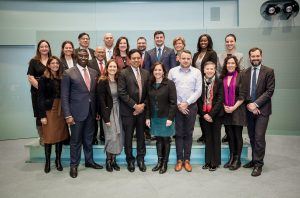 Eleven government reformers and eleven civil society leaders jointly explore topics critical to the future of democracy
Berlin, Germany. 27 February 2020 – The Steering Committee of the Open Government Partnership (OGP) met in Berlin this week to discuss the state of open government and how efforts can be scaled up to support local governments and tackle closing civic space, the rise of authoritarian trends, and misinformation. They also deliberated on a three-year implementation plan for OGP and its Support Unit and endorsed a new strategic direction for OGP's Independent Reporting Mechanism.
"As distrust in government and attacks on civic space continue to rise, open government is more crucial than ever," said Robin Hodess, Civil Society Co-Chair of the OGP Steering Committee. "There has been progress since OGP was founded almost ten years ago, ensuring civil society and citizens are more part of the policy-making process. But opening up government even more can not only strengthen democratic values but also ensure that governments meet the needs of people."
Hodess co-chairs the OGP Steering Committee alongside the Government of Argentina. "I am convinced these three days have been very fruitful in order to advance a collective agenda that can help the Partnership deliver results that bring us closer to citizen and improved policy interventions," said Cesar Gazzo Huck representing the government of Argentina.
As co-host of the meeting, the Government of Germany, represented by the Federal Chancellery, welcomed the Steering Committee members and reiterated that it hopes to learn from their work. "The discussions, both on the internal and administrative matters of the OGP (such as its 3-year-plan or leadership considerations) as well as the thematic issues (such as digital policy, civic spaces or opening up local levels of government) are important. We strongly support the professionalization of structures of the OGP, as well as its efforts to achieve impact."
"The Open Government Partnership is a unique organization that brings together civil society advocates and reformers in government to develop innovative solutions to pressing societal problems," said OGP CEO Sanjay Pradhan. "Let us work together to scale up these transformative reforms and join forces so we can together achieve our collective vision of forging a positive global force to reinvigorate democracy".
The OGP Steering Committee endorsed a three-year implementation plan that will provide a roadmap for better implementation of OGP's mission and vision, given both OGP's growth and changed operating environment. The Partnership will focus on supporting countries effectively implement ambitious open government reforms, especially countries that have modelled values like government-civil society cooperation, inclusion, and civic space.
The OGP Steering Committee decided, by consensus, that Pakistan will regretfully be designated as inactive in OGP for a one-year period due to having acted contrary to OGP process by failing to deliver an action plan for three consecutive action plan cycles. The Steering Committee acknowledged the continued efforts by both governments and civil society to remain engaged in OGP and agreed to offer all necessary support for all stakeholders to remain engaged in OGP. Inactivity status will be immediately ended upon the submission of an OGP Action Plan.
The OGP Steering Committee welcomed Jamaica's letter, dated 24 February 2020, indicating Jamaica's high-level commitment to develop its first OGP action plan. However, to maintain a consistent and fair approach to enforcing OGP requirements asked of all participating countries, and considering that the government of Jamaica has acted contrary to OGP process by not delivering an OGP action plan for three consecutive cycles, the OGP Steering Committee resolved that failure to deliver an action plan by 31 December 2020 will automatically result in Jamaica being designated as inactive in OGP.
The Steering Committee is co-chaired by the Government of Argentina and Robin Hodess from the B-Team.
About OGP:
Open Government Partnership brings together government reformers and civil society leaders to create action plans that make governments more inclusive, responsive and accountable.
The Open Government Partnership formally launched on September 20, 2011, when the 8 founding governments (Brazil, Indonesia, Mexico, Norway, the Philippines, South Africa, the United Kingdom and the United States) endorsed the Open Government Declaration and announced their country action plans. Since 2011, 79 OGP participating countries and 20 subnational governments have made over 3,100 commitments to make their governments more open and accountable.
For questions or to set up interviews please contact: Jose Perez Escotto, Senior Communications Officer, jose.perez@opengovpartnership.org.