Charting the Next Three Years for OGP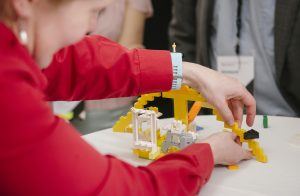 The Open Government Partnership's founding mission and vision remain as powerful today as they were in 2011, and yet the context for our work has changed profoundly. On the one hand OGP has grown into a mature partnership, with 78 national members, an increasing number of local governments and thousands of civil society participants. Together they have co-created over 4000 open government reforms, of which a significant proportion have shown major impact. Yet at the same time as OGP has been growing, the wider geopolitical context has been one of democratic backsliding, closing civic space and the rise of authoritarian and populist politics, including in OGP member countries.
These two competing trends lie at the heart of the rationale for a new OGP three-year implementation plan (2020-22). Its objective is to provide a roadmap for better implementation of OGP's mission and vision, given both OGP's growth and changed operating environment. It will aim to bring clarity and focus to how OGP delivers on its strategy, enabling near-term decisions that advance medium-term results, and help the many actors involved in OGP work together more effectively toward those results. 
The draft three-year implementation plan outlines four results areas for OGP:
Commitments

: Ambitious open government reforms that empower citizens to shape and oversee government are credibly implemented.

Countries

: Bright light countries role model values such as government-civil society cooperation, inclusion and civic space, and advance a holistic open government agenda. 

Themes

: Policies that empower citizens to shape and oversee government are advanced across multiple countries, creating new global open government norms and principles. 

Global

: Open government issues have a stronger presence on the global stage, including in global governance fora and frameworks.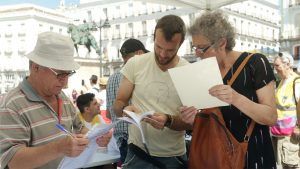 In order to advance these results there are five strategic approaches that all those involved in the Partnership can collectively advance. The first is that OGP must continue to remain a strong universal platform for reformers in any member country or locality to advance context-specific open government reforms that tackle major societal challenges. This means ensuring OGP remains a place where reformers can access tools, resources, peer contacts, inspiration and ideas that can then be applied to different parts of the world. It also includes ensuring that OGP continues to deepen at the local level, going beyond national governments and civil society to city and subnational contexts where governments and citizens have much of their interaction. And it includes ensuring that the Independent Reporting Mechanism is operating in a way which provides effective learning and accountability to the OGP process. 
The "OGP as a platform" concept was very much the founding theory of change for the Partnership, and continues to be an inclusive and powerful approach for 2020-22. In addition, as the Partnership has grown, it is also necessary to identify a smaller number of priority areas where there are strong opportunities to achieve impact. In the next three years this will take the form of a focus on priority commitments, priority countries, priority themes and priority global advocacy strategies. In practical terms this means trying to align the partners, resources, time and energy that OGP has at its disposal behind: a) a set of potentially ambitious action plan commitments that need support on implementation; b) a set of countries where there is the potential to make significant progress on a holistic open government agenda; c) a set of thematic policy areas where OGP can add value in advancing old or new open government principles; and d) global advocacy strategies that build on OGP's value as a bridge between global frameworks such as the Sustainable Development Goals "Decade of Delivery" and the global events on anti-corruption, and national implementation. These priorities will necessarily not be fixed over a three-year time period, as many depend on windows of opportunity, so they will be adaptable based on a regular process of iteration, feedback and monitoring. If for example a new government wins power on an open government ticket, then OGP should be nimble enough to work with partners to seize that opportunity and provide intensive support. 
The breadth and diversity of OGP is one of its major strengths as a partnership. The heart of OGP is the government reformers and civil society leaders in our member countries who are forming unusual coalitions to tackle big societal challenges using open government approaches. They are supported by our partners in international NGOs, multilateral agencies, the private sector, and academia advancing old and new open government norms and principles, on issues as diverse as public service reform and anti-corruption. The strategic oversight is provided by the 11 governments and 11 civil society leaders who are elected to the OGP Steering Committee. The OGP Support Unit is the small permanent staff that keep the machine running, providing support services to our members to co-create and implement reforms, and helping the diverse parts of OGP add up to a strong movement for openness and democracy globally. The Independent Reporting Mechanism provides accountability and lessons learned to improve in the future. 
Without the constituent parts of OGP working together, the Partnership will not meet its full potential. We've heard from many partners in developing this plan. Over the next month we're keen to hear what success in OGP over the next three years looks like to you, and how you think we can best achieve it together. If you'd like to review a draft of the three-year plan as it stands, please download the latest version here, or get in touch to arrange a phone call to discuss your ideas for better advancing this vital mission.
Hoy, la misión y visión de Open Government Partnership son tan relevantes como lo eran en 2011; sin embargo, el contexto de nuestro trabajo ha cambiado drásticamente. Por un lado, OGP se ha consolidado como una alianza madura conformada por 78 miembros, cada vez más gobiernos locales y miles de participantes de la sociedad civil. Juntos, han cocreado más de 4 000 reformas de gobierno abierto, de las cuales una parte significativa ha demostrado tener un impacto importante. No obstante, en paralelo al crecimiento de OGP, en el contexto geopolítico, la democracia ha decaído, el espacio cívico se ha cerrado y hemos visto una alza en los regímenes políticos autoritarios y populistas, incluso en los países de OGP.
Estas dos tendencias contrarias fueron clave para el desarrollo del plan de implementación de OGP a tres años (2020-2022). Su objetivo es definir una hoja de ruta para la ejecución de la misión y visión de OGP tomando en consideración tanto el crecimiento de OGP como el ambiente en el que está operando. El plan aclarará y aterrizará los mecanismos a través de los cuales OGP cumplirá con sus objetivos, estableciendo medidas de corto plazo para obtener resultados en el mediano plazo y ayudará a los actores que participan en la alianza trabajar hacia el cumplimiento de dichos resultados de forma más efectiva.
El borrador del plan de implementación a tres años establece cuatro temas: 
   

Compromisos:

Reformas de gobierno ambiciosas implementadas para empoderar a la ciudadanía de manera que puedan supervisar a sus gobiernos y definir las prioridades de los mismos.

   

Países:

Valores como la cooperación entre el gobierno y la sociedad civil, la inclusión y el espacio cívico integrados para impulsar la agenda integral de gobierno abierto.

   

Temas:

Políticas que empoderan a la ciudadanía para supervisar a sus gobiernos y definir las prioridades de los mismos son implementadas en diversos países, creando normas globales y principios de gobierno abierto.

   

Global:

Los aspectos de gobierno abierto tienen una mayor presencia a nivel global y son abordados en foros y marcos de gobernanza.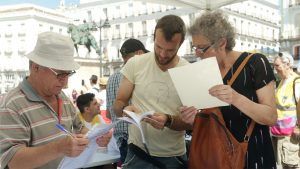 Existen cinco métodos estratégicos que los socios de la alianza pueden implementar para lograr estos resultados de forma colectiva. Primero, OGP debe seguir siendo una plataforma universal que permita a los reformadores de los países o jurisdicciones locales impulsar reformas de gobierno abierto, en función del contexto local, para abordar los retos sociales más urgentes. Esto implica asegurar que OGP siga siendo un espacio en el que los reformadores tienen acceso a herramientas, recursos, contactos e ideas que pueden aplicarse en diferentes lugares del mundo. Además, implica asegurar que OGP se siga fortaleciendo a en los contextos subnacionales y locales en los que los gobiernos y la ciudadanía interactúan de forma cercana. Finalmente, implica asegurar que el Mecanismo de Revisión Independiente sirva para promover el aprendizaje y la rendición de cuentas en el proceso de OGP.  
El concepto de "OGP como plataforma" fue en gran medida la teoría de cambio de la alianza y sigue siendo un eje clave en el 2020-2022. Además, tomando en cuenta el crecimiento de la alianza, es importante identificar un número pequeño de áreas en las que la posibilidad de lograr impactos es mayor. En los próximos tres años, debemos enfocarnos en compromisos prioritarios, países prioritarios y campañas globales prioritarias. En términos prácticos, debemos alinear a los socios, recursos, tiempos y energía que OGP tiene a su disposición para apoyar: a) un subconjunto de compromisos ambiciosos que requieren de apoyo para su implementación, b) un subgrupo de países que tienen el potencial de lograr avances significativos en la agenda de gobierno abierto, c) un subconjunto de áreas temáticas en las que OGP puede tener un valor agregado para impulsar los principios de gobierno abierto y d) campañas globales que aprovechan el poder de OGP como un enlace entre los marcos globales como la década de la acción sobre Objetivos de Desarrollo Sostenible y eventos globales anticorrupción y la implementación a nivel nacional. Estas prioridades no necesariamente serán las mismas a lo largo de los tres años, pues podrían variar según algunas ventanas de oportunidad, por lo que podrán adaptarse a través de un proceso iterativo, de retroalimentación y monitoreo. Por ejemplo, si un nuevo gobierno llega al poder con una campaña de gobierno abierto, OGP debe trabajar con socios y apoyarlos fuertemente para aprovechar esa oportunidad. 
El alcance y la diversidad de OGP son algunas de sus fortalezas más importantes. La alianza se fundamenta en los reformadores de gobierno y líderes de la sociedad civil de nuestros países miembros que trabajan juntos para abordar los retos que enfrenta la sociedad a través del gobierno abierto. Ellos tienen el apoyo de nuestros socios de ONG internacionales, agencias multilaterales, el sector privado y la academia que están impulsando las normas y principios de gobierno abierto sobre temas muy diversos, desde reformas en el servicio público hasta la anticorrupción. Además, tienen la supervisión estratégica de los 11 gobiernos y 11 líderes de la sociedad que forman parte del Comité Directivo de OGP. La Unidad de Apoyo de OGP es el pequeño equipo que se asegura de dar continuidad al proceso, apoyando a nuestros miembros en su proceso de cocreación e implementación de reformas y ayudando a los diferentes componentes que integran OGP a crear un movimiento global en favor de la apertura y democracia. Finalmente, el Mecanismo de Revisión Independiente aporta la rendición de cuentas y la integración de lecciones aprendidas que nos permitirán mejorar nuestros procesos.
 Únicamente lograremos alcanzar los objetivos de OGP si todos sus miembros y socios trabajan en conjunto. Cuando desarrollamos el plan, escuchamos las opiniones de muchos socios. Durante el próximo mes, queremos escuchar tu opinión sobre los logros que OGP debería alcanzar en los próximos años y cómo crees que podemos lograrlo. Puedes descargar el borrador actual del plan a tres años de OGP en este enlace o ponerte en contacto con nosotros para programar una llamada en la que podremos discutir algunas ideas para lograr esta misión tan importante.