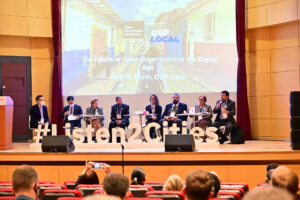 The Future of Local Open Gov: Reflections from the UCLG Congress
On October 10-14, the United Cities and Local Governments (UCLG) held its 7th World Congress in Daejeon, Republic of Korea. The Congress brought together representatives from local, regional, and national governments, civil society, academia and the international community to reflect on the current context and the role of local and regional governments in facing the challenges affecting their communities.
Del 10 al 14 de octubre, Ciudades y Gobiernos Locales Unidos (CGLU) organizó su séptimo congreso mundial en Daejeon, República de Corea. En el congreso se reunieron representantes de gobiernos locales, regionales y nacionales, la sociedad civil, la academia y la comunidad internacional para reflexionar sobre el contexto actual y sobre el papel de los gobiernos locales y regionales para atender los retos que afectan a sus comunidades.