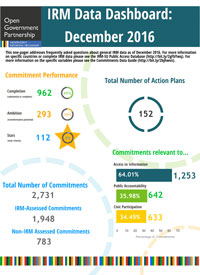 To download a PDF of the flyer, click here.
IRM PROGRESS REPORTS  
The Independent Reporting Mechanism (IRM) is a key means by which all stakeholders can track OGP progress in participating countries. The IRM produces annual independent progress reports for each country participating in OGP. The progress reports assess governments on the development and implementation of OGP action plans, progress in fulfilling open government principles, and make technical recommendations for improvements. These reports are intended to stimulate dialogue and promote accountability between member governments and citizens. In addition to publishing reports, the IRM also releases all of its data in open data format. For more information see the OGP Explorer and IRM Data.
ANALYSIS