Opportunities in Times of Crisis: Towards an Open and Digital State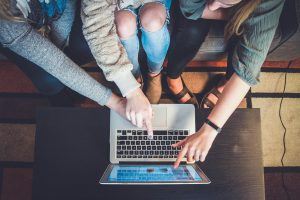 An open government response to the pandemic is open, inclusive and digital
This article was first published by Apolitical. Click here to read the original article.
The global emergency posed by Covid-19 marks a before and after in the way we live. It might also help us rethink how we govern. 
As expressed by the President of the Argentine Republic, Alberto Fernández, our responsibility as a government is "to serve everyone and leave no one out." With more than half of the world's population in preventive social isolation under the slogan #StayHome, how can the government be present if not digitally?
Today, digital governance is not a North Star that we march towards progressively; it is a reality that has thrust itself into our democratic systems and challenges us to respond urgently and effectively to the needs (pre-existing and emerging) of all citizens.
Along with Robin Hodess, one of our priorities as co-chairs of the Open Government Partnership (OGP) is to build trust in digital governance, recognizing the opportunities offered by digital systems and the challenges and risks that come with it. In a context of emergency and accelerated digitization, mainstreaming open government principles in the formulation of policies that deal with the pandemic is crucial to maintain and  generate civic trust. 
An open government to the pandemic
Addressing the pandemic from an open government approach means ensuring that processes are transparent, that information is published in a complete and timely manner, and that citizens — and everyone else — have the opportunity to get involved, and hold the state accountable for its decisions. 
The Government of Argentina is committed to providing an open response to this crisis confronting us just months after taking office. 
For this reason, we launched a specific section on Covid-19 on the official portal argentina.gob.ar, where citizens can find centralized, reliable, and updated information on a daily basis. It is a space to communicate decisions, disseminate preventative measures and response protocols, and avoid the disinformation resulting from the infodemic. The site is accessed 560,000 times every day by more than 300,000 people. 
In turn, the Agency for Access to Public Information issued Resolution 70/2020, which recognizes the validity of administrative deadlines for procedures for requesting access to information and protection of personal data. While the world debates how to process requests for information in exceptional circumstances, Argentina's Information Commissioner reaffirms that access to information is crucial to the exercise of other civic rights. 
Additionally, upholding its commitment to public accountability, the National Government, through the Ministry of Health, disseminates a daily morning and evening report with epidemiological information; and the main health authorities of the country give a daily press conference through digital platforms such as Twitter, Youtube and Facebook, complementing traditional media. 
No one can fight the pandemic alone 
If this pandemic shows us anything, it is that there is no omnipresent state that by itself can provide a comprehensive response. Effective public policies require collaboration. On the one hand, this is evident in the formation of the Expert Committee: scientists and epidemiologists who accompany the President in defining the action plan to deal with the health crisis, and participate in press conferences. 
On the other hand, there is a dimension of collaboration that today more than ever is revalued from the digital services developed by the Secretariat of Public Innovation led by Micaela Sánchez Malcolm. 
Cuidar, an application citizens can use to self-evaluate their symptoms, launched in March 2020, relies on citizen reports to collect information about where the virus spreads and allows the state to design corresponding interventions to flatten the transmission curve and monitor how the situation evolves. The app also offers the possibility of processing circulation permits throughout the country during this period of compulsory isolation. Because these digital services are created at the federal level, all jurisdictions have equitable access to key resources to overcome the pandemic. Along these lines, we launched Entre Todos in early April, a portal that centralizes initiatives and platforms on topics such as education, work, culture and entertainment that citizens propose in order to carry out tasks in isolation.
An inclusive pandemic response
An open response to the crisis must also be  inclusive. As reflected in our priorities as OGP co-chairs, an open state promotes dialogue between powers and involves local governments in that conversation. Since the beginning of the pandemic, the national Government of Argentina has coordinated its response with the provincial and municipal governments adapting to each context, while recognizing jurisdictional autonomy.
Finally, even when the pandemic relegates other public policy agendas to the background, it is worth remembering the transversality of the principles of open government. Thus, domestic processes linked to OGP do not stop, but adapt to the context through consensus. The National Open Government Roundtable of Argentina today is ranked as an area to discuss strategic definitions and solutions permeated by openness values.
The times of global crisis are challenging times, and 2020 is definitely a year of inflection. The crisis has come to catalyze changes in the way we understand the state. The emergency presents  an opportunity: that of understanding digital as a key tool and open government as a principle that runs through it to establish innovative, inclusive and participatory public policies. The transformation towards a digital state will only be effective if it generates its strategy around the principles of open government and leads us to open reform.
Este artículo fue publicado inicialmente por Apolitical. Haz click aquí para leer el artículo original.
La emergencia global por el COVID-19 marca un antes y un después en la manera en que vivimos. La pandemia también nos ayuda a repensar la manera en la que gobernamos.
Como expresó el Presidente de la República Argentina, Alberto Fernández, nuestra responsabilidad como Estado es "atender a todos y no dejar a nadie afuera". Con más de la mitad de la población mundial en aislamiento social preventivo bajo la consigna #QuedateEnCasa, ¿cómo puede el Estado estar presente si no es a través de un Estado digital?
Hoy la gobernanza digital no es un norte hacia el que queremos avanzar progresivamente; es una realidad que irrumpe en nuestros sistemas democráticos y nos interpela a responder con urgencia y de manera efectiva a las necesidades (preexistentes y emergentes) de toda la ciudadanía.
Junto a Robin Hodess, una de nuestras prioridades como copresidentes de la Alianza para el Gobierno Abierto (OGP, por sus siglas en inglés) es fomentar la confianza en la gobernanza digital, reconociendo las oportunidades que ofrecen los sistemas digitales y los retos y riesgos que conllevan. En un contexto de emergencia y de digitalización acelerada, la transversalización de los principios de gobierno abierto en la formulación de políticas para atender a la pandemia resulta aún más necesaria para generar confianza cívica.
Abordar la pandemia desde un enfoque de gobierno abierto implica asegurar que los procesos sean transparentes, que la información se publique de forma completa y oportuna, que la ciudadanía -entre otros actores- tenga la oportunidad de involucrarse, y que el Estado rinda cuentas de sus decisiones.
Desde el Gobierno de Argentina estamos comprometidos con brindar una respuesta abierta a esta crisis que enfrentamos apenas unos meses después de asumir nuestro mandato.
Por ello, impulsamos una sección específica sobre COVID-19 en el portal oficial argentina.gob.ar en la que se encuentra información confiable, centralizada y actualizada diariamente. Se trata de un espacio para comunicar decisiones, difundir guías de prácticas de protección y protocolos de respuesta, y evitar la desinformación resultante de la infodemia. Cada día el sitio recibe 560.000 visitas de 300.000 mil usuarios únicos.
A su vez, la Agencia de Acceso a la Información Pública emitió la Resolución 70/2020, que reconoce la vigencia de los plazos administrativos para trámites de solicitud de acceso a la información y de protección de datos personales. Mientras el mundo debate cómo procesar pedidos de información en circunstancias excepcionales, el órgano garante de Argentina reafirma que el acceso a la información es un derecho clave para el ejercicio de otros derechos cívicos.
Adicionalmente, y reiterando nuestro compromiso con la rendición de cuentas, el Gobierno Nacional, a través del Ministerio de Salud, difunde un reporte diario matutino y vespertino con información epidemiológica, y diariamente las principales autoridades sanitarias del país brindan una conferencia de prensa mediante plataformas digitales como Twitter, Youtube y Facebook, complementando los medios tradicionales.
Si algo deja en evidencia esta pandemia es que no existe Estado omnipresente que pueda por sí solo dar respuesta integral. Las políticas públicas efectivas para afrontar el COVID-19 requieren de la colaboración. Por un lado, esto queda en evidencia en la conformación de un Comité de Expertos: científicos y epidemiólogos que acompañan al Presidente en la definición del plan de acción ante la crisis sanitaria, y participan de las conferencias de prensa. Por otro lado, existe una dimensión de colaboración que hoy más que nunca se revaloriza a partir de los servicios digitales desarrollados por la Secretaría de Innovación Pública que conduce Micaela Sánchez Malcolm.
Cuidar, una aplicación para la autoevaluación de síntomas que lanzamos en marzo, depende de reportes ciudadanos para recabar información acerca de dónde se propaga el virus y permite así al Estado diseñar intervenciones para aplanar la curva de contagios y monitorear la evolución de la situación. La aplicación también brinda la posibilidad de tramitar permisos de circulación en todo el país durante la vigencia del aislamiento obligatorio. Puesto que se federalizan los servicios digitales, todas las jurisdicciones tienen acceso equitativo a recursos clave para atravesar la pandemia. En esta línea, a inicios de abril presentamos Entre Todos, un portal que centraliza iniciativas y plataformas sobre temas como educación, trabajo, cultura y entretenimiento que la ciudadanía propone para poder desarrollar tareas en aislamiento.
Una respuesta abierta a la crisis también debe ser inclusiva. Como reflejan nuestras prioridades como copresidentes de OGP, un Estado abierto promueve el diálogo entre poderes e implica a gobiernos locales en esa conversación. Desde el comienzo de la pandemia, el Gobierno Nacional trabaja de manera articulada con los gobiernos provinciales y municipales coordinando políticas de respuesta al COVID-19 que sean adaptables a cada contexto, reconociendo la autonomía jurisdiccional.
Por último, aun cuando la pandemia lleve a segundo plano otras agendas de política pública, conviene recordar la transversalidad de los principios de gobierno abierto. Así, los procesos domésticos vinculados a OGP no se detienen, sino que se adaptan al contexto mediante el consenso. La Mesa Nacional de Gobierno Abierto de Argentina hoy se jerarquiza como ámbito para discutir definiciones estratégicas y soluciones permeadas por los valores de apertura.
Los tiempos de crisis globales como los que estamos viviendo son momentos desafiantes, y 2020 es definitivamente un año de inflexión. La crisis ha llegado para catalizar cambios en la forma en que entendemos al Estado. La emergencia tiene como contracara una oportunidad: la de entender a lo digital como una herramienta clave y al gobierno abierto como principio que lo atraviesa para establecer políticas públicas innovadoras, inclusivas y participativas. La transformación hacia un Estado digital sólo será efectiva si genera su estrategia en torno a los principios de gobierno abierto y nos conduce a una reforma abierta.
Related Content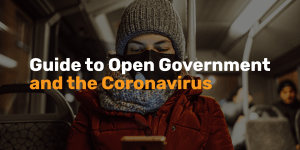 A Guide to Open Government and the Coronavirus
Check out this guide for a one-stop shop of the best current resources on how open government projects and approaches can support tackling the pandemic.

Challenges and Solutions
Open Response, Open Recovery
OGP CEO Sanjay Pradhan writes about how the COVID-19 pandemic has compelled governments and citizens alike to take unprecedented, mitigating actions. In their shared struggle, mutual trust between government and…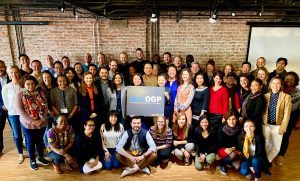 Challenges and Solutions
Launching OGP's 2020-22 Plan in a Time of Crisis
Less than a month ago in Berlin, the OGP Steering Committee met and approved a new three-year implementation plan for the Partnership.