Open Response + Open Recovery: Inclusive Participation and Civic Space in Times of Crisis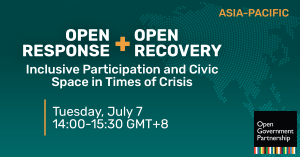 Across Asia Pacific and the world, emergency measures taken during the pandemic to protect public safety and health have significantly affected progress on open government, including by disrupting the ability of civil society organizations to organize, assemble, and protest. Civil society's ability to carry out basic activities, from participating in policy-making and monitoring processes, holding meetings and workshops for coordination and coalition building, to lobbying, protesting, and raising funds has been impacted in several countries across the region. In a number of countries, emergency powers have been abused to restrict the ability of activists' and journalists' ability to hold governments accountable.
This webinar will provide the space for reformers working to maintain inclusive civic participation and hold and expand civic space to hear and learn from each others' experiences and strategize about how to use the OGP platform to meet their needs. Participants will also have the opportunity to learn about tips and tricks to navigate privacy and digital security issues that they are confronted with in protecting civic space during the COVID-19 crisis.
Join us on Tuesday, July 7 from 14:00-15:30 GMT+8. Register here.
Speakers:
Yujin Lee, Deputy Director of the Ministry of the Interior and Safety & OGP Point of Contact, Government of the Republic of Korea
Maryati Abdullah, Director, Publish What You Pay Indonesia and OGP Envoy
Karol Ilagan, Senior Content Producer, Philippine Center for Investigative Journalism
Tur-Od Lkhagvajav, Transparency International Mongolia Board Member and OGP Steering Committee Member
Raman Chima, Senior International Counsel and Asia Pacific Policy Director, Access Now
Shreya Basu, Alan Wu and Ivy Ong, OGP's Asia-Pacific Team