Everyone Has A Story. Together We Have A Mission.
We all have a story about how democracy has affected our lives, our families and friends, our communities, our countries, and the world at large. Far too many of us also have stories about how ongoing democratic regression has impacted their freedoms, their homes and even their lives. Many of these stories are inspiring. Many are heart-breaking. 
Collectively they are helping to mobilize all of us on the critical mission to renew core democratic values.  And they are showing that there is a more hopeful, more open way forward. 
Over the past five years, Open Gov Week has celebrated the doers, thinkers, and creators through 1,300 events – assemblies, debates, hackathons and even a parade or two – in more than 70 countries. Together, we have worked to connect reformers in and out of government, share lessons learned, and push for more ambitious action plans.
This year, we want to do a bit more. In addition to events on and offline, we want to collect and share how the open government movement – even in challenging times – is aligned and how our stories can be a bright spot for the world.
Across our Partnership, reformers are also showing what the better version of democracy looks like. Reformers like those in Argentina who are fighting against gender-based violence, those in North Macedonia who are standing up to discrimination, those in Colombia and the Republic of Moldova who are using open government approaches to help turn the tide against COVID-19. The citizens in the Republic of Korea fighting corruption and pushing for policy change, the parents in the Philippines who are improving the schools and clinics their kids need. The champions in South Africa opening up public budgets and in Nigeria ending anonymous companies. The students in Italy who are fighting for better use of EU funds to improve their communities. The advocates in the United States who fought for the voices of those experiencing homelessness. 
Here is what we ask of you. We launched OpenStories in 2021 to start to collect stories of impact across the Partnership. Today it hosts more than 50 examples, but we know there are more out there. We also know everyone is busy and submitting your story takes time. So this Open Gov Week, we are going to lend a hand. 
"Your Story. Short" is a new story generation tool that will help you quickly share what you are working on right now. You'll respond to a few key cues and questions, and the OGP editorial team will take it from there. We will review your submission and invite you and your team to a special series of storytelling workshops where we will show how your initial submission can turn into a longer form story. OGP will also select the 10 best submissions developed during the workshops and co-create them in partnership with you. These stories will be featured on OpenStories, on social media, and in upcoming regional and global events. 
We hope you will join us in making sure all your stories are heard. And, let's show everyone that we are connected and committed to raising our voices in support of each other and the larger mission to renew democracy for all.
Todas las personas tenemos una historia de cómo la democracia ha afectado nuestra vida o la de nuestra familia y amigos, nuestra comunidad o país o el mundo en general. También, muchos de nosotros tenemos historias de cómo la regresión democrática ha afectado nuestras libertades, hogares e incluso nuestras vidas. Muchas de estas historias son inspiradoras, pero muchas son desgarradoras. 
Estas historias están ayudando a movilizarnos hacia la misión de renovar los valores democráticos. Y están demostrando que hay un camino hacia adelante más esperanzador y más abierto. 
En los últimos cinco años, Open Gov Week (la semana del gobierno abierto) ha celebrado a agentes de cambio, pensadores y creadores a través de 1 300 eventos (asambleas, debates, hackatones e incluso desfiles) en más de 170 países. Juntas y juntos, hemos trabajado para conectar a reformadores de dentro y fuera del gobierno, compartir lecciones aprendidas e impulsar planes de acción más ambiciosos.
Este año queremos ir más allá. Además de eventos virtuales y presenciales, queremos identificar y compartir cómo el movimiento del gobierno abierto – incluso en tiempos complicados – está alineado y cómo estas historias pueden ser rayos de luz para el mundo.  
En toda la alianza, personas reformadoras están mostrando una mejor versión de la democracia. En Argentina, reformadoras y reformadores están luchando contra la violencia de género; en Macedonia del Norte están acabando con la discriminación; en Colombia y la República de Moldavia están utilizando el gobierno abierto para luchar contra el COVID-19; la ciudadanía de República de Corea está luchando contra la corrupción e impulsando cambios de política; padres y madres de familia en Filipinas están mejorando escuelas y clínicas; en Sudáfrica, hay personas abriendo los presupuestos y en Nigeria, eliminando las empresas anónimas; en Italia, estudiantes están luchando por un mejor uso de los fondos de la Unión Europea para mejorar sus comunidades; en Estados Unidos, están luchando por la voz de las personas en situación de calle.
A continuación explicamos lo que esperamos de ti. En 2021, creamos OpenStories (historias abiertas) para reunir historias de impacto en toda la alianza. Hoy, tenemos más de 50, pero sabemos hay más historias por escuchar. También sabemos que tienes muchas ocupaciones y que enviar tu historia toma tiempo, por lo que queremos ayudarte.
 "Your Story.Short" (Tu historia. En Breve) es una nueva herramienta de creación de historias que te ayudará a compartir rápidamente en lo que estás trabajando. Solo tendrás que responder algunas preguntas y después es el turno del equipo editorial de OGP. Revisaremos el contenido y te invitaremos a una serie de talleres de storytelling (habilidades para contar historias) en donde te explicaremos cómo convertir el material que enviaste en una historia más detallada. OGP elegirá las diez mejores historias desarrolladas durante los talleres y las cocreará contigo. Estas historias serán compartidas en OpenStories, en redes sociales y en los próximos eventos regionales y globales.
 Esperamos que nos puedan ayudar a asegurar que sus historias sean escuchadas. Demostremos que estamos conectados y comprometidos a alzar las voces para apoyarnos y trabajar por la misión de renovar la democracia para todas y todos.
Nous avons tous une histoire sur la façon dont la démocratie a affecté nos vies, nos familles et nos amis, nos communautés, nos pays et le monde en général. Beaucoup trop d'entre nous ont également des histoires sur la façon dont la régression démocratique en cours a eu un impact sur leurs libertés, leurs maisons et même leurs vies. Beaucoup de ces histoires sont inspirantes. Beaucoup sont déchirants.
Collectivement, elles contribuent à nous mobiliser tous sur la mission critique de renouveler les valeurs démocratiques fondamentales. Et elles montrent qu'il existe une voie plus prometteuse et plus ouverte.
Au cours des cinq dernières années, la Semaine de Gouvernement Ouvert (en anglais Open Gov Week) a célébré les acteurs, penseurs et créateurs à travers 1,300 événements – assemblées, débats, hackathons et même un ou deux défilés – dans plus de 70 pays. Ensemble, nous avons travaillé pour connecter les réformateurs à l'intérieur et à l'extérieur du gouvernement, partager les leçons apprises et faire pression pour des plans d'action plus ambitieux.
Cette année, nous voulons en faire un peu plus. En plus des événements en ligne et hors ligne, nous voulons collecter et partager comment le mouvement du gouvernement ouvert – même en ces temps difficiles – est aligné et comment nos histoires peuvent être un point lumineux pour le monde.
Dans l'ensemble de notre partenariat, les réformateurs montrent également à quoi ressemble la meilleure version de la démocratie. Des réformateurs comme celles et ceux de Argentine qui luttent contre les violences basées sur le genre, celles et ceux Macédoine du Nord qui s'opposent à la discrimination, celles et ceux en Colombie et République de Moldova qui utilisent des approches de gouvernement ouvert pour aider à renverser la vapeur contre le COVID-19. Les citoyens dans la République de Corée qui luttent contre la corruption et font pression pour un changement de politique, les parents de Philippines qui améliorent les écoles et les cliniques dont leurs enfants ont besoin. Les champions en Afrique du Sud qui ouvrent les budgets publics et au Nigeria qui mettent fin aux entreprises anonymes. Les étudiants en Italie qui se battent pour une meilleure utilisation des fonds de l'UE afin d'améliorer leurs communautés. Les avocats aux États-Unis qui se sont battus pour faire entendre la voix des sans-abri.
Voici ce que nous vous demandons. Nous avons lancé Histoires Ouvertes en 2021 pour commencer à recueillir des histoires d'impact à travers le Partenariat. Aujourd'hui, il héberge plus de 50 exemples, mais nous savons qu'il y en a plus. Nous savons également que tout le monde est occupé et que soumettre votre histoire prend du temps. Alors pour Open Gov Week, nous allons donner un coup de main.
"Votre histoire. En bref" est un nouvel outil de génération d'histoires qui vous aidera à partager rapidement ce sur quoi vous travaillez en ce moment. Vous répondrez à quelques indices et questions clés, et l'équipe éditoriale du PGO partira de là. Nous examinerons votre soumission et vous inviterons, vous et votre équipe, à une série spéciale d'ateliers de narration où nous montrerons comment votre soumission initiale peut se transformer en une histoire plus longue. Le PGO sélectionnera également les 10 meilleures soumissions développées lors des ateliers et les co-créera en partenariat avec vous. Ces histoires seront présentées sur OpenStories, sur les réseaux sociaux et lors d'événements régionaux et mondiaux à venir.
Nous espérons que vous vous joindrez à nous pour faire en sorte que toutes vos histoires soient entendues. Et montrons à tous que nous sommes connectés et déterminés à faire entendre notre voix pour nous soutenir les uns les autres et pour la mission plus large de renouveler la démocratie pour tous.
Related Content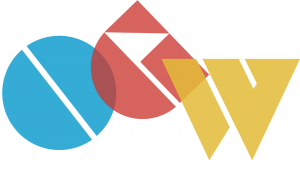 Open Gov Week 2022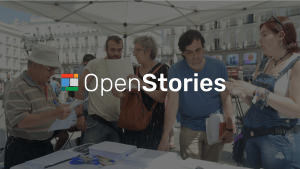 OpenStories
Everyone has a story. Together we have a mission. Explore stories from across the open government community, and submit your own.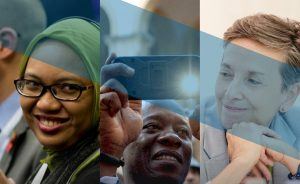 OGP at Ten: Toward Democratic Renewal
When eight governments and nine civil society leaders launched OGP in 2011, no one expected it to reach its current size and scope. Over the last ten years, however, OGP…
This site uses cookies.
Click here for more information about the Open Government Partnership's terms of use.
Terms & Conditions
Close