Faces of Open Gov: Shreya Basu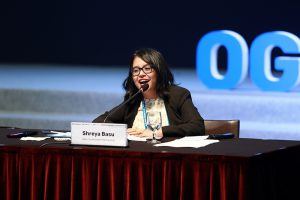 This article was originally published on GovInsider. View the original article here.
How do you use technology/policy to improve citizens' lives? Tell us about your role or organisation.
The Open Government Partnership works with reformers inside and outside of government to make sure that citizens have a role in their democracy beyond the ballot box. We accomplish this by bringing civil society and governments together at the same table to co-create action plans. These plans include a range of actions from fighting corruption to including marginalised voices in policy decisions.
As Lead for Asia Pacific at the Open Government Partnership, I support stakeholders in the region in shaping these action plans and to ensure that they make a real difference in people's lives. Right now, we are seeing many exciting developments that leverage smart policy and technology.
For example, in Mongolia, citizens now fill out community scorecards, many using a mobile application, to rate their schools, water delivery, and trash collection. Citizens can also use the app to reach out to service providers and local officials to ensure issues are resolved or services improved.
In Armenia, the government is publishing draft legislation online and organising public discussions to engage citizens in the lawmaking process. In Georgia, the State Audit Office has enlisted citizens in the fight for accountability – by building an online platform for budget information, budgetmonitor.ge which hosts information on public debt, major infrastructure projects, and municipal budgets. Citizens can also use a "citizen" tab on the platform to identify projects that aren't being completed, report cases of corruption, and suggest projects for government agencies to audit.
What has been the most exciting thing that you worked on in 2018?
The 2018 OGP Asia-Pacific Regional Meeting hosted in Seoul, South Korea in November was a major highlight this year. At the event, government ministers and officials and representatives of civil society shared stories on how countries are opening up their procurement processes to make them fairer and more transparent. They discussed how technology can improve electoral processes, and how citizens can play a role in how public services are delivered.
This year, 11 countries and three local governments in Asia Pacific worked with citizens to develop new plans, which include commitments to making public transportation more accessible in Seoul, addressing election financing transparency in the Kyrgyz Republic, and fostering transparency around how algorithms are used in New Zealand.
If you were to share one piece of advice that you learned in 2018, what would it be?
We need to create the space for informed public debate and collective action, and these spaces must be open to all voices. It is on us to ensure we do what it takes to create inclusion and value diversity.
For example, at the Seoul Regional Summit, we had an equal number of male and female speakers. This didn't happen by itself; we carefully recruited our speakers to ensure balance.
What tool or technique particularly interests you for 2019?
With technology becoming ubiquitous, it is imperative that we protect the rights of citizens and ensure equal access. We are beginning to have conversations about this within the OGP community, particularly on the use of Artificial Intelligence and digital rights.
What are your priorities for 2019?
In 2019, OGP will launch a new effort on gender and inclusion, specifically enhancing the voice of women in politics and policy. What is especially exciting about this work is that we aren't just looking at how women participate, but also how meaningful that participation is, and how it impacts outcomes.
What is one skill that has helped you the most throughout the course of your career?
Be serious about the work you do, but don't take yourself too seriously.
What advancements do you predict will happen in your field in the next ten years?
No one would have predicted ten years ago where we are today, so predictions can be tricky. What I am encouraged by is how citizens across the globe are pushing back on corruption and the consolidation of power in the hands of so few.
This movement is still nascent, but I hope and expect it will continue to grow.
Coffee, yoga, music… what powers you through your day?
Coffee and music – and good intentions about yoga.
Este artículo fue publicado originalmente en GovInsider.
¿Cómo utilizas la tecnología/política para mejorar la vida de los ciudadanos? Cuéntanos sobre tu organización o puesto.
La Alianza para el Gobierno Abierto  trabaja con reformadores del gobierno y no gubernamentales para asegurar que los ciudadanos participan en su democracia, más allá de la boleta electoral. Nuestro enfoque es reunir a la sociedad civil y a los gobiernos para cocrear planes de acción que abarcan una gran variedad de temas, desde la lucha contra la corrupción hasta la incorporación de voces marginadas en el diseño de políticas públicas.
Como líder de la región Asia-Pacífico de la Alianza para el Gobierno Abierto, apoyo a los actores de la región en el diseño de sus planes de acción para asegurar que realmente logren mejorar la vida de sus ciudadanos. Ahora mismo estamos viendo muchos esfuerzos interesantes que aprovechan la tecnología y las políticas inteligentes.
Por ejemplo, en Mongolia los ciudadanos tienen acceso a una aplicación móvil a través de la cual pueden evaluar las escuelas y el servicio de agua y de recolección de basura. Además, pueden utilizar esta aplicación para ponerse en contacto con los proveedores de los servicios y sus funcionarios para exigir que sus inquietudes se resuelvan y los servicios mejoren.
En Armenia, el gobierno está publicando en línea los proyectos de ley y organizando diálogos públicos para permitir a los ciudadanos participar en el proceso de diseño de leyes. En Georgia, la Oficina de Auditorías reclutó a sus ciudadanos en la lucha por la rendición de cuentas al crear una plataforma en línea de información presupuestaria,budgetmonitor.ge, la cual alberga información sobre la deuda pública, proyectos de infraestructura y presupuestos municipales. Además, los ciudadanos pueden identificar proyectos que no se han completado, reportar casos de corrupción y sugerir prioridades para las auditorías.
¿Cuál fue el proyecto más emocionante en el que trabajaste en 2018?
El Encuentro de Asia-Pacífico de OGP 2018, con sede en Seúl, Corea del Sur, en noviembre fue un acontecimiento muy importante. En el evento, ministros y otros funcionarios de gobierno y representantes de la sociedad civil compartieron su experiencia sobre cómo los países están abriendo sus procesos de procuración para hacerlos más justos y transparentes. Hablaron de cómo la tecnología puede ayudar a mejorar los procesos electorales y cómo los ciudadanos pueden participar en la provisión de servicios públicos.
Este año, 11 países y tres gobiernos locales de la región Asia-Pacíficotrabajaron con sus ciudadanos para elaborar nuevos planes de acción. Ejemplos de compromisos establecidos en estos planes son fortalecer la accesibilidad al transporte público en Seúl, fortalecer la transparencia en las finanzas electorales en la República Kirguisa y fortalecer la transparencia en los algoritmos de Nueva Zelanda.
¿Cuál es una lección que aprendiste en 2018?
Tenemos que generar un espacio que nos permita tener un debate público informado y acciones colectivas; estos espacios deben estar abiertos a todas las voces. Es nuestra responsabilidad asegurar que estamos haciendo todo lo posible para fomentar la inclusión y diversidad de valores.
Por ejemplo, en la cumbre regional de Seúl tuvimos un igual número de ponentes mujeres y hombres, lo cual no se dio por sí mismo, sino que elegimos cuidadosamente a nuestros ponentes para asegurar que hubiera equidad de género.
¿Cuál es una herramienta o técnica que te interese especialmente en 2019?
Con la ubicuidad de la tecnología, es fundamental proteger los derechos de los ciudadanos y asegurar que tengan acceso equitativo a ellos. Estamos empezando a discutir este tema al interior de la comunidad de OGP, especialmente sobre el uso de la inteligencia artificial y los derechos digitales.
¿Cuáles son tus prioridades para 2019?
En 2019, OGP lanzará una nueva iniciativa sobre género e inclusión enfocada en fortalecer la participación de las mujeres en la política y en el diseño de políticas. Lo que nos emociona sobre este trabajo es que no solamente estamos analizando la participación de las mujeres, sino además el significado de su participación y cómo afecta los resultados de los compromisos.
Menciona una habilidad que te ha ayudado a lo largo de tu carrera.
Tómate en serio tu trabajo, pero no te tomes a ti mismo demasiado en serio.
¿Qué logros crees que ocurran en tu campo en los siguientes diez años?
Hace diez años, nadie hubiera podido predecir lo que hemos logrado hoy, así que las predicciones pueden ser complicadas. Lo que me impulsa es que los ciudadanos de todo el mundo están luchando contra la corrupción y la consolidación del poder en las manos de unos cuántos.
El movimiento aún está emergiendo y espero que siga creciendo.
Café, yoga, música. ¿Qué te da energía para continuar?
Café y música – y tener la intención de hacer yoga.