Faces of Open Government: Danilo Manzano
Ecuador joined OGP in 2018 and are ready to submit their first action plan this year with a clear emphasis on inclusion. At the 6th OGP Global Summit, LGBTQ+ advocate and open government champion Danilo Manzano shared his thoughts about the importance of including new and diverse voices to OGP processes as well as the need to have more commitments that reflect the needs of all citizens, especially those who have been pushed to the sidelines for too long. 
Ecuador just joined the Open Government PartnershipThe Open Government Partnership (OGP) is a multi-stakeholder initiative focused on improving government transparency, ensuring opportunities for citizen participation in public matters, and strengthen... More (OGP) and will submit its first action planAction plans are at the core of a government's participation in OGP. They are the product of a co-creation process in which government and civil society jointly develop commitments to open governmen... this year. Which commitments can we expect to see in this action plan?
In joining OGP, Ecuador is working on four fundamental areas for the creation of a new democracy. We are taking on commitments related to transparency and access to public information, integrity and public accountability, citizen participationAccording to OGP's Articles of Governance, citizen participation occurs when "governments seek to mobilize citizens to engage in public debate, provide input, and make contributions that lead to m... More and collaboration, and public and citizen innovation.
These commitments are living up to the expectations of democracy in the 21st century. Academia, a diverse civil society and the state are taking on the responsibility of co-creating an open government action plan that promotes wide, free and meaningful participation.
Our goal is ambitious, but not impossible to attain, as long as each participating stakeholder understands that the sum of our efforts is what makes this process legitimate, while being able to define the individual and collective responsibilities that will ensure the effective implementation of the action plan.
In this context, we as civil society expect the state to act and that the relationship between the three stakeholder groups is horizontal and free of any co-opting and political manipulation.
This partnership allows citizens to understand that their role in this process is key, as it shows the inequality gaps and the lack of state action that have historically prevented democracy to become open and inclusive.
The co-creation processCollaboration between government, civil society and other stakeholders (e.g., citizens, academics, private sector) is at the heart of the OGP process. Participating governments must ensure that a dive... of this action plan took the risk of inviting a wide range of stakeholders and conducting a decentralized process, in such a way that social organizations, including those representing remote areas of the country, are able to voice their demands through plans, ideas, and projects.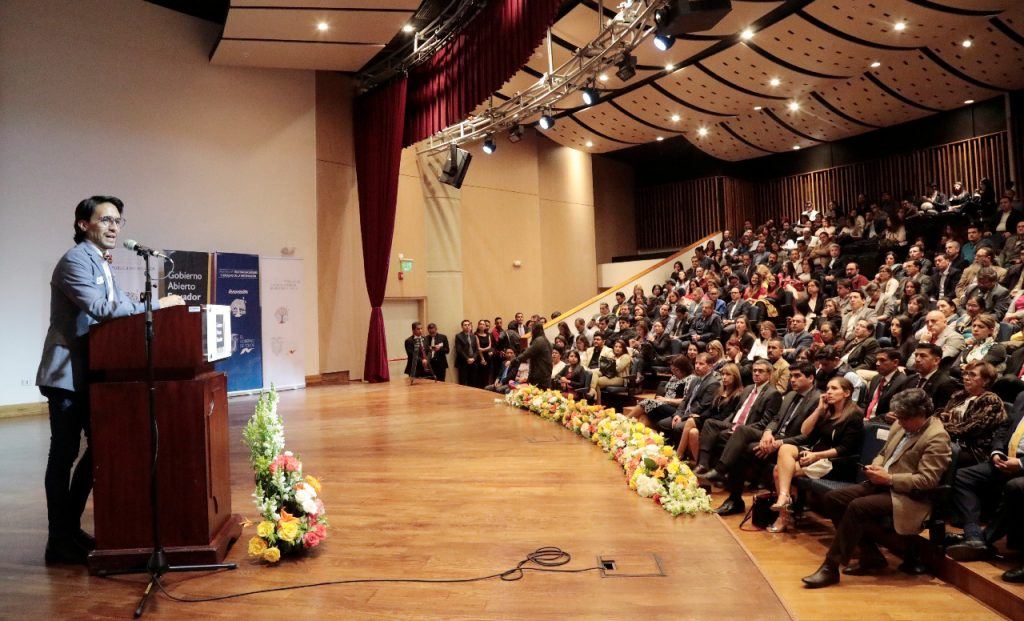 Danilo addresses civil society and government officials – including the Vice-President of Ecuador – at a high-level event during Open Gov Week.
The process consisted of 8 dialogues conducted in different cities across the country, for a total of 314 proposals that then became 39 potential commitments. These are currently being prioritized and further refined. In line with the process timeline, these commitments will be implemented over the course of the next two years.
 This diverse plan strengthens the pillars of open government and allows historically marginalized organizations to participate in its co-creation. LGBTIQ and women groups participated in this process, which resulted in the establishment of a commitmentOGP commitments are promises for reform co-created by governments and civil society and submitted as part of an action plan. Commitments typically include a description of the problem, concrete action... to end violence against women and the LGBTI community.
The fact that the LGBTIQ community participated in the co-creation of Ecuador's open government action plan is a significant milestone.
Why is it important to include LGBTQ+ voices in open government processes?
We are a time of diversity. Historical exclusion and worldwide struggle highlight the need to claim back our rights and access to equal opportunities.
In Ecuador, we will soon celebrate just 22 years since homosexuality was decriminalized in the Constitution. Before 1971, being LGBTIQ was considered a crime, and the state used to incarcerate the bold who dared to defy the system by increasing their visibility.  
We cannot talk about democracy if it does not include meaningful participation of sex and genderOGP participating governments are bringing gender perspectives to popular policy areas, ensuring diversity in participatory processes, and specifically targeting gender gaps in policies to address gov... diversity as as relevant stakeholder for decision making and better planning of the country's strengthening.
We must guarantee that all voices are heard in co-creation processes that seek to create stronger democracies in the name of open government.
This tool allows for organized and individual voices to continue to fight for equal access to health, educationAccountability within the public education system is key to improving outcomes and attainment, and accountability is nearly impossible without transparent policies and opportunities for participation ..., employment, housing, social security and more. Thus, we want to show that, in practice, we contribute to creating better states. But our identities must be recognized at all levels, and guaranteeing equal rights should not be a privilege, but a historic debt to be paid across the world.
Diálogo Diverso is a civil society organizations participating in the country's co-creation process. 
How can we leverage OGP to further the rights of the LGBT community?
First, it allows us to organize internally. We cannot make demands if we do not know what we want. Second, we must understand what open government is and what it is not, because the effective use of this potential form of collaboration can bring about effective outcomes.  
OGP allows us to come closer to people, be familiar with new dynamics and create a participatory citizenry that does not exclude diverse groups, but understands their importance for decision making processes and has a sense of respect for our needs and their implications for our everyday lives.
The partnership allows us to rethink, from the LGBTI perspective, the construction of our country. It also helps us understand the frameworks behind the establishment of pluralistic mechanisms and strategies.
This partnership will help us regain the solidarity we had lost, resulting in individual fights, leaving behind the most valuable component, which is to work in diversity and seek better days for everyone and for the full recognition of human rightsAn essential part of open government includes protecting the sacred freedoms and rights of all citizens, including the most vulnerable groups, and holding those who violate human rights accountable. T... without discrimination.
Ecuador se unió a OGP en el 2018 y están listos para entregar su primer plan de acción este año con un gran énfasis en inclusión. En la 6ta Cumbre Mundial de OGP, el activista LGBTQ+ y campeón de gobierno abierto Danilo Manzano nos contó sobre la importancia de incluir voces nuevas y diversas a los procesos de OGP así como la necesidad de tener más compromisos que reflejen las necesidades de todos los ciudadanos, especialmente aquellos que han sido empujados a los márgenes por tanto tiempo. Lee más aquí.
Ecuador acaba de unirse a la Alianza para el Gobierno Abierto (OGP por sus siglas en inglés) y presentará su primer plan de acción este año. ¿Qué compromisos podemos esperar en el plan de acción?
Ecuador se suma a OGP en cuatro ejes fundamentales para la construcción de una nueva forma de vivir la democracia. Asume los siguientes compromisos: transparencia y acceso a la información pública, integridad y rendición de cuentas públicas, participación ciudadana y colaboración e innovación pública y ciudadana.
Los compromisos están a la altura de lo que la democracia en el siglo XXI requiere, desde una acción tripartita, en la cual la academia, sociedad civil en su diversidad y el Estado, asumimos desde nuestros roles la corresponsabilidad de co-crear un plan de Gobierno Abierto que permita una participación amplia, propositiva y libre.
Los objetivos son ambiciosos, mas no imposibles de construir en medida de que cada actor que conforma este espacio tenga la claridad de entender que, la suma de los esfuerzos conjuntos le dan legitimidad a este proceso y permiten al mismo tiempo definir las responsabilidades individuales y colectivas para que su ejecución se materialice de manera efectiva.
En este contexto y cómo sociedad civil esperamos que el Estado hable con hechos concretos, así también que la relación entre estos tres grandes actores sea horizontal y lejos de cualquier objetivo de cooptación y manipulación político-partidista.
Esta alianza le permite a la ciudadanía entender que su rol dentro de este proceso es una parte fundamental, pues permite comprender las brechas de desigualdad y la falta de acciones del Estado que en tiempos pasados no permitieron democracias más abiertas y menos excluyentes.
La metodología para la co-creación de este plan en Ecuador, se arriesgó por así decirlo a realizar un llamado amplio y descentralizado, de modo que, las organizaciones sociales desde los puntos más distantes de nuestro territorio tengan la posibilidad de plasmar sus demandas a través de planes, ideas y proyectos para su consolidación.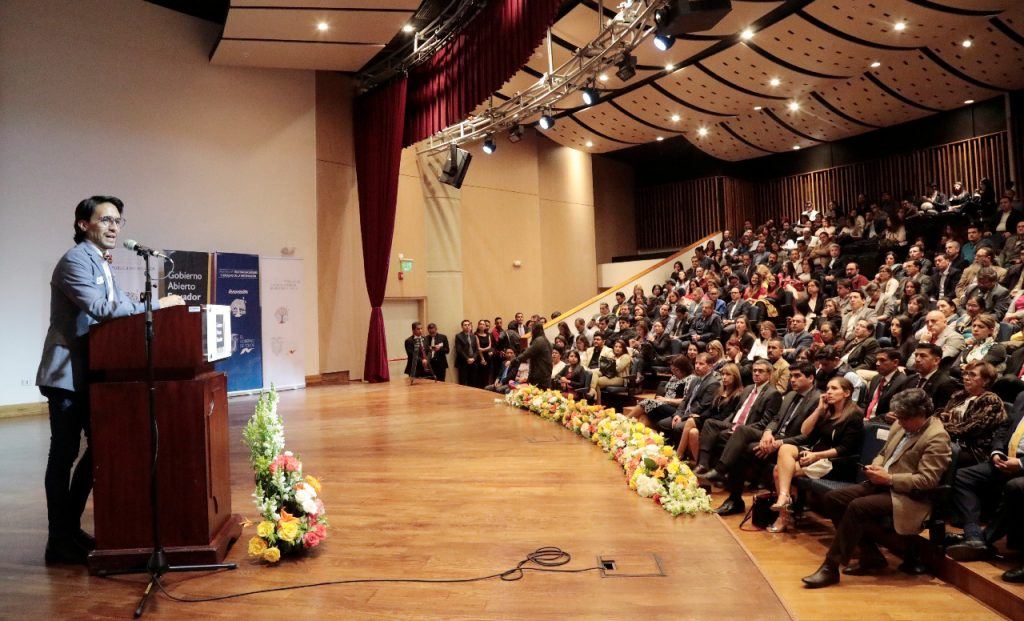 Danilo participa en la Asamblea de Apertura de Open Gov Week en Ecuador. 
Siendo así el proceso contó con la realización de diálogos en 8 ciudades del país., obteniendo un total de 314 propuestas que se han afinado en 39 potenciales compromisos, los cuales están siendo definidos y priorizados en este momento y conforme a los cronogramas establecidos dentro del proceso, que durará dos años en su implementación.
Este plan tan nutrido y diverso fortalece los pilares de Gobierno Abierto y permitió que organizaciones históricamente vulneradas y excluidas, hayan sido parte de la co-creación del mismo. A través de este llamado los grupos LGBTIQ y organizaciones de mujeres nos vinculamos dentro del desarrollo del mismo, obteniendo como un gran resultado que exista dentro de este primer plan un compromiso claro que persigue eliminar la violencias hacia mujeres, personas LGBTI y en sí mismo de los grupos de atención prioritaria.
Constituye en nuestra democracia un hito que personas LGBTIQ hayamos sido también parte del equipo de implementación de la metodología para la co-creación del plan de Gobierno Abierto en Ecuador.
¿Por qué es importante incluir voces LGBTQ+ en los procesos de gobierno abierto?
Este es el milenio de las diversidades, nuestra historia de exclusión y luchas a nivel mundial evidencian la necesidad de reivindicar nuestros derechos y el acceso a iguales oportunidades.
En Ecuador estamos próximos a conmemorar apenas 22 años en que la homosexualidad fue despenalizada en nuestra Constitución, antes de 1997 ser LGBTIQ era considerado un delito, donde la cárcel era la respuesta que el Estado otorgaba a quienes de manera valiente y frontal desafiaban el sistema a través de su visibilidad.
Entonces, no podemos hablar más de democracia, si la misma no contempla la participación activa de las diversidad sexo-genérica como un actor relevante en la toma de decisiones y planificación de mejores procesos de construcción de país.
En vital garantizar que todas las voces sean incluidas en los procesos de co-creación que a nombre del Gobierno Abierto buscan mejores democracias en nuestras regiones.
Esta herramienta permite que las voces organizadas e individuales podamos seguir luchando por el acceso igualitario a la salud, educación, empleo, vivienda, seguridad social, entre otros. Y de esta manera demostrar que en la práctica, nuestro ejercicio ciudadano aporta en el día a día en la consolidación de un mejor Estado, pero nuestras identidades deben ser reconocidas en todos los niveles, pues garantizar igualdad de derechos no es un privilegio, sino una deuda histórica a nivel mundial.
Diálogo Diverso es una organización de sociedad civil que participa en el proceso de cocreación de gobierno abierto.
¿Cómo podemos utilizar OGP para avanzar los derechos de personas LGBT?
Primero esto nos permite organizarnos casa dentro, no podemos exigir sin estar seguros de lo que queremos, por otro lado es importante comprender qué implica Gobierno Abierto y aquello que no es parte de su accionar o razón de ser. Pues el uso efectivo de esta potencial forma de articulación puede brindar resultados efectivos a nuestras demandas.
OGP nos permite acercarnos a la gente, conocer nuestras dinámicas y a la vez formar ciudadanía participativa que no excluye a la diversidad, más bien entiende la importancia de la misma en los procesos de toma de decisiones y el sentido del respeto para comprender el porqué de nuestras necesidades y su implicación en el día a día.
Permite promover liderazgos desde nuestras poblaciones para repensar desde la mirada LGBTI la construcción del país. Del  mismo modo comprender las lógicas a través de las cuales se establecen mecanismos plurales de incidencia y estrategias para alcanzar objetivos.
Esta alianza recupera la solidaridad perdida que por años hizo que las luchas se hayan gestado de manera individual, dejando de lado el componente más valioso, el cual es trabajar en diversidad y buscar mejores días para todas, todos y todes por el reconocimiento pleno de los derechos humanos sin discriminación.
Related Content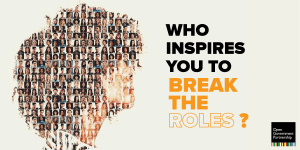 How – Together – We Can Break the Roles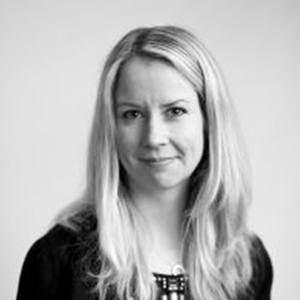 Champions
Faces of Open Gov: Mary Francoli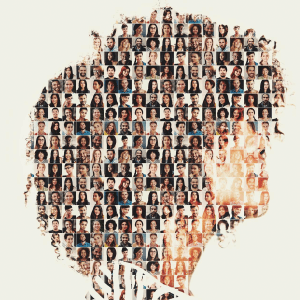 Break the Roles
In 2019, OGP launched Break the Roles, a campaign asking all of us to strengthen the gender perspectives in our commitments and increase women's voices across open government.