Creating OGP's Future Together: Phase 2 Report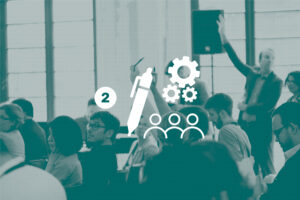 Check out the full Phase 2 Report here or in Google Docs here.
This report provides a summary of the process and emerging insights from the second phase of the Open Government Partnership's (OGP) process to co-create a new strategy for 2023-2028. The aim of the report is to analyze and reflect back to you – the OGP community – what we've heard and how it has shaped the draft strategy (currently open for public comment here), and to hold us accountable to OGP's Co-Creation and Participation Standards. The report is based on the OGP Support Unit's analysis of the data and subsequent sensemaking process. More on the rationale and process for developing a new strategy, and documentation on the process to date can be found here.
Phase 1 (which ran from May to August 2022) focused on big picture questions and discussions around the most significant future contribution of open government and the most catalytic and effective role for OGP. Results from this phase of the consultations can be viewed here.
The findings from the first phase led to development of seven potential emerging strategic directions and three preconditions for success, which were presented to the OGP Steering Committee at their retreat in October 2022. The validated strategic directions and ideas to pursue them were then put to public consultation as part of Phase 2, which focused on how OGP can make its best contribution, with options for new models and strategies. This report summarizes the findings of this phase and situates the resulting draft strategy that is now available for public comment here in the inputs received. This phase will end with updating the strategy based on the comments received on the draft to produce the final strategy to be approved by OGP's Steering Committee at the end of March 2022.
In the first quarter of 2023, the OGP Support Unit and IRM, under the guidance of the OGP Steering Committee and Board, will commence the third phase of operationalizing the strategy by developing the implementation roadmap.
How You Can Contribute
Comment on the draft strategy now through February 15, 2023. You can find the draft strategy on

Discuto

or as a PDF here. Please share your feedback on

Discuto

or in an email to

strategy@opengovpartnership.org

. 

Convene your multi-stakeholder forum or networks to discuss the draft strategy and provide your inputs via your primary OGP Steering Committee or Support Unit Point of Contact.
Engage high-level OGP leadership in your country, local, or issue area to ensure they are aware of and provide political support for the new strategy.
Share feedback, suggestions, comments, and questions at any time by emailing strategy@opengovpartnership.org.