Argentina and The B Team's Robin Hodess Take Helm of International Partnership on Open Government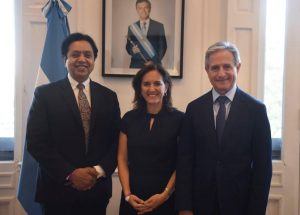 Will work to build responsive, accountable and inclusive institutions that improve outcomes for citizens 
FOR IMMEDIATE RELEASE
October 1, 2019
Washington D.C. –
The Government of Argentina and Robin Hodess from The B Team assumed their roles as Chairs of the Open Government Partnership (OGP) Steering Committee beginning on October 1, 2019. In their new roles, they will lead an organization of 79 countries, a growing number of local governments, and thousands of civil society organizations working together to transform how government serves its citizens.
The Government of Argentina and Hodess will build on the Partnership's ongoing work to promote inclusion and the critical role civic space plays in democracy. They will also focus the Partnership on promoting and protecting digital governance and rights, advancing efforts to open institutions beyond the Executive branch to citizen monitoring and feedback, fostering access to justice through an Open Justice Coalition, and continuing to strengthen anti-corruption, transparency, and integrity efforts.
"We are excited to lead a Partnership that is unique and full of opportunity — and whose successes are already delivering for citizens around the globe," said Deputy Chief of Cabinet and Secretary of Modernization Andrés Ibarra. "OGP has created a space for government and over 200 civil society organizations in Argentina to come together both at the national and local level to address issues like access to justice, gender equality, climate change, the inclusion of indigenous peoples, and water and sanitation."
Argentina has been a member of OGP since 2012 and has begun implementing its new 2019-2021 action plan. The plan includes 15 reform commitments, such as enhancing transparency in the extractives sector, increased budget accountability, sexual and reproductive rights, and strengthening civic participation.
"Lives will improve if we change how governments meet people's needs. It's about dignity and democracy," said Hodess. "The future we want requires accountable and inclusive governance approaches– and where a range of stakeholders are engaged."
Hodess currently serves as the Director of Governance and Transparency at The B Team. She has worked on open government issues for over two decades and has been part of the OGP Steering Committee since 2016.
Argentina and Hodess succeed the Government of Canada and Results For Development's Nathaniel Heller as co-chairs. During their tenure, Heller and the Government of Canada championed citizen participation, gender and the inclusion of underrepresented groups in open government processes, and demonstrating the impact of open government.
"In a geopolitical context of rising authoritarianism and attacks on civic space, we need high-level political leadership to deliver the promise of democracy beyond the ballot box," said OGP CEO, Sanjay Pradhan. "We would like to deeply thank the Government of Canada and Nathaniel Heller for their leadership and helping advance OGP's strategic priorities this past year and look forward to Argentina and Ms. Hodess's leadership starting October 1."
OGP brings government and civil society together to co-create two-year action plans with concrete commitments across a broad range of issues. This model – which has produced nearly 4,000 commitments – allows civil society organizations and direct citizen engagement to play a role in shaping and overseeing governments.
For example, more than 50 municipal councils were established in Paraguay through OGP so citizens could determine budget priorities and influence projects impacting their communities. In Ukraine, an online platform empowers citizens to oversee procurement processes and submit feedback or report violations across the procurement cycle. In Mongolia, the government used the OGP process to work with citizens to improve schools in communities around the country.
About OGP
In 2011, government leaders and civil society advocates came together to create a unique partnership—one that combines these powerful forces to promote accountable, responsive and inclusive governance. Seventy-nine countries and a growing number of local governments—representing more than two billion people—along with thousands of civil society organizations are members of the Open Government Partnership (OGP).
For questions or to set up interviews please contact:
Jose Perez Escotto
Communications Officer
jose.perez@opengovpartnership.org.
###
Trabajarán en crear instituciones responsables, inclusivas y que rindan cuentas para mejorar la vida de la ciudadanía
PARA DIFUSIÓN INMEDIATA
1 de octubre de 2019
Washington D.C. –
El Gobierno de Argentina y Robin Hodess, representante de The B Team, tomaron posesión de sus cargos como copresidentes de Open Government Partnership (OGP). A partir del 1 de octubre de 2019, estarán al frente de una organización que cuenta entre sus miembros a 79 países, un número cada vez mayor de gobiernos locales y miles de organizaciones de la sociedad civil que trabajan juntos para transformar la forma en la que los gobiernos trabajan por la ciudadanía.
El Gobierno de Argentina y Hodess seguirán fortaleciendo el trabajo de la Alianza y promoverán la inclusión y el papel fundamental que el espacio cívico tiene para el funcionamiento de la democracia. Además, enfocarán los esfuerzos de OGP en el impulso y protección de la gobernanza y los derechos digitales, la promoción de la apertura de las instituciones más allá del poder ejecutivo hacia el monitoreo y la retroalimentación ciudadana, el apoyo a la justicia a través de la Coalición de Justicia Abierta y el fortalecimiento a los esfuerzos de anticorrupción, transparencia e integridad.
"Estamos contentos de encabezar una alianza única y llena de oportunidades – y cuyos logros ya están trayendo beneficios para gente de todo el mundo," comentó el Vicejefe de Gabinete y Secretario de Gobierno de Modernización de Argentina, Andrés Ibarra. "OGP ha creado un espacio que ha permitido al gobierno y más de 200 organizaciones de nuestro país colaborar, tanto a nivel nacional como local, en la atención a temas como el acceso a la justicia, equidad de género, cambio climático, la inclusión de pueblos indígenas y agua y saneamiento."
Argentina se incorporó a OGP en 2012 y actualmente está implementando su plan de acción 2019-2021. El plan incluye 15 compromisos de reformas, incluyendo la transparencia en el sector extractivo, la rendición de cuentas asociada a los presupuestos, la protección de los derechos sexuales y reproductivos y el fortalecimiento a la participación cívica.
"La vida de las personas mejorará si cambiamos la forma en la que los gobiernos trabajan en satisfacer las necesidades de la gente," comentó Hodess. "El futuro que queremos requiere de enfoques de gobernanza incluyentes que incorporen la participación de una gran cantidad de actores."
Actualmente, Hodess es directora de gobernanza y transparencia de The B Team. Desde hace dos décadas, ha trabajado en temas de gobierno abierto y es miembro del Comité Directivo de OGP desde 2016.
Argentina y Hodess reemplazan al Gobierno de Canadá y a Nathaniel Heller, representante de Results for Development, como copresidentes de OGP. Durante su mandato, Heller y el Gobierno de Canadá impulsaron la participación ciudadana, la perspectiva de género y la inclusión de grupos subrepresentados en los procesos de gobierno abierto, además de enfocarse en demostrar el impacto del gobierno abierto.
"En un contexto geopolítico de alza del autoritarismo y de ataques al espacio cívico, necesitamos de un liderazgo político de alto nivel para cumplir con la promesa de la democracia más allá de las urnas electorales", comentó el director ejecutivo de OGP, Sanjay Pradhan. "Queremos agradecer profundamente al Gobierno de Canadá y a Nathaniel Heller por su liderazgo y por ayudar a impulsar las prioridades estratégicas de OGP este año y estamos listos para aceptar el liderazgo de Argentina y de Robin Hodess a partir del 1 de octubre."
OGP reúne a gobiernos y a la sociedad civil para cocrear planes de acción bianuales que incluyen compromisos concretos sobre una gran variedad de temáticas. Este modelo – que hasta la fecha ha producido cerca de 4000 compromisos – permite que las organizaciones de la sociedad civil y la ciudadanía participen en la definir las prioridades de los gobiernos y supervisar su trabajo.
Por ejemplo, a través de OGP se establecieron más de 50 concejos municipales en Paraguay para permitir a los ciudadanos elegir sus prioridades para el diseño de los presupuestos e influir en los proyectos que afectan a sus comunidades. En Ucrania, se creó una plataforma virtual que permite a la ciudadanía supervisar los procesos de compras y contrataciones y enviar su retroalimentación o reportar violaciones a lo largo del ciclo de procuración. En Mongolia, el gobierno utilizó el proceso de OGP para trabajar con sus ciudadanos en el mejoramiento de escuelas de todo el país.
Acerca de OGP
En 2011, un grupo de líderes de gobierno y representantes de la sociedad civil se reunieron para crear una alianza única que une fuerzas para promover una gobernanza responsable, incluyente y que rinde cuentas. Actualmente la alianza cuenta entre sus miembros a setenta y nueve países y un número cada vez mayor de gobiernos locales – que en su conjunto representan a más de dos mil millones de personas – junto con miles de organizaciones de la sociedad civil.
En caso de tener alguna pregunta o para programar una entrevista, por favor contacta a Jose Perez Escotto, oficial de comunicaciones, al correo: jose.perez@opengovpartnership.org.
###