Accessing Archives in a Post-Soviet World: The Georgian Experience
Commitments to bring about positive changes in archival landscape have been made by nearly 20 countries in their action plans for the Open Government Partnership (OGP). Commitments ranged from ensuring unhindered citizen access to public information and archival documents, adopting or amending relevant archival laws, declassifying archival materials, and digitizing paper-based documents to make them publicly available online.
Access to archival documents remains a contentious topic among many post-totalitarian countries, including those with Communist and Socialist pasts. De-Sovietization, transitioning to democracy, and rethinking the Soviet past has proceeded differently and at a varying pace in former Soviet republics.
These differences determined the state policies toward archives. In many countries, documents of the totalitarian era remain classified, and archives are often not accessible to scholars and historians. Others opened their archives only partially. Georgia, Ukraine and the Baltic States have adopted a new approach in the post-Soviet space by opening their Soviet archives and making them accessible to researchers. However, a lot still remains to be done.
One of the very first commitments in Georgia's OGP action plan was to enhance the openness of state archives. In 2013, the Institute for Development of Freedom of Information (IDFI) successfully advocated for the Ministry of Justice and the National Archives of Georgia to abolish the fee for receiving digital or hard copies of documents. In its 2014-15 OGP action plan the Government of Georgia committed to digitizing archival documents of the Soviet period at the Ministry of Internal Affairs and creating e-catalogues that allow online searching by name of persecuted persons in the former KGB Archive. Without having to physically go to the archival institution, citizens can now fill out an application form online and receive hard or digitized copies of archival documents.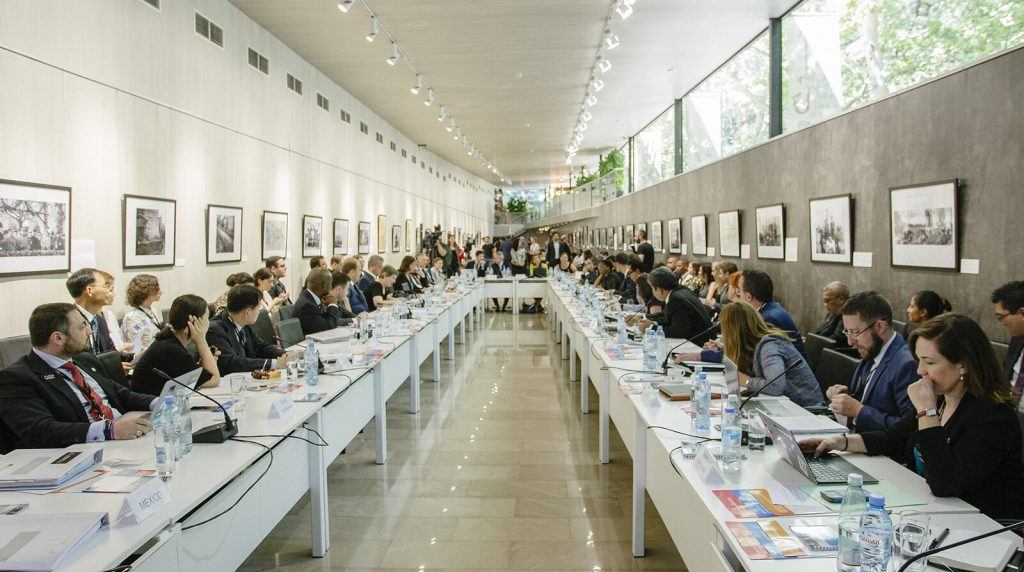 OGP Steering Committee members, including Giorgi Kldiashvili, met at the National Archives of Georgia in 2018 for the 5th OGP Global Summit.
In 2017, supported by the Open Society Foundations, IDFI launched a project titled Enhancing Openness of State Archives in Former Soviet Republics. The goal of the project is to encourage the process of rethinking of Soviet and totalitarian past by fostering research and promoting the openness of state archives in post-Soviet and post-socialist countries. To achieve this goal, a network of scholars and archivists was created to carry out active national and international advocacy campaigns to achieve openness of archives. The methodology for evaluation of both the legislation and practice of openness of state archives was elaborated together with international partners and experts. A total of 20 state archives were assessed in 10 countries using this methodology, with the results being published on at – http://open-archives.org/. In 2019, the project was expanded to seven more countries of former Eastern Bloc. The project is planned to take larger international scale in the future and the Rating to become the global standard for evaluating the openness of state archives.
In 2018, IDFI initiated amendments to national legislation regulating archives in Georgia based on research conducted as part of the Open Archives project as well as recommendations from researchers working on Georgian archives. Considering the fact that the fees for making copies are inadequately high in the reading halls of the National Archive and the MIA Archive of Georgia, IDFI recommended to follow international practice and allow researchers to use their own cameras in reading halls. Another major problem is the concept of Personally Identifiable Information that gives archives the possibility to deny researcher access to documents created in the last 75 years.
Easy access to archival documents and online publication of catalogs can have substantial impact on the transition of post-totalitarian states. Together with the success story of Ukraine, Georgia's example and the advocacy work done by IDFI on openness of former KGB files can be considered as one of the best practices achieved through OGP. Such efforts promote openness not only on matters of the past, but of the present as well. 
Related Content
Challenges and Solutions
Empowering the People – Our Antidote to Authoritarianism
Remarks made by OGP CEO Sanjay Pradhan at the Opening Plenary of the 2018 Global Summit in Tbilisi, Georgia, on July 18, 2018.
Champions
Faces of Open Government – Giorgi Kldiashvili
Faces of Open Government – Giorgi Kldiashvili
Impact
Breaking down iron doors: why opening up Soviet archives matters
Breaking down iron doors: why opening up Soviet archives matters