Break the Roles Voices: Mary Robinson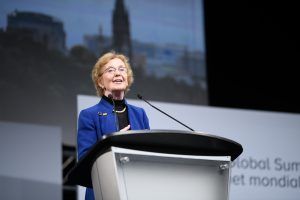 Mary Robinson was the first woman president in Ireland and went on to serve as the United Nations High Commissioner for Human Rights. She shares her experience of being a woman in leadership and how ensuring citizens have clear and easy access to justice is a key part of opening government work.
This video is part of Break the Roles, an OGP campaign asking all of us to strengthen the gender perspectives in our OGP commitments and increase women's voices across open government. OGP's goal is to encourage at least 30 percent of members to take meaningful action on gender and inclusion in 2019. Learn more about the campaign here.