Democracy Beyond the Ballot Box: The Biden Imperative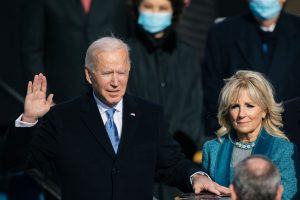 The nation and the world breathed a giant sigh of relief as Joe Biden assumed the Presidency declaring "Democracy has prevailed." Despite months of disinformation, culminating in the dangerous attempted coup, America weathered attacks on its most sacred foundation: the ballot box.
But, make no mistake, the assault on democratic institutions is broad and deep. The last four years have seen systematic attacks on oversight institutions, flagrant conflicts of interest, imploding crises of systemic racism and political polarization, and the blatant spread of disinformation through countless media channels.
The U.S. is now part of a decade-long democratic backsliding globally which has emboldened authoritarian leaders from Hungary to Russia. These elected leaders have eroded and weaponized democratic institutions to attack opposition and consolidate power. Their rise is inextricably linked to corruption; unchecked kleptocrats steal to cement their hold on power, and launder that money in rich countries.
The Biden administration must counter the tide of kleptocracy, including in the U.S, and support democracies that serve all their citizens, not just the few.
To accomplish this the new administration can leverage a ready-made platform that has delivered results: the Open Government Partnership (OGP). In 2011, the Obama-Biden administration launched OGP, which has grown to 78 countries, where national and local governments and thousands of civil society organizations co-create OGP action plans to reinvigorate democracy, empowering citizens to shape and oversee government everyday, not just once every few years when they vote. At the 2020 UN General Assembly, French President Macron, German Chancellor Merkel, Canadian Prime Minister Trudeau, Nigerian President Buhari, and other leaders committed to leveraging OGP to build back better democracy post-COVID-19.
The Biden administration's task of renewing democracy must begin at home. It can leverage its fourth OGP action plan to implement ambitious reforms proposed by U.S. civil society in three priority areas: combating corruption, protecting civil rights and electoral integrity, and tackling disinformation. And abroad it can support similar reforms across 100-plus OGP action plans through U.S. agencies and missions.
First, the U.S. is one of the world's premier destinations for stolen and laundered money. The recent National Defense Authorization Act limits shell companies, and will require enacting regulation. Another important step to limit kleptocracy is to expand mandatory disclosures of cash real estate purchasers. Through OGP, the U.S. can help advance these as global norms. Twenty OGP members have already committed to ending anonymous companies. Additionally, to address weaknesses laid bare in post-Watergate reforms, the new administration must restore trust that the Executive acts in the public interest, through ethics reform such as stronger asset disclosure.
Second, the killings of George Floyd and other black men and women — as well as the differential treatment of peaceful protestors at Lafayette Square versus violent rioters at the Capitol — have further exposed the harsh realities of systemic racism, inequality, and injustice. The U.S. OGP action plan can raise the visibility of audits by the Attorney General and other bodies on violations of civil rights and racial biases in the justice and electoral system. Following the killing of Michael Brown, the Obama-Biden Administration used its third action plan to implement the recommendations of the Task Force on 21st Century Policing on police data disclosure, now in 130 of the largest U.S. police departments. It also used OGP to increase resources for legal aid. Colombia, Indonesia, and North Macedonia followed the U.S. example and improved legal aid for the most vulnerable through OGP.
Third, the January 6 violent insurrection viscerally epitomizes the deep polarization tearing American democracy apart. The solutions are complex and must include combating foreign influence in elections, tackling disinformation, and holding media platforms accountable, while protecting free speech. Other OGP countries can guide the way. Ireland introduced new laws to make online political advertising transparent. The U.K. has a specialized unit to combat disinformation. And Mexico, following a 2017 illegal surveillance scandal, committed to multi-stakeholder oversight of digital surveillance procurement.
The President's proposed "Summit for Democracy" can spotlight the imperative for democracy renewal at home and abroad. Along with the G7, G20, and the OGP 10th Anniversary Summit, this can help forge a coalition to reinvigorate democracy and counter authoritarianism. To ensure that these forums aren't solely "talk shops," OGP members can translate global commitments into concrete action plans.
Democracy reform can underpin all of the new administration's priorities. Accordingly, he must invest commensurate political capital, establishing a White House Office for Democracy, housing OGP in the White House for interagency coordination, and having the U.S. rejoin the OGP Steering Committee.
Joe Biden won at the ballot box.  He must now renew democracy beyond the ballot box – at home and abroad.
Featured Image: President Joe Biden Swearing in on January 20, 2021. Credit: White House, Public domain, via Wikimedia Commons
La nación y todo el mundo respiraron con alivio cuando Joe Biden asumió la presidencia, declarando que "la democracia prevaleció". A pesar de los meses en los que imperó la desinformación y que terminaron con un intento de golpe de Estado, Estados Unidos sobrevivió a los ataques a su fundamento más sagrado: las urnas electorales.
Pero no nos confundamos, el ataque a las instituciones democráticas es amplio y profundo. En los últimos cuatro años fuimos testigos de ataques sistemáticos a las instituciones de supervisión, grandes conflictos de interés, crisis de racismo sistémico y polarización política y la propagación de desinformación a través de un sinfín de medios.
Estados Unidos se encuentra entre los países en los que, desde hace una década, la democracia está decayendo, lo que ha fortalecido a líderes autoritarios desde Hungría hasta Rusia. Estos líderes electos han debilitado y armado a las instituciones democráticas para atacar a la oposición y consolidar el poder. Su aparición está cercanamente ligada a la corrupción: los cleptócratas han robado y cimentado su manejo del poder y lavado dinero.
La administración de Biden deberá luchar contra la marea de la cleptocracia, incluso en Estados Unidos, y apoyar a las democracias que trabajan por todas y todos sus ciudadanos y no solo por unos cuantos.
Para ello, esta nueva administración puede aprovechar una plataforma que ya ha conseguido resultados: la Alianza para el Gobierno Abierto (OGP por sus siglas en inglés). En 2011, la administración de Obama-Biden participó en la creación de OGP, que desde entonces se ha ampliado a 78 países. A través de ella gobiernos nacionales y locales y miles de organizaciones de la sociedad civil cocrean planes de acción para fortalecer la democracia, empoderar a la ciudadanía para definir y supervisar a sus gobiernos todos los días, no solo cuando votan por ellos. Durante la Asamblea General de la ONU de 2020, el presidente de Francia Macron, la canciller de Alemania Merkel, el primer ministro de Canadá Trudeau, el presidente de Nigeria Buhari y otros líderes se comprometieron a aprovechar la plataforma de OGP para reconstruir la democracia en el mundo post-COVID-19.
La tarea de la administración de Biden de renovar la democracia debe empezar en casa. El país puede aprovechar su cuarto plan de acción para implementar las reformas ambiciosas que propuso la sociedad civil en tres áreas prioritarias: combatir la corrupción, proteger los derechos civiles y la integridad electoral y luchar contra la desinformación. Internacionalmente, puede apoyar reformas similares en los más de 100 países de OGP a través de sus misiones e instituciones. 
Primero, Estados Unidos es uno de los primeros destinos de dinero lavado y robado. La reciente Ley nacional de autorización de defensa limita las empresas ficticias y requerirá de la promulgación de regulaciones. Otro paso importante para limitar la cleptocracia es ampliar la obligatoriedad de la publicación de las compras de bienes raíces en efectivo. A través de OGP, Estados Unidos puede ayudar a impulsar este tema como norma global. Adicionalmente, para atender las debilidades que se descubrieron en las reformas post-Watergate, la nueva administración debe restaurar la confianza en los decretos ejecutivos a través de reformas, por ejemplo las declaraciones patrimoniales. 
Segundo, la matanza de George Floyd y de otros hombres y mujeres de color, así como el trato diferenciado que se le dio a las manifestaciones pacíficas de Lafayette Square en comparación con los agitadores violentos del capitolio, han puesto en descubierto la realidad del racismo, desigualdad e injusticia sistémica. El plan de acción de OGP de Estados Unidos puede dar mayor visibilidad a las auditorías del fiscal general y otros organismos sobre las violaciones a las libertades cívicas y sesgos raciales que existen en el sistema de justicia y electoral. Tras la matanza de Michael Brown, la administración de Obama-Biden utilizó su tercer plan de acción para implementar las recomendaciones del Grupo de trabajo para la policía del siglo XXI sobre la publicación de datos de la policía y hoy se aplica en 130 de los departamentos de policía más importantes de Estados Unidos. Además, utilizó a OGP para incrementar los recursos para la asistencia legal. Colombia, Indonesia y Macedonia del Norte siguieron el ejemplo de Estados Unidos y mejoraron la asistencia legal para los grupos más vulnerables a través de OGP.
Tercero, la violenta insurrección del 6 de enero personificó la polarización que está dividendo la democracia estadounidense. Las soluciones son complejas y deberán incluir la lucha a las influencias extranjeras en las elecciones, el combate a la desinformación y la rendición de cuentas de los medios, al tiempo que promovemos libertad de expresión. Otros países de OGP pueden tomar el liderazgo. Irlanda creó nuevas leyes para mejorar la transparencia de la publicidad política en medios digitales. El Reino Unido creó una unidad especializada para combatir la desinformación. Por su parte, México, tras un escándalo de vigilancia ilegal, se comprometió a promover la supervisión multiactor de las compras asociadas a la vigilancia digital.
La "Cumbre de la democracia" que propuso el presidente puede centrar la atención sobre la necesidad de renovar la democracia nacional e internacionalmente. Junto con el G7, G20 y la cumbre del décimo aniversario de OGP, este evento puede ayudar a forjar una coalición para reavivar a democracia y luchar contra el autoritarismo. Para asegurar que estos foros sean más que espacios de discusión, los miembros de OGP pueden traducir los compromisos globales a planes de acción concretos. Las reformas democráticas pueden ser el fundamento de todas las prioridades de la nueva administración. Así el presidente deberá invertir el capital político necesario, establecer la Oficina para la democracia de la Casa Blanca, albergar a OGP en la Casa Blanca para promover la coordinación interinstitucional y lograr que Estados Unidos vuelva a formar parte del Comité Directivo de OGP. Joe Biden ganó en las urnas. Ahora, deberá renovar la democracia más allá de ellas – en el país y en el exterior.
Foto destacada: Presidente Biden tomando protesta el 20 de enero de 2021. Crédito: Casa Blanca, dominio público, vía Wikimedia Commons