Four Steps to Build Dialogue Between Government and Civil Society
Governments who want to build a more constructive relationship with civil society often want to know the best place to start. Civil society comprises different types of organisations, expertise, and geographic spread, so understanding and engaging with this diversity can be daunting. But when done right, engaging with civil society brings unparalleled strength to government policy.
This has been demonstrated through OGP itself. Government and civil society dialogue and co-creation are, of course, fundamental to the OGP model. And evidence over the past decade has shown that civil society engagement throughout the OGP process is associated with more ambitious commitments, higher rates of implementation, and stronger early resultsEarly results refer to concrete changes in government practice related to transparency, citizen participation, and/or public accountability as a result of a commitment's implementation. OGP's Inde....
The Democratic Freedoms Learning Network is exploring different themes around civic space with the aim of building a cohort of reformers who progress and learn from experiences across different regions. In December, the Network gathered a small group of European OGP members to look at how governments have taken these first steps to engage with civil society and the structures they have implemented. What emerged were a number of building blocks, different approaches to create spaces for exchange, and a note on necessary safeguards.
The Building Blocks
1. Develop a model for collaboration that is co-created by government and civil society and lays a framework for engagement. Examples include a set of values and principles in Ireland, a framework for participation in Estonia and a model for collaboration in Sweden. In some cases, the principle for collaboration is set out in legislationCreating and passing legislation is one of the most effective ways of ensuring open government reforms have long-lasting effects on government practices. Technical specifications: Act of creating or r..., and in others a jointly agreed document is endorsed by Parliament.
2. Foster the skills and knowledge necessary for effective collaboration. Examples include a civil society academy in Finland designed to train civil servants and training programmes in Estonia for government and civil society together, to ensure a common understanding and skill level. The skills for effective facilitation were also seen as critical but generally under-developed.
3. Create spaces aimed at broad conversation on the diversity of policy areas impacting civil society. A few characteristics to consider in the development of these spaces include:
a co-designed structure and rules of engagement
a balance between government and civil society membership, and a rotating chair;
administrative support provided by the government;
civil society ownership of their representation; and
joint deliberation on topics for discussion and work plans.
Examples include the Finnish Advisory Board on Civil Society Policy; a newly established Civic Forum in Ireland; the National Dialogue and Consultation body, NOD, in Sweden; and the Fundamental Rights Platform of the EU's Fundamental Rights Agency.
4. Take extra steps to ensure the inclusion of a diverse range of organisations. One of the main challenges in implementing these structures is reaching under-represented and vulnerable groups and less structured civil society organisations. Often a small group of capital based organisations are the most engaged and targeted efforts are required to identify and create inclusive spaces. (See more OGP recommendations on the topic of inclusion here.)
Safeguards
To ensure that spaces for dialogue remain open, uncensored and spaces for critical reflection, governments can consider:
co-designing clear principles for engagement at an early stage with civil society;
ensuring that mechanisms are co-led and don't revert to civil society simply participating in government-led mechanisms. Considering an intermediary body like the Estonian National Foundation can be a useful option;
reaching out to a diverse range of civil society organisations through open calls for participation and civil society-led nominations and proactively reaching under-represented groups; and
ensuring a regular model of evaluation that allows for government and civil society to assess whether the mechanisms are fulfilling their aims.
The discussion provided a rich exchange of experiences, challenges and ideas for building stronger dialogues between government and civil society. The initiatives demonstrate the need for experimentation, an open approach, and reflection and revision.
The Democratic Freedoms Learning Network plans to organise similar discussions in other regions and will look at ways to foster further exchange as governments test out new approaches.
Muchas veces, los gobiernos que quieren establecer una relación más constructiva con la sociedad no saben por dónde empezar. La sociedad civil abarca diferentes tipos de organizaciones, áreas de experiencia y alcances geográficos por lo que puede ser abrumador entender esta diversidad y tratar de vincularse con un grupo tan amplio. Sin embargo, cuando se hace bien, la colaboración con la sociedad civil aporta una fuerza incomparable a las políticas de gobierno. 
Esto se ha demostrado a través de OGP. El diálogo entre los gobiernos y la sociedad civil y la cocreación son fundamentales para el modelo de OGP. La evidencia colectada  a lo largo de los últimos diez años demuestra que la participación de la sociedad civil en el proceso de OGP está asociada a compromisos más ambiciosos, mayores niveles de implementación y resultados tempranos más sólidos. 
Con el fin de establecer una cohorte de reformadores que avanzan y aprenden de la experiencia en diferentes regiones, la Red de Aprendizaje de Libertades Democráticas está explorando diversos temas sobre el espacio cívico . En diciembre, la red reunió a un pequeño grupo de miembros de OGP de Europa para analizar a los gobiernos que han tomado los primeros pasos de colaboración con la sociedad civil y las estructuras que éstos han implementado. En esta reunión surgieron diversos elementos importantes y metodologías útiles para crear espacios de intercambios, además de una discusión sobre las salvaguardas necesarias. 
Elementos fundamentales 
1. Desarrollar un modelo de colaboración cocreado con el gobierno y la sociedad civil como un marco para la colaboración. Ejemplos de ello son los valores y principios de Irlanda, el marco para la participación en Estonia y el modelo para la colaboración en Suecia. En algunos casos, el principio de colaboración está establecido en el marco legal, mientras que en otro forma parte de un documento conjunto y respaldado por el parlamento. 
2. Promover las habilidades y el conocimiento necesario para la colaboración efectiva. Ejemplos de ello son la academia de la sociedad civil de Finlandia, la cual fue diseñada para capacitar a funcionarios, así como los programas de capacitación de Estonia para el gobierno y la sociedad civil que busca asegurar un entendimiento y habilidades comunes. Asimismo, las habilidades de facilitación efectiva son fundamentales y están poco desarrolladas. 
3. Crear espacios para una conversación amplia sobre las diversas áreas de política pública que impactan a la sociedad civil. A continuación enlistamos algunas características que deben considerarse en el desarrollo de estos espacios: 
el codiseño de la estructura y reglas de participación

un balance entre el gobierno y la sociedad civil con rotación de presidencia

apoyo administrativo por parte del gobierno

la apropiación de la sociedad civil y 

la deliberación conjunta sobre temas de discusión y programas de trabajo.
Ejemplos de ello son el Consejo Asesor de Finlandia sobre la Política de la Sociedad Civil, el nuevo Foro Cívico de Irlanda, el Diálogo Nacional y Organismo de Consulta (NOD) de Suecia y la Plataforma de Derechos Fundamentales de la Agencia de Derechos Fundamentales de la Unión Europea. 
4. Tomar medidas para asegurar la inclusión de diversas organizaciones. Uno de los retos para la implementación de estas estructuras es alcanzar a los grupos menos representados y vulnerables y a las organizaciones de la sociedad civil menos organizadas. Es común que un grupo pequeño de organizaciones basadas en la capital sean las que más participan, por lo que es necesario realizar un esfuerzo explícito por identificar y crear espacios incluyentes. (En este enlace encontrarás más información sobre las recomendaciones de OGP sobre este tema). 
Salvaguardas 
Para asegurar que los espacios de diálogo permanezcan abiertos, sin censura y con reflexión crítica, los gobiernos pueden considerar: 
codiseñar 

principios claros para la participación

 desde el inicio con la sociedad civil; 

asegurar que los 

mecanismos sean coliderados

 y no representen espacios donde la sociedad civil es participante en los mecanismos de gobierno. Considera la creación de un organismo intermedio como la 

Fundación Nacional

 de Estonia. 

involucrar a 

diversas organizaciones de la sociedad civil

 a través de convocatorias abiertas para la participación y nominaciones por parte de la sociedad civil, además de contactar proactivamente a grupos subrepresentados y 

asegurar que exista un 

modelo constante de evaluación

 que permita a los gobiernos y a la sociedad civil evaluar si los mecanismos están cumpliendo con sus objetivos. 
La discusión permitió un intercambio de experiencias, retos e ideas para la construcción de diálogos más sólidos entre el gobierno y la sociedad civil. Las iniciativas demuestran la necesidad de experimentar, de una metodología abierta y de la reflexión y revisión. 
La Red de Aprendizaje de Libertades Democráticas organizará discusiones similares en otras regiones y buscará formas de promover más intercambios para analizar nuevas metodologías de participación.
Related Content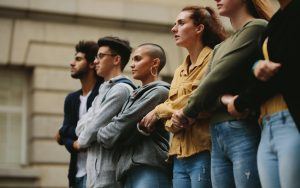 Democratic Freedoms Learning Network
Learn about the Democratic Freedoms Learning Network, an informal network of government reformers, civil society advocates, and international partners and others committed to reversing the 15-year trend of declining civic…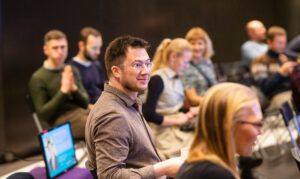 Building Dialogue Between Government and Civil Society (Discussion Notes)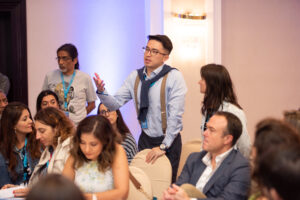 Addressing a Gap – How to Better Support Civil Society
Explore five ways the OGP community can create an enabling environment for civil society.