New Approaches, New Opportunities: Expanding the Reach of Local Open Government
For the Open Government Partnership (OGP) to be successful in making governments more transparent, accountable and responsive to citizen needs, it's imperative that we engage leaders at all levels – including at the local level. This inclusive approach enables us to leverage innovation, bring open government practices at the level where citizens most directly interact with their governments, and hear from more voices (including women who interestingly hold more leadership positions at the local level.*)   
We have already seen great success at this level. Through the OGP Local Program, which launched in 2016, Austin, Texas has reduced inequality with dedicated equity and citizen engagement analysis. In Sekondi Takoradi , Ghana and Madrid, Spain we've seen inspiring results on how citizens voices can help shape action plans and budgets. 
Since 2011, we have also seen 60 countries make locally relevant commitments in their national action plans. These 332 commitments account for nearly ten percent of the total commitments made. Strong examples of national efforts to promote open local government can be found in Argentina, Estonia, Italy, Indonesia, the Philippines, and Mexico, and many others!
To build on these successes, OGP began a process to evaluate and build a new local strategy earlier this year. With input and oversight from an OGP Steering Committee Local Taskforce, we spoke to over 90 stakeholders in 27 countries including current OGP Local members, government and civil society leaders working at both national and local levels, and networks working on local governance.  
Now, we are broadening this effort to include all of you. To start with, we invite you to take a short survey to tell us what you think about the new strategy outlined briefly below, give us inputs on design, and to let us know how to best engage with you moving forward. We also hosted five webinars to provide some more detail on the new strategy, what we hope to achieve, and start a dialogue to inform our design processes. The webinars are available in English, Spanish, and French. 
In May 2019 at the OGP Global Summit in Canada the OGP Steering Committee endorsed a strategy with three key pillars. 
Supporting strategic national-local integration

to support effective national government and civil society strategies to foster local open government through national initiatives, including the OGP national action plan processes. 

Enhancing the OGP Local program

by redesigning the current program to be more flexible, scalable and inclusive

Developing a collaborative platform for learning

that provides easy access to knowledge resources, learning opportunities, peer and expert networks to those working on open local government.
The strategy envisages the following key shifts: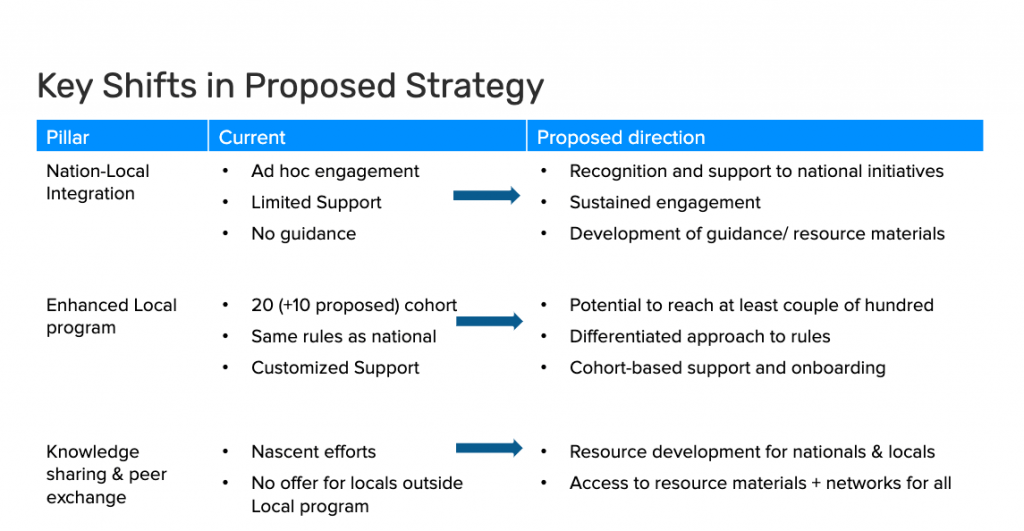 We are committed to building out this work's components in a way consistent with the values of open government and complementary to the partnership's ongoing efforts. For current OGP local participants that developed action plans in 2018, changes will take effect only after their current cycle ends in August 2020. For locals developing action plans in 2019, we will work with you on a transition plan in the coming months.  We plan to formally launch this strategy by 2020.
We look forward to hearing from as many of you as possible to benefit from your insights and experience as we continue this exciting journey.  We'll keep posting regular updates and questions to help guide us as we go along. If you have any questions or suggestions please contact: patrick.kazyak@opengovpartnership.org.
—
*According to the Wilson Center, on average, "women make up 29% of regional assemblies and 27% of municipal councils at the subnational level. We see slightly less representation in national legislatures with women making up 21% of lower houses and 23% of upper houses. The gap exists. From this data we can tell that there are more women at the subnational level."
Para que la Alianza para el Gobierno Abierto (OGP por sus siglas en inglés) logre crear gobiernos más transparentes, responsables y que rinden cuentas a sus ciudadanos, es necesario que incluyamos a líderes de todos los niveles – incluyendo a nivel local. Este enfoque incluyente nos permite ser innovadores e implementar prácticas de gobierno abierto al nivel al que los ciudadanos interactúan con su gobierno de forma más directa y escuchar más voces (incluyendo las de las mujeres, quienes ocupan más posiciones de liderazgo a nivel local.*)
Ya hemos visto grandes avances a este nivel. A través del programa de OGP Local que inició en 2016, Austin, Texas ha logrado reducir la desigualdad a través de un análisis de equidad y participación ciudadana. En Sekondi-Takoradi, Ghana y en Madrid, España hemos visto resultados inspiradores sobre diversas formas en que las voces de los ciudadanos pueden ayudar a definir las acciones y presupuestos del gobierno. 
Además, desde 2011, hemos visto que 60 países han establecido compromisos con relevancia a nivel local en sus planes de acción nacionales. Estos 332 compromisos representan cerca del 10% del total de los compromisos. Algunos ejemplos de esfuerzos nacionales que han promovido el gobierno abierto a nivel local son Argentina, Estonia, Italia, Indonesia, Filipinas, México y muchos otros. 
Para seguir impulsando estos logros, a principios de este año OGP inició un proceso de evaluación y desarrollo de una nueva estrategia para el programa de OGP Local. Con insumos y la supervisión del Grupo de Trabajo Local del Comité Directivo de OGP, hablamos con más de 90 actores de 27 países, incluyendo miembros del programa OGP Local, líderes de gobierno y la sociedad civil que trabajan tanto a nivel nacional como local y redes que trabajan en temas de gobernanza a nivel local. 
Ahora estamos ampliando este esfuerzo para incluirlos a todos ustedes. Primero, los invitamos a responder una breve encuesta en la que nos pueden decir qué opinan sobre la nueva estrategia, hacer aportes sobre el diseño y opinar sobre cómo podemos trabajar con ustedes en los siguientes pasos. Además, organizamos cinco webinars en las siguientes semanas en los que explicaremos con más detalle la estrategia y lo que esperamos lograr e iniciar un diálogo que ayudará a definir el proceso de diseño. Los webinars están disponibles en español, inglés y francés.
En mayo de 2019, durante la Cumbre Global de OGP en Canadá, el Comité Directivo de OGP respaldó la estrategia, la cual consta de tres pilares clave. 
Integración estratégica vertical (gobiernos nacional-local)

para apoyar el desarrollo de estrategias efectivas del gobierno y la sociedad civil a nivel nacional que permitan y promuevan el gobierno abierto a nivel local a través de iniciativas nacionales, incluyendo los procesos de los planes de acción nacionales

Fortalecimiento del programa OGP Local

, rediseñando el programa actual de manera que sea más flexible, escalable e incluyente

Desarrollo de una plataforma de conocimiento, aprendizaje, innovación y desarrollo de capacidades

para promover acceso a recursos, oportunidades de aprendizaje, guías de autoaprendizaje y redes de expertos que trabajan en gobierno abierto a nivel local
La estrategia contempla tres cambios clave: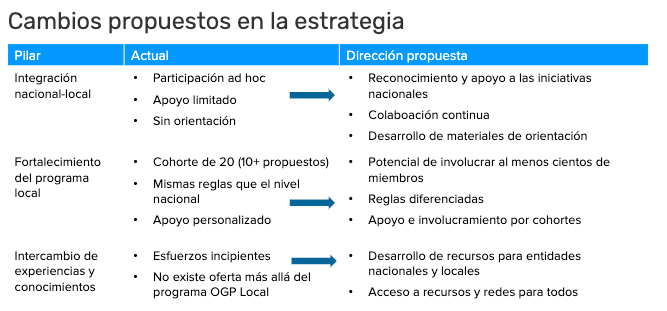 Estamos comprometidos a desarrollar los componentes de este trabajo de manera que sea consistente con los valores del gobierno abierto y complementario a los esfuerzos existentes de la alianza. Para los miembros actuales del programa de OGP Local que desarrollaron planes de acción en 2018, los cambios se aplicarán una vez que su ciclo actual termine en agosto de 2020. Para las entidades locales que desarrollen planes de acción en 2019, trabajaremos con ustedes en un plan de transición para los siguientes meses. Planeamos lanzar esta iniciativa formalmente en el 2020.
Esperamos tener los aportes de tantos miembros de la comunidad como sea posible (primero a través de la encuesta y durante los webinars – consulta los detalles abajo), pues sus opiniones y experiencia serán muy valiosas para el camino. Seguiremos publicando noticias y preguntas para ayudar a guiar nuestro proceso. En caso de tener alguna pregunta o sugerencia, favor contactar a  patrick.kazyak@opengovpartnership.org.
—
*Según el Wilson Center, en promedio, "las mujeres conforman el 29% de las asambleas regionales y el 27% de los consejos municipales a nivel subnacional. En las legislaturas nacionales, la representación es ligeramente mayor, con 21% en las cámaras bajas y 23% en las altas. Hay una brecha. De estos datos, podemos concluir que existen más mujeres a nivel subnacional." 
Pour que le Partenariat pour un gouvernement ouvert (PGO) réussisse à rendre les gouvernements plus transparents, plus responsables et plus attentifs aux besoins des citoyens, il est impératif d'y faire participer les dirigeants à tous les niveaux, y compris au niveau local. Cette approche inclusive nous permet de tirer parti de l'innovation, de mettre en place des pratiques de gouvernement ouvert à un niveau où les citoyens interagissent le plus directement avec leurs gouvernements et d'entendre un plus grand nombre d'opinions (y compris de la part de femmes, qui étonnamment occupent plus de postes de direction au niveau local.*)
Nous avons déjà connu un grand succès à ce niveau. À travers le programme local du PGO, lancé en 2016, Austin (Texas) a réduit les inégalités grâce à une analyse dédiée à l'équité et à l'engagement des citoyens. À Sekondi Takoradi au Ghana et à Madrid en Espagne, nous avons constaté des résultats inspirants sur la manière dont les citoyens peuvent contribuer à l'élaboration de plans d'action et de budgets. 
Depuis 2011, 60 pays ont pris un total de 332 engagements pertinents au niveau local dans leurs plans d'action nationaux. Ces engagements représentent près de 10% du total des engagements pris dans le cadre du PGO. L'Argentine, l'Estonie, l'Italie, l'Indonésie, les Philippines, le Mexique et bien d'autres pays sont d'excellents exemples d'efforts nationaux visant à promouvoir un gouvernement local ouvert.
Pour tirer parti de ces succès, le PGO a lancé un processus d'évaluation et de mise en place d'une nouvelle stratégie locale plus tôt cette année. Avec l'apport et la supervision d'un groupe de travail local du comité directeur du PGO, nous avons parlé à plus de 90 parties prenantes dans 27 pays, notamment des membres locaux actuels du PGO, des dirigeants gouvernementaux et de la société civile travaillant aux niveaux national et local et des réseaux travaillant sur la gouvernance locale.
Nous élargissons maintenant cet effort dans le but de tous vous inclure. Pour commencer, nous vous invitons à répondre à un bref questionnaire  afin de nous faire part de ce que vous pensez de la nouvelle stratégie brièvement décrite ci-dessous, de nous donner des idées sur la conception et de nous dire comment nous impliquer auprès de vous afin d'aller de l'avant. Nous avons organisé cinq webinars dans les semaines à venir pour fournir plus de détails sur la nouvelle stratégie, ce que nous espérons réaliser et débuter un dialogue afin d'éclairer nos processus de conception. Les webinars sont disponibles en français, anglais, et en espagnol. 
En mai 2019, lors du Sommet mondial du PGO au Canada, le Comité directeur du PGO a approuvé une stratégie reposant sur trois piliers.
Soutenir l'intégration stratégique aux niveaux national et local afin d'appuyer les stratégies efficaces du gouvernement national et de la société civile visant à favoriser un gouvernement ouvert local par le biais d'initiatives nationales, y compris les processus de Plan d'action national du PGO.

Améliorer le programme local du PGO en modifiant le programme actuel pour le rendre plus flexible, évolutif et inclusif

Développer une plateforme collaborative d'apprentissage offrant un accès facile aux ressources de connaissances, aux opportunités d'apprentissage, aux réseaux de pairs et aux réseaux d'experts pour ceux qui travaillent sur un gouvernement local ouvert.
La stratégie envisage les principaux changements suivants: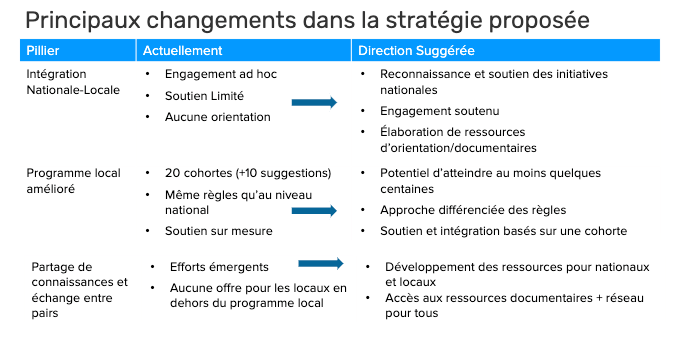 Nous sommes déterminés à élaborer les composantes de ce travail d'une manière qui soit cohérente avec les valeurs du gouvernement ouvert et complémentaire aux efforts en cours du partenariat. Pour les participants locaux actuels du PGO qui ont élaboré des plans d'action en 2018, les modifications ne prendront effet qu'à la fin de leur cycle actuel, en août 2020. Pour les sections locales élaborant des plans d'action en 2019, nous travaillerons de concert avec vous sur un plan de transition dans les prochains mois. Nous prévoyons le lancement officiel de cette stratégie d'ici 2020.
Nous sommes impatients de recueillir l'ensemble de vos commentaires afin de tirer parti de vos idées et de votre expérience au cours de cette aventure passionnante. Nous continuerons à publier régulièrement des mises à jour et des questions qui nous aideront à nous guider au fur et à mesure. Si vous avez des questions ou des suggestions, veuillez contacter: patrick.kazyak@opengovpartnership.org.
—
* Selon le Wilson Center, en moyenne, « les femmes représentent 29% des assemblées régionales et 27% des conseils municipaux au niveau infranational. Nous constatons une légère diminution de la représentation dans les assemblées législatives nationales, les femmes représentant 21% des chambres basses et 23% des chambres hautes. Le fossé existe. À partir de ces données, nous pouvons affirmer que plus de femmes sont présentes au niveau infranational. »
Related Content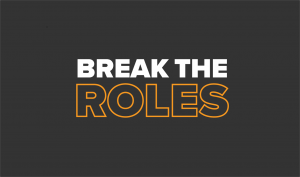 Challenges and Solutions
We Named It Break the Roles For a Reason – A Gender and Inclusion Campaign Update
"When women are equal, contributing members of society, with access to information, health care, education, and work, those societies are more likely to succeed –- and in a more inclusive…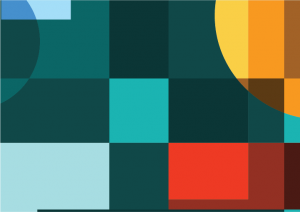 Actions for a More Inclusive Open Government Partnership
Opening up government is an underexplored method for accelerating gender equality and closing critical gaps in information, access, and participation.