On the Road to a Better Procurement System in South Cotabato
The local government of South Cotabato, a province in the south of the Philippines, only completed 4.1 per cent of the development projects – most of them related to infrastructure – under the Local Development Fund in 2017. 
"Once a contract was awarded by one agency, you would have to deal with another agency during project implementation, and then another to get paid, which would often be delayed," says Zyra Fastidio from the European Chamber of Commerce in the Philippines (ECCP). It was also unappealing for new bidders to enter into business with the government because of low ceiling prices for bids and having to register into a portal before seeing announcements for opportunities.
To improve this relationship and to promote good governance, the ECCP set up the Integrity Circle platform, a nation-wide initiative that brings together local government, civil society, and business representatives. They discuss ways to improve governance and integrity in government services through what they call Integrity Mechanisms.
To ensure citizen participation, citizens validate the Mechanisms through a series of dialogues with all sectors and at all levels. When South Cotabato joined the Open Government Partnership Local Program, the ECCP saw an opportunity to use the dialogues to also tackle open government issues in South Cotabato and build its OGP 2018-2020 action plan.
Both the business sector and the village representatives pointed to the problems concerning procurement planning and implementation as a top priority to tackle. The ECCP partnered with Hivos to offer open contractingA transparent procurement process, known as open contracting, increases competition, improves public service delivery, and ensures governments better value for their money. Technical specifications: C... as a possible solution and make data and documents from the entire contracting process available, leading to more efficiency and ease of business.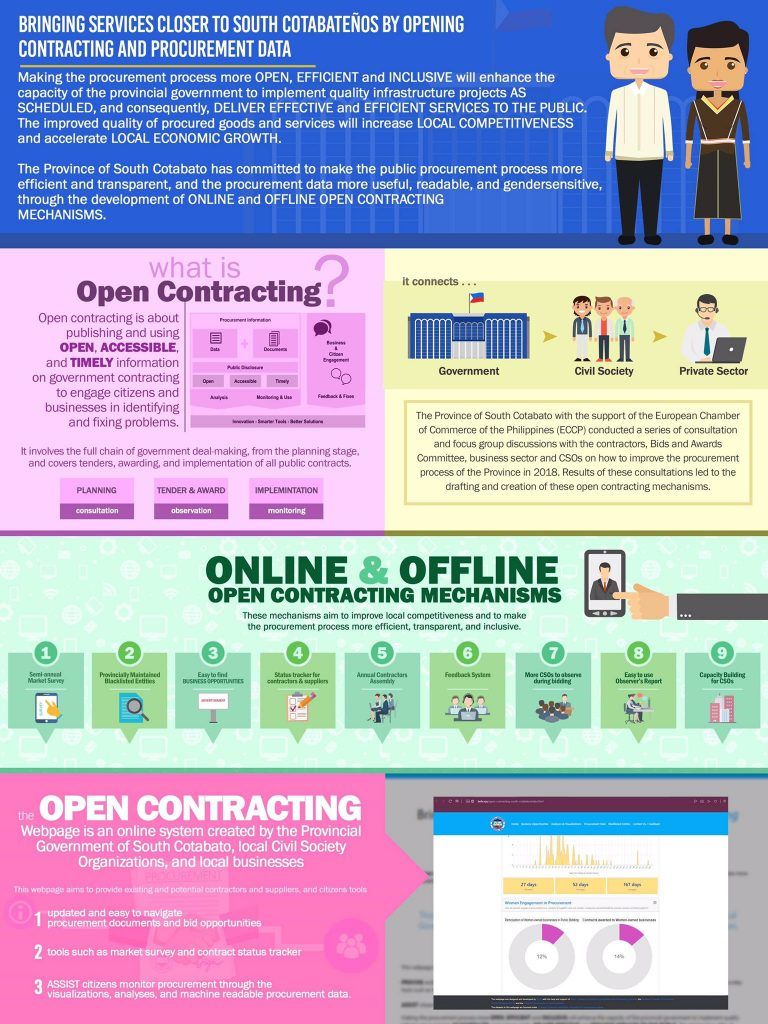 The dialogues served as a trust-building exercise between all parties where it was possible to be critical of the idea of open contracting and to ask any questions, Vivien Suerte-Cortez from Hivos explains. "We explained how opening up about procurement would not only benefit the government but also the business sector and the intended beneficiaries of government projects."
"Making the procurement process more open and efficient will improve ease of doing business in South Cotabato, which in turn will attract more bidders to the bidding process," says Fastidio.
South Cotabato recently unveiled its online and offline mechanism as another key milestone in the action planAction plans are at the core of a government's participation in OGP. They are the product of a co-creation process in which government and civil society jointly develop commitments to open governmen.... Much of the success of implementing this open contracting commitmentOGP commitments are promises for reform co-created by governments and civil society and submitted as part of an action plan. Commitments typically include a description of the problem, concrete action... is due in part to the use and institutionalization of the Integrity Circle, according to Suerte-Cortez. "Government members sitting in the Circle are not only elected officials, but are coming from all layers from bureaucracy. This makes for easier implementation of issues that are seen as risky, because the Integrity Circle will survive dynamic political situations."
In the future, Fastidio aims to use the experiences of South Cotabato as an example to replicate in other regions. For now, she and the ECCP will keep working with the members of the Integrity Circle to implement the South Cotabato OGP action plan and make it more attractive for businesses to invest in the province.
Banner Image: The business and CSO representatives together with ECCP during the Integrity Week in September 2018 where South Cotabato's OGP Commitments, one of which is Open Contracting, were launched in the event. Photo Credit: Hivos. 
El gobierno local de Cotabato del Sur, provincia ubicada en el sur de Filipinas, logró terminar únicamente el 4.1 por ciento de sus proyectos de desarrollo – la mayoría de los cuales eran proyectos de infraestructura – que formaban parte del Fondo de Desarrollo Local en 2017. 
"Cuando una institución te asignaba un contrato, tenías que tratar con otra institución durante la implementación del proyecto y con otra para recibir el pago, que muchas veces se atrasaba," comenta Zyra Fastidio de la Cámara Europea de Comercio de Filipinas (ECCP). Además, para las empresas era poco atractivo trabajar con el gobierno por los bajos límites en los precios y porque era necesario registrarse en un portal para poder tener acceso a los anuncios de las oportunidades. 
Con el fin de mejorar la relación entre el gobierno y las empresas y de promover una buena gobernanza, la ECCP estableció la plataforma Círculo de Integridad, iniciativa que reúne a los gobiernos locales, la sociedad civil y las empresas a nivel nacional. Dichos actores discutieron cómo mejorar la gobernanza y la integridad de los servicios de gobierno a través de los llamados mecanismos de integridad. 
Para asegurar la participación ciudadana, los ciudadanos deben validar los mecanismos a través de una serie de diálogos con todos los sectores y a todos los niveles. Cuando Cotabato del Sur se incorporó al Programa Local de Open Government Partnership, la ECCP identificó una oportunidad para utilizar los diálogos para atender temas de gobierno abierto en Cotabato del Sur y desarrollar el plan de acción de OGP 2018-2020. 
El sector privado y representantes de las localidades identificaron problemas relacionados con la planeación e implementación de compras públicas como una prioridad que debería ser abordada. La ECCP estableció una alianza con Hivos para ofrecer la contratación abierta como una posible solución y para publicar todos los datos y los documentos de los procesos de contratación, llevando a una mayor eficiencia y facilidad de hacer negocios.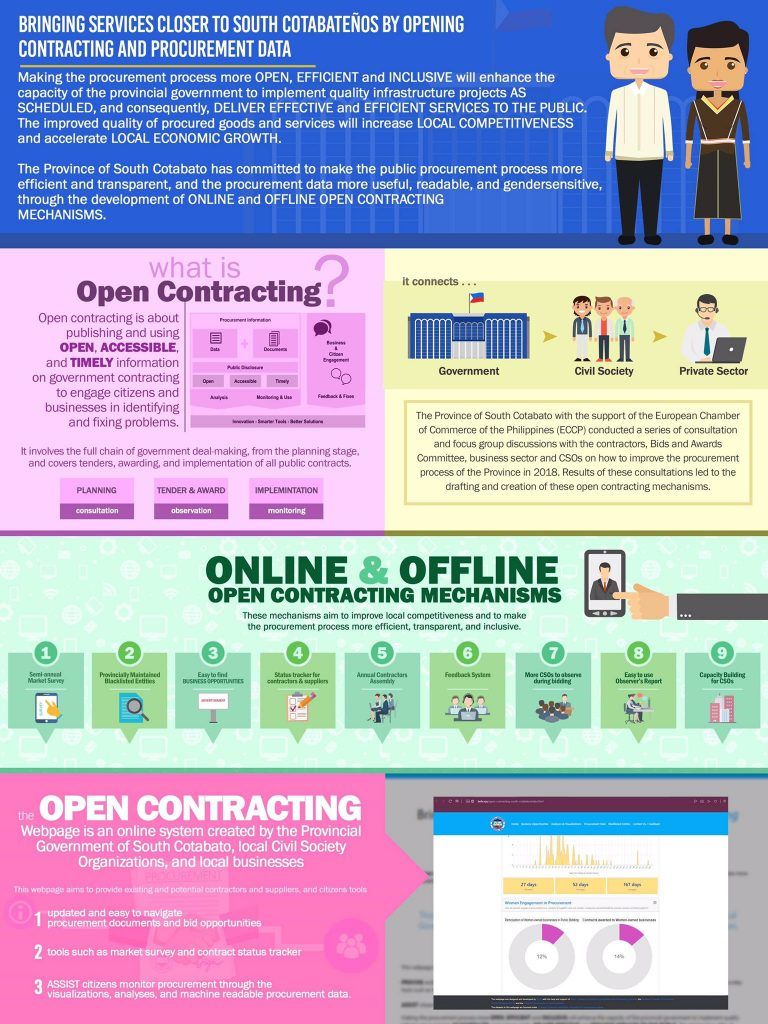 Los diálogos fueron un ejercicio de construcción de confianza entre todas las partes, pues en ellos existía la oportunidad de ser críticos con la idea de la contratación abierta y se permitía hacer cualquier pregunta que se considerara necesaria, explica Vivien Suerte-Cortez de Hivos. "Explicamos que las compras abiertas no solamente beneficiarían al gobierno, sino también al sector privado y a los beneficiarios de los proyectos de gobierno." 
"El hacer del proceso de compras más abierto y eficiente mejorará la facilidad de hacer negocios en Cotabato del Sur, lo cual a su vez atraerá a más empresas a participar en el proceso de licitación," comentó Fastidio. Cotabato del Sur recientemente presentó su mecanismo virtual y en persona como otro hito de su plan de acción. Gran parte de los logros de la implementación de este compromiso de contratación abierta se debe al uso e institucionalización del Círculo de Integridad, de acuerdo con Suerte-Cortez. "Los miembros del gobierno que participan en el Círculo no son solamente oficiales electos, sino que incluyen a representantes de todos los niveles. Lo anterior facilita la implementación de temas que se perciben como riesgosos, pues el Círculo de Integridad permanecerá entre transiciones políticas."
En el futuro, Fastidio buscará utilizar las experiencias de Cotabato del Sur como ejemplo para ser replicado en otras regiones. Por ahora, ella y la ECCP seguirán trabajando con los miembros del Círculo de Integridad en la implementación del plan de acción de OGP de Cotabato del Sur y en lograr que sea atractivo para las empresas invertir en la provincia. 
Related Content
Global Report – Open Contracting

OGP Fact Sheets
Explore global progress and member-level examples of open government work in each of the selected policy areas and various regions.