Open Government Catalyzing the Private Sector: The Case of Properati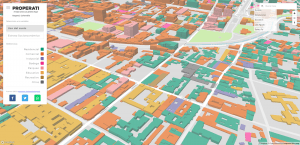 It is not always easy to make a connection between open government and the private sector. We often think that only civil society and government institutions can help open up the government, but the private sector can play a key role in strengthening public policies, especially as it relates to beneficial ownership, anti-corruption, and protecting civic space. What is clear to us is that the private sector can greatly benefit from government openness in various ways, as is the case in Argentina.
Properati is a real estate search platform where people can find houses, apartments, office space, and all sorts of properties for rent or sale. Since its launch just six years ago in Argentina, Properati has stood out as it offers users information about cities and neighborhoods such as price per square feet, average in the targeted neighborhood as well as a comparison with bordering neighborhoods, predominant typologies and the most common types of properties.
Users can access information and data from multiple sources, ranging from data sourced from the posted properties to open databases such as Open Street Map or DBPedia. But Properati does not just feed from collective construction sources. A key resource is data that governments disclose as part of their open government policies. Official and up-to-date information is highly valuable to users, as it allows them to make better-informed decisions.
Building on this extensive data use, we developed a content strategy based on internal and external sources, heavily relying on data published as a result of open government policies. Properati's has published dozens of blogs from Argentina, Colombia, Ecuador and Peru that include open government data among their sources.
In cities that produce sufficient open data, for instance, we have created interactive 3D maps to explore and understand the cities' various zones.
But the datasets we use are not always focused on real estate markets. Properati is interested in showing cities from a holistic and dynamic perspective. In Buenos Aires, for instance, we developed an open data-based mobile app that helps identify a type of tree that is highly allergenic during spring. Citizens can thus identify areas with high densities of this type of tree.
The intersection of data published by states and information published by Properati is of great interest to citizens and the media, whether in relation to city planning, or with regards to societal issues, such as the recent elections held in Ecuador, where we assessed the election results based on the average property price of each neighborhood.
Properati operates in various cities of Argentina, Colombia, Peru, Ecuador and Uruguay. Through our work, we have noticed the progress in open government policies, offering more open data in more user-friendly ways. With more powerful and open databases, we will be able to create better and more optimal products.
Muchas veces es difícil hacer la conección entre gobierno abierto y sector privado. La mayoría del tiempo pensamos que solo sociedad civil y las entidades de gobierno pueden ayudar a abrir el gobierno pero lo cierto es que el sector privado puede jugar un papel fundamental en fortalecer políticas públicas enfocadas en beneficiarios reales, anticorrupción e incluso proteger el espacio cívico. Pero lo que nos queda muy claro es que el sector privado se puede beneficiar significativamente del gobierno abierto de diferentes maneras tal como le vemos en Argentina.
Properati es un sitio de búsqueda de inmuebles, donde las personas pueden encontrar casas, departamentos, oficinas y todo tipo de propiedades en venta o alquiler. Desde sus inicios hace solo seis años en Argentina, Properati se ha diferenciado por ofrecer a los usuarios información sobre las ciudades y sus barrios, para que puedan tomar decisiones informadas, como los precios por metro cuadrado, promedio del barrio en el que realiza la búsqueda y la comparación con los barrios lindantes, las tipologías predominantes, y tipos de propiedad más comunes.
La información y datos que los usuarios pueden usar surgen de distintas fuentes: data que surge de las propiedades publicadas en el sitio hasta bases de datos abiertas como Open Street Map o DBPedia. Pero no sólo de fuentes de construcción colectiva se nutre Properati. Un recurso fundamental son los datos que publican los gobiernos en base a sus políticas de Gobierno Abierto. La información oficial y actualizada evidentemente tiene un gran valor para los usuarios, permitiéndoles tomar decisiones más informadas.
En base a este uso intensivo de datos, desarrollamos una estrategia de contenidos basada fuentes, internas y externas en donde los datos producto de las políticas de Gobierno Abierto resultan fundamentales. En los blogs de Properati de Argentina, Colombia, Ecuador y Perú publicamos decenas de notas que tienen entre sus fuentes a Datos Abiertos de Gobierno.
En las ciudades con suficientes datos públicos, por ejemplo, desarrollamos mapas interactivos en tres dimensiones para explorar y comprender las distintas zonas urbanas.
No siempre los datasets utilizados son los que se enfocan al mercado inmobiliario, ya que el interés de Properati es presentar a las ciudades desde una perspectiva holística y dinámica. En Buenos Aires, por ejemplo, hemos desarrollado una aplicación en base a Datos Abiertos, que ayuda a detectar una especie de árboles que en primavera resulta muy alergénica. Así facilitamos identificar zonas alta y densamente pobladas de este tipo de árbol.
El cruzamiento de data proporcionada por los Estados con información de Properati resulta de gran interés para los ciudadanos y los medios de comunicación, ya sean sobre temas urbanísticos o más sociales, como fue el caso de las recientes elecciones en Ecuador, donde comparamos los resultados electorales en cada barrio con el precio promedio de las propiedades.
Como se pudo observar, Properati tiene operaciones en las principales ciudades de Argentina, Colombia, Perú, Ecuador y Uruguay. Desde nuestro trabajo notamos una gran diferencia en el avance de las políticas de Gobierno Abierto, ofreciendo datos más abiertos en formatos más amigables. Cuanto más avanzadas y abiertas sean las bases de datos, mejores y más óptimas producciones podemos realizar.