#OpenGovGram Winner: Public Meeting in Elgeyo Marakwet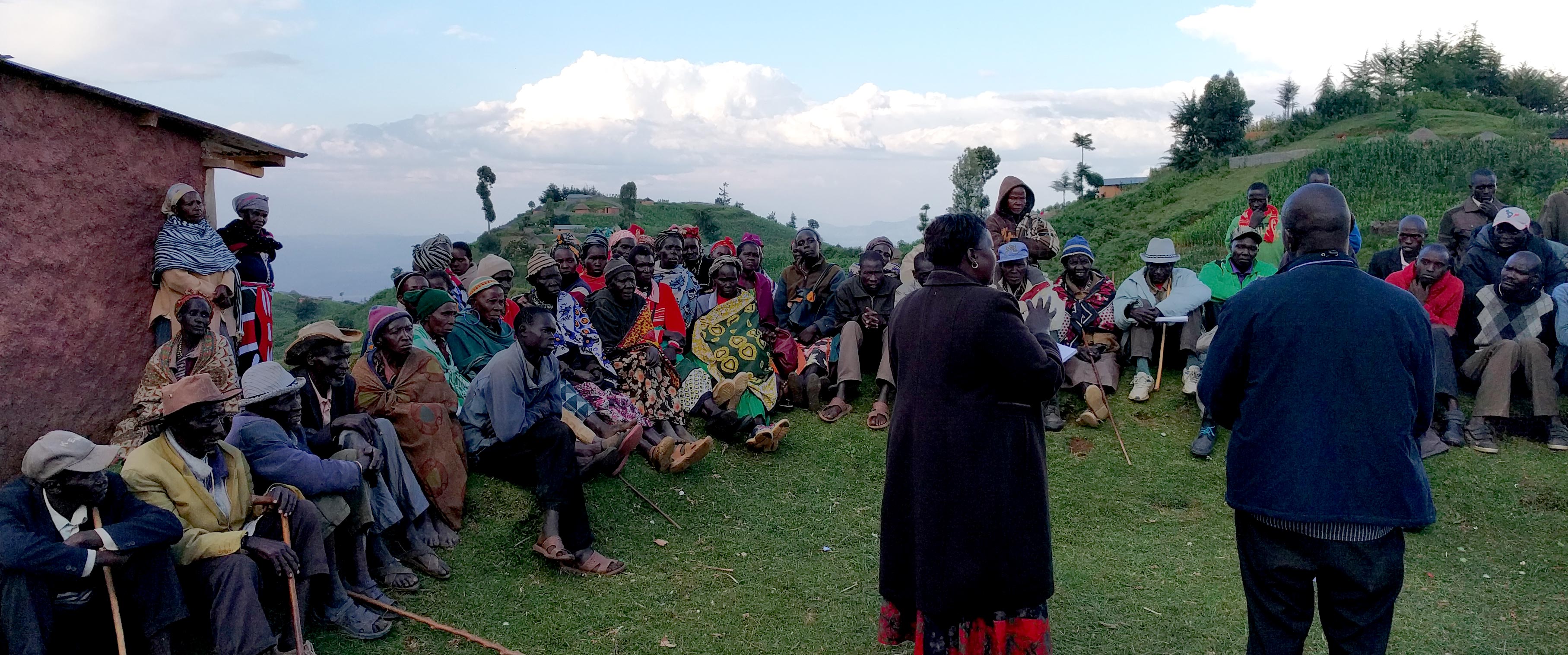 This photo was taken in Kapyego Ward, Elgeyo Marakwet County, Kenya, where the county government was holding a public participation meeting on how the ward's annual development budget should be spent. It was beautiful, sunny, but cold (5°C or 40°F) day—the County is high in Kenya's Rift Valley—so it was even more impressive that over 200 citizens came out and stayed for over six hours of discussion. They were deliberating over how to allocate Ksh 40 million (USD 390,000) to improve their communities over the next year, and the top priorities that emerged were investments in clean water, road construction, and primary education.
The event in Kapyego was but one of 20 meetings the Government of Elgeyo Marakwet held in late August 2016. The County held similar public consultations in all 20 of its wards, organized by its Office of Finance and Economic Planning and its Office of Public Participation. These were attended by County executives (including the Governor and Deputy Governor), technical staff, and Ward Development Committees.
Public consultation in development planning is mandated in Kenya's constitution and strengthening transparency, participation, and accountability in governance is an everyday project in Elgeyo Marakwet. Founded in 2013, the "County Of Champions"—a nickname given for its history of producing world­-class, award-winning athletes—has approximately 400,000 (2012) residents, 57 percent of which live below the poverty line. The County recognized that including all citizens—particularly those most vulnerable and marginalized—in government decision-making is critical to equitable and successful development; as such, it has championed citizen participation in local governance since its founding. Today, more than 70 percent of the County's development budget is allocated through decisions taken in public participation fora such as the meeting seen here. Beyond budget planning, a variety of decisions—from changes to classifications of land usage, to distribution of social benefits—require citizen input.
The proliferation of citizen engagement channels in the County has led to the need for more formal policies and processes to ensure high-value citizen input, and to enable closer and more timely integration of citizen inputs into policymaking and service delivery processes. Elgeyo Marakwet's OGP commitments speak directly to these needs.
Commitment 1 seeks to improve the effectiveness of citizen engagement in local governance, by identifying and scaling successful approaches to public participation. In executing this commitment, the County is drawing on its extensive citizen participation experience to determine: When, and under what conditions, are what types of public participation most effective? Resulting guidelines and protocols will be used to strengthen its work in this area, and can provide useful models for other Kenyan counties.
Commitment 2 seeks to improve citizen awareness of and input into county spending decisions, by publishing and seeking citizen feedback on budget formulation. This commitment demonstrates the County's belief in the value of citizen input, not just in budget allocation (which is already the norm) but in budget preparation as well.
Commitment 3 seeks to improve the the transparency and accountability of public projects in priority sectors, by publishing project contracting and implementation information. Beyond improving government effectiveness, the County hopes open contracting will enhance the quality of citizen participation in dialogues on public spending.
Commitment 4 seeks to improve the accountability of public services in priority sectors, by developing channels for real-time citizen engagement and rapid government response. In implementing this commitment, the County is creating new ways to collect, filter, and process real-time citizen feedback to improve the quality of public services, using tools such as WhatsApp. (For a glimpse into how the government is designing these channels, see this post.)
As the public meeting captured in this photo shows, and the County's OGP action plan demonstrates, Elgeyo Marakwet is a pioneer in subnational participatory governance. The County has used its participation in OGP to reflect on and strengthen its commitment to citizen participation, and the open government community at large will have much to learn from its bold experiments and innovations.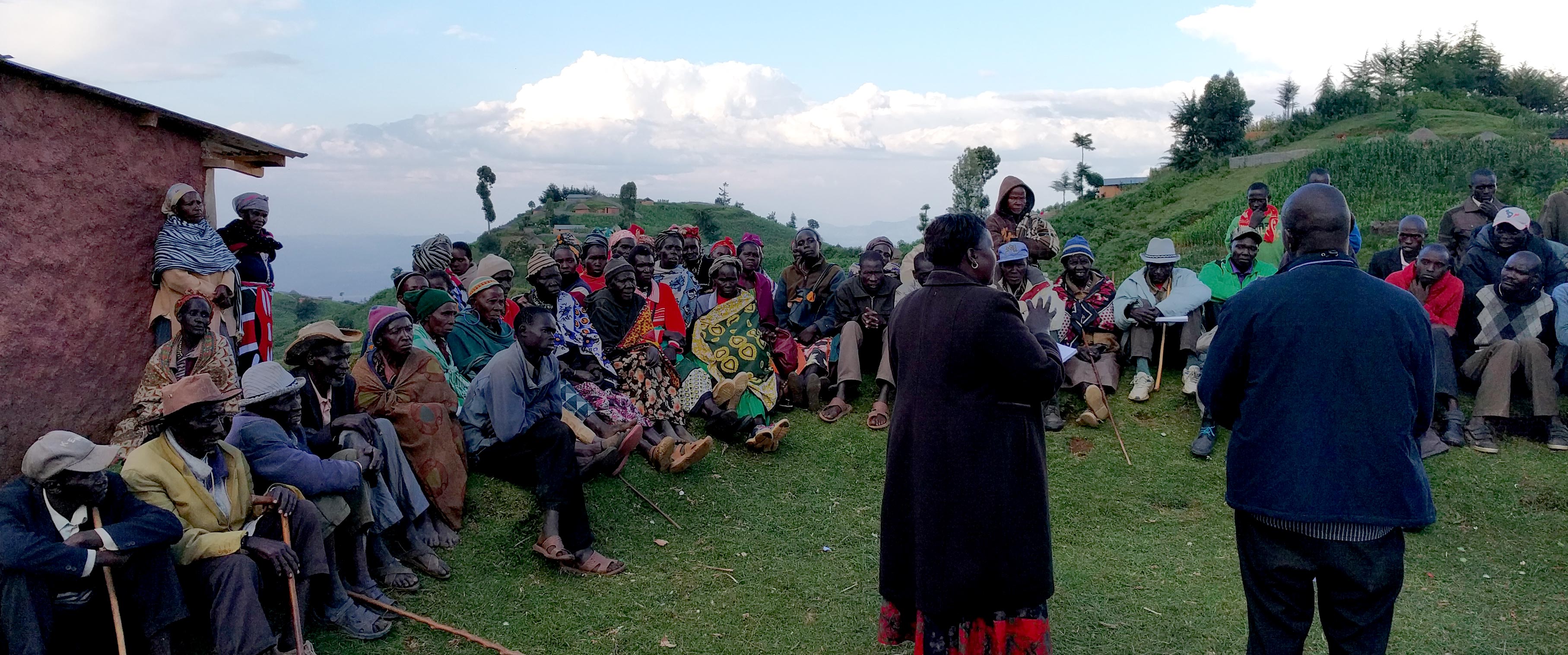 Esta fotografía fue tomada en Kapyego, Condado Elgeyo Marakwet, Kenia, en donde el gobierno del condado llevó a cabo una reunión pública para definir cómo sería utilizado el presupuesto anual de la región. Era un día soleado pero frío (5ºC o 40ºF) y el condado se encuentra ubicado en una altitud elevada del Valle Rift de Kenia, por lo que fue impresionante ver a 200 ciudadanos asistir a la reunión y permanecer durante más de seis horas de discusión. El objetivo de la discusión era decidir cómo asignar 40 millones de Ksh (USD 390 000) para el desarrollo de las comunidades en el próximo año. Las prioridades que resultaron fueron invertir en agua limpia, construcción de caminos y educación primaria.
El evento de Kapyego fue una de las 20 reuniones que el gobierno de Elgeyo Marakwet llevó a cabo a finales de agosto de 2016. El condado llevó a cabo consultas similares en las 20 regiones, las cuales fueron organizadas por la Oficina de Finanzas y Planeación Económica y la Oficina de Participación Pública. A las reuniones asistieron ejecutivos del condado (incluyendo el gobernador y gobernador adjunto), personal técnico y comités de desarrollo regional.
La consulta pública en la planeación para el desarrollo es obligatoria según la constitución de Kenia y el fortalecer la transparencia, participación y la rendición de cuentas en la gobernanza es asunto de todos los días en Elgeyo Marakwet. Fundado en 2013, el "condado de campeones", nombre que ha recibido por haber producido atletas de primer nivel y muy premiados, tiene aproximadamente 400 000 (2012) residentes, 57% de los cuales viven en condición de pobreza. El condado reconoce que la participación de todos sus ciudadanos, en especial la de los más vulnerables y marginados, en la toma de decisiones es fundamental para asegurar un desarrollo exitoso y equitativo. Por ello, ha promovido la participación ciudadana en la gobernanza local desde el inicio. Hoy en día, más de 70% del presupuesto de desarrollo del condado se asigna a través de decisiones tomadas en foros de participación pública, como la reunión que vemos aquí. Más allá de la planeación presupuestal, diversas decisiones, desde cambios en el uso del suelo hasta la distribución de beneficios sociales, se toman con la participación de los ciudadanos.
La multiplicación de canales de participación ciudadana en el condado ha llevado a la necesidad de contar con políticas formales y proceso para asegurar la aportación de los ciudadanos y permitir una mejor integración de las opiniones ciudadanas en la toma de decisiones y en la provisión de servicios públicos. Los compromisos de OGP de Elgeyo Marakwet son un reflejo de esta necesidad.
El compromiso 1 aspira a mejorar la efectividad de la participación ciudadana en la gobernanza local a través de la identificación y escalamiento de métodos exitosos de participación pública. Al implementar este compromiso, el condado está tomando en cuenta su historial de participación ciudadana para definir cuándo, en qué condiciones y qué tipo de participación es la más efectiva. Los lineamientos y protocolos que resulten de este análisis serán utilizados para fortalecer su trabajo y podrían ser un modelo para otros condados de Kenia.
El compromiso 2 aspira a sensibilizar a los ciudadanos y procurar una mayor participación en la toma de decisiones presupuestales, por lo que publicará los presupuestos y solicitará retroalimentación al respecto por parte de sus ciudadanos. Este compromiso demuestra la convicción del condado en el valor de las aportaciones ciudadanas, no solamente para la asignación de recursos (que ya es la norma) sino también en la elaboración de presupuestos.
El compromiso 3 busca mejorar la transparencia y rendición de cuentas de los proyectos públicos en sectores prioritarios al publicar información de la contratación e implementación de los proyectos. Más allá de mejorar la efectividad del gobierno, el condado espera que la contratación abierta mejore la calidad de la participación ciudadana en los gastos públicos.
El compromiso 4 tiene el objetivo de mejorar la rendición de cuenta de los servicios públicos en sectores prioritarios a través del desarrollo de canales para la participación de los ciudadanos en tiempo real y de respuesta rápida por parte del gobierno. Al implementar este compromiso, el gobierno creará nuevos mecanismos para reunir, filtrar y procesar la retroalimentación ciudadana en tiempo real con el objetivo de mejorar la calidad de los servicios públicos, utilizando herramientas como WhatsApp. (Lee este artículo con una descripción sobre cómo el gobierno está diseñando estos canales).
Como lo demuestra la reunión pública capturada en esta fotografía y como lo demuestra el plan de acción de OGP, Elgeyo Marakwet es un pionero de la gobernanza participativa subnacional. El condado ha aprovechado su participación en OGP para reflejar y fortalecer su compromiso con la participación. La comunidad de gobierno abierto tiene mucho que aprender de sus experiencias audaces e innovaciones.