Transparency in Fisheries: A Clear Way Ahead for Seychelles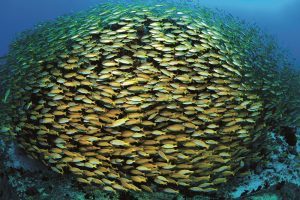 With the future of the world's fisheries seriously threatened, the Seychelles is leading the way in increasing the credibility and quality of national fisheries information. In partnership with the Fisheries Transparency Initiative (FiTI), this small island nation is working to protect the sector that is critical to sustaining its people and economy.
It is a mind-boggling area of water: The 1.37-million-square-kilometer  Exclusive Economic Zone (EEZ) is almost the combined area of France and Turkey. Yet, finding the island nation of Seychelles on a map requires a certain geographical knowledge and good eyesight.
Like many other coastal and small island developing states, Seychelles' management of its fisheries resource is important to its continued prosperity. Specifically:
Fisheries and tourism are the two main pillars of its economy, creating hundreds of jobs in the process.

Fisheries are a vital contributor to national food and nutrition security – highly important for a country that relies on imports for almost all other food categories.

Fishing is a respected craft, practiced by many artisanal fishers, and of great social and cultural significance.
But the world's fish stocks are facing an uncertain future – including in the Seychelles – for a number of reasons. According to the Food and Agricultural Organisation of the United Nations, more than 30 percent of the global fish stocks are already fished at biologically unsustainable levels.
What is the status of the marine fisheries sector?
While there are many aspects to achieve sustainable fisheries, the public availability of credible information is a basic necessity. The number of vessels, income from fishing licenses, quantities being fished, or information on subsidies are just a few critical aspects that need to be considered when formulating and implementing national policies. Without such information, the quality and credibility of decision-making can be undermined, while the prospect of effective oversight and accountability diminishes. Transparency is a cornerstone of the country's endeavours to transit to a sustainable ocean economy and a core principle of its "Blue Economy: Strategic Policy Framework and Roadmap".
Seychelles has turned to the Fisheries Transparency Initiative (FiTI), a global multi-stakeholder partnership that defines, for the first time, which information national authorities must publish about the marine fisheries sector in their countries.
"It is only normal that our citizens know what fisheries agreements comprise of, what are the vessels licenced, the catch, the fees paid and what the revenue is used for. This information is often lacking in many countries and also needs to be improved here." –
V
ice President for the Opening Ceremony of the International Secretariat of the Fisheries Transparency Initiative in Seychelles – Tuesday 28th May 2019 (Full speech available here.)
Through the FiTI, the Seychelles will soon be one of the first countries to conduct regular transparency assessments regarding the availability and accessibility of basic information. It will also be an ideal tool in institutionalizing and improving the dialogue and cooperation with all bona fide stakeholders.
Needless to say, implementing the FiTI is complementary to the country's work on open government. At the end of 2019, Seychelles became the first national member of the OGP to include the FiTI as one of four commitments in its action plan.
Transparency = no "silver bullet"
Transparency is required to help the authorities contribute positively to people's lives. However, publishing statistics on a website will not in itself reduce unsustainable catch volumes or secure jobs in the fisheries sector. Transparency does not magically translate into better decision-making, increased oversight and accountability, or, in this case, healthier oceans. It can, however, help ensure that stakeholders are not ignorant to the facts, and it can focus public pressure to the areas of greatest importance. (In turn, this helps focus the decision makers on where to allocate most efforts and resources).
The decision to use those facts to guide decision-making is a choice requiring strong leadership in public institutions; a desire amongst stakeholders (government, civil society, private sector) to work together towards a common goal; and an appreciation of the opportunities and complexities of the sector.
Seychelles is already making strides within FiTI. The government promised to publish their first FiTI Report ahead of time, by October 2020. Thus, expect more to come from this small island, but large ocean state!
Featured Photo Courtesy: Imran Ahmad – Seychelles Tourism Board