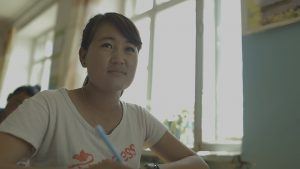 At 83 years old, my mother is vibrant and full of life. As she reminisces on her life, she says, I really wanted to be a lawyer, but could not. In her youth in my home state of Bihar – which was India's poorest – there were too many barriers in the educational system and in prevailing cultural norms for her to pursue her dream. She would have been a fantastic lawyer – feisty and wonderfully argumentative. I have always sensed the void she feels due to a life of unfulfilled potential.
Her story is shared by millions. Unfortunately, despite some significant gains in recent decades, women and girls are still hugely disadvantaged from birth through life. From a lack of money to pay school fees or afford uniforms to gender-based violence and forced early marriage, girls face systematic biases and institutional discrimination. Today, at least 130 million girls are out of school, according to UNESCO. This absence begins a pattern of women being placed on the sidelines. For too many, it is a pattern that will continue throughout their lives, where their voices are not heard and opportunities blocked by barriers. It has consequences for individuals, such as my mother, but, it is also tragic for their communities.
There is overwhelming evidence that investing in women generates among the highest returns for society. A woman's wages increase by 15 to 20 percent for every additional year she spends in primary school, and she invests 90 percent of that back into her family, according to the Council on Foreign Relations and World Bank, respectively. A child born to a literate mother is 50 percent more likely to survive to celebrate their 5th birthday.
Yet, despite these positive outcomes, entrenched power asymmetries and repressive social norms prevent the realization of these gains, and women remain at the margins. At the current rate of progress, it will take 108 years to close the global gender gap in political power and 202 years to close the global wage gap, according to the World Economic Forum.
Without the perspective, experience and expertise of women, decisions often get made by elite groups removed from daily challenges, and our policies suffer as a consequence. Everything – from how we access natural resources to where education and health services are prioritized to who is awarded contracts – is skewed.
As the CEO of the Open Government Partnership (OGP), I lead an organization of 99 national and local governments and thousands of civil society organizations working to help governments serve their citizens, not themselves. In doing so, we tackle big challenges from protecting civic space to fighting corruption to improving public services.
Our partnership is a bold idea. An idea that takes power out of backrooms and puts it squarely in the hands of courageous reformers inside and out of government. Together, they create action plans that contain real commitments for change.
Our partnership thrives on the inclusion of diverse voices. Yet we, like many others, fail to meet expectations when it comes to gender and inclusion. Of the more than 3,000 commitments made in OGP action plans to date, only 54 – less than two percent – mention gender or take into account how government services impact men, women, boys and girls differently.
Over the past year, we have worked with IDRC, R4D and the Government of Canada on the Feminist Open Government Initiative – a research effort to understand where and how we can enhance women's participation and gender equality across OGP, leading to more ambitious gender commitments.
This initiative has led us to set a realistic goal for 2019. We are asking at least 30 percent of OGP members to take a transformative gender and inclusion action in 2019. There are several ways our members and partners can participate in reaching this goal.
First, let us work to ensure that women's groups fully participate in the OGP co-creation process, which forms the foundation of every action plan. As examples of where this has been initiated, we can look to Afghanistan, Argentina, Costa Rica and Colombia. A good place to start is also to ensure that we are leveraging the expertise of gender and women's ministries and organizations in action plans.
Second, we need more and better gender-specific commitments in OGP action plans. Here we can learn from Sri Lanka, which used the OGP process to implement targets under the Convention on the Elimination of All Forms of Discrimination Against Women (CEDAW), including enacting a 25 percent mandatory quota for women in local government. Brazil used the OGP process to develop a unified information data system on violence against women. Germany is using its action plan to conduct regular monitoring on the status of women and men in leadership positions in the public and private sectors.
Third, we must mainstream gender throughout all of our action plans. In its latest action plan, the Government of Canada reviewed all commitments to see how public policies specifically impact women, girls and others seeking equity. Cote d'Ivoire used the OGP process to engage women groups in a commitment to engage citizens in participatory budgeting. The government of Bojonegoro, Indonesia trained women to collect gender-disaggregated data on public services. In Liberia, women's participation in land mapping enabled them to protect their communities. And in Nigeria, civil society is monitoring whether young boys and girls are receiving school feeding programs, including milk.
Closing gender gaps is imperative to our organization's growth, success and sustainability, and it is essential that all our fellow citizens – not just half of them! – have the right to information, right to participation, right to public services, and the right to realize their full potential. We've just shared this guide – Actions for a More Inclusive Open Government Partnership – with our members, and hope you'll also consider an action you can take to advance this important initiative.
My mother never realized her dreams, but today we can work together to ensure that all young girls can be the doctors, lawyers, teachers, peacemakers and presidents this world badly needs.