2017 Local and municipal elections: a step forward in Jordan's journey to opening government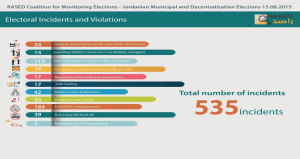 On August 15, over 1.3 million people – 31.7 percent of 4.1 million eligible voters in Jordan- cast their ballots for local and municipal elections, as per statistics from the Independent Election Commission (IEC). For the first time, Jordanians voted for mayors and members of municipal and governorate councils under the new decentralization and municipalities laws that were approved by the parliament last year. The laws aim to expand the process of political participation by allowing citizens to identify their needs and priorities and thus strengthening the popular voice in the decision making process.
This is a first step towards broader decentralization of powers, in line with Jordan's Third National Action Plan, as well as Objective 16 of the UN goals for sustainable development, which specifically relates to establishing effective, transparent and accountable institutions at all levels; ensuring decisions are made in a participatory and representative manner at all levels, and protecting public access to information and fundamental freedoms. By deepening citizen-centered governance, these elections constituted a direct input into improving the government's performance and its proximity to the public.
In addition, the management of the elections themselves showed progress in terms of improved accountability and transparency through the whole process. Concerning accountability, several steps have been taken to curb gerrymandering. The existence of an electoral management body (the IEC), and the opportunity for public scrutiny of the electoral process are surely points of strengths within the Jordanian legal framework related to the electoral process. The Jordanian legal framework recognizes the rights of citizens to associate through organizations that monitor electoral processes. This shows the effort made by the government in strengthening citizens' participation, increasing transparency and accountability of the electoral process and enhancing, in turn, public trust and civic space.
The IEC trained some 19,000 volunteers for an awareness campaign on polling methods and municipal and decentralization laws. Local and international civil society organizations (CSOs) also participated in monitoring the electoral process. The Jordanian NGO Al Hayat Center-RASED, run by Dr. Amer Bani Amer, as part of its elections monitoring program, deployed over 2250 observers at polling centers and stations spread across Jordan. However, a number of violations occurred, due to poor management of the voting process. The poor distribution of voters in the polling centers casted a negative impact on the overall process.
RASED observers reported that a large number of voters decided not to cast their ballots because the voting centers were overcrowded. Supported by audio and visual evidence, RASED observers also recorded several attempts to buy votes near the polling centers, as well as cases of public and collective voting and violation of the secrecy of the voting booths by voters and some candidates' representatives. As for the adherence to the legal framework, poor awareness led to cases of accepting voter identification documents other than IDs and ballots cast outside designated voting areas. There were 535 total incidents reported, the highest number of which occured in Amman. In addition, though these elections can be regarded as a clear step in reinforcing the principle of public participation, the turnout pointed to widespread voter apathy, particularly in the capital of Amman.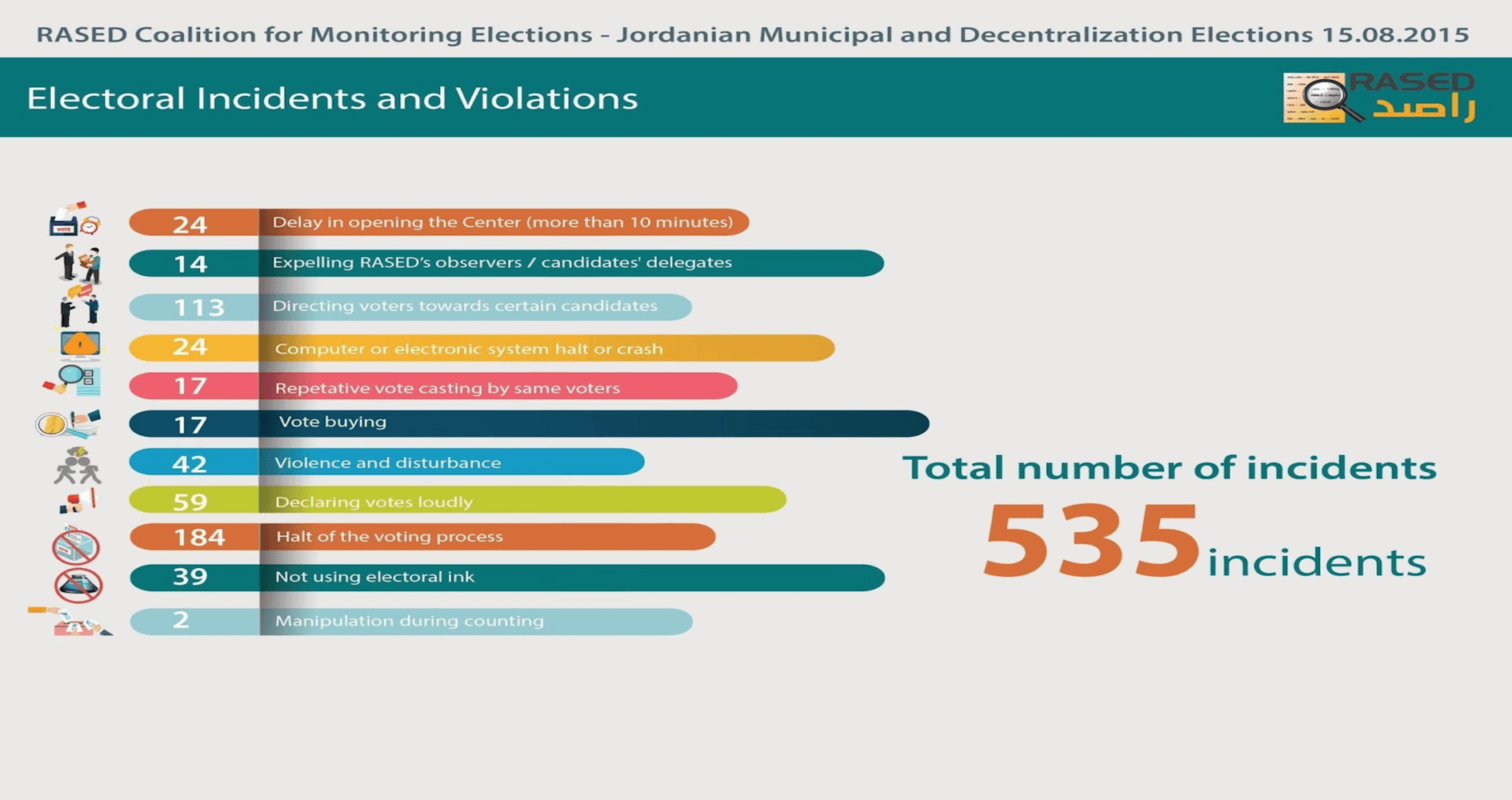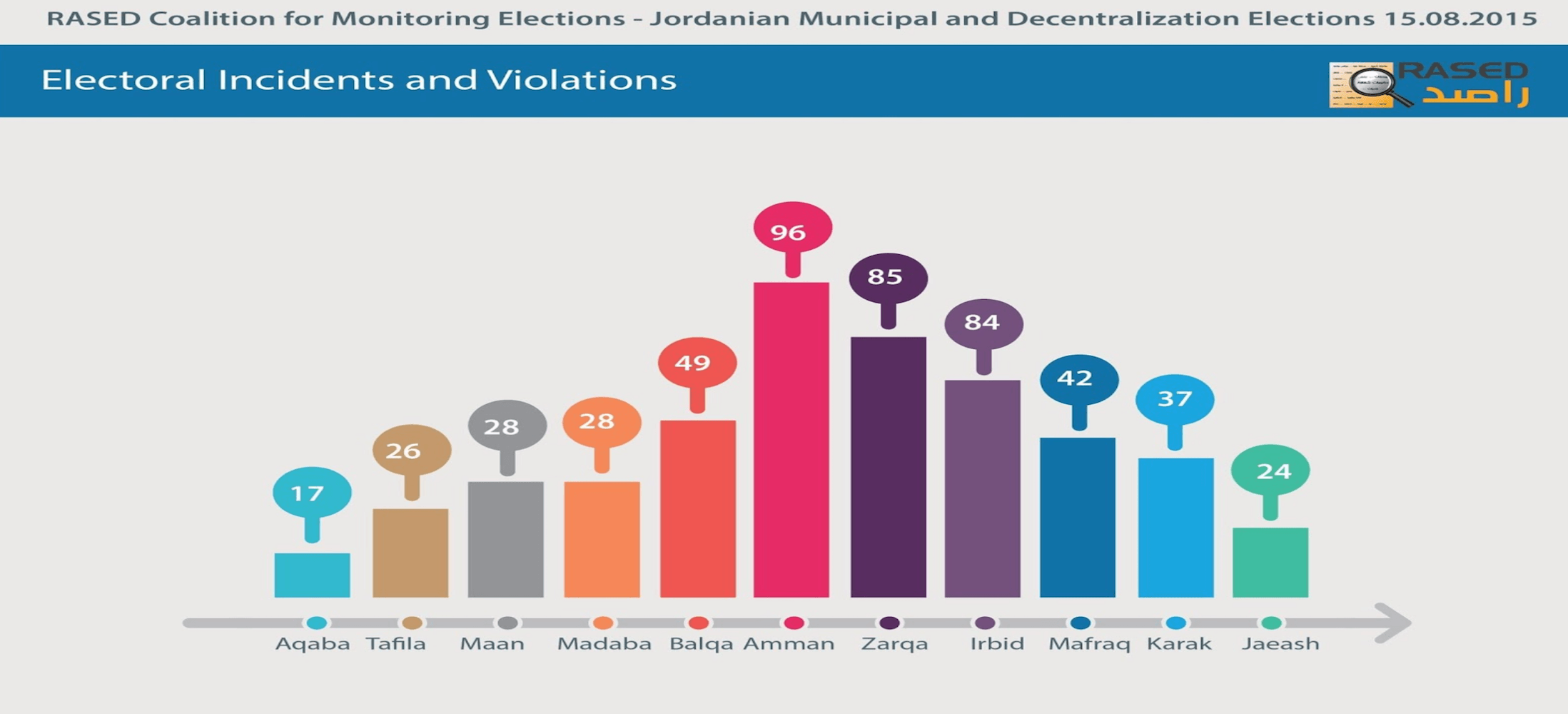 Therefore, as Jordan advances on its democratic path, the legal framework should be improved. Legal amendments must address all procedural distortions related to the organization of the polling process, especially in regards to the participation of women. For commitments to be broadened, opportunities for participation in public policy decisions related to election management should be deepened, as public engagement is crucial to building and retaining trust in government. The use of technology and innovation is fundamental for improved transparency and service delivery. Additionally, the complaints and grievances mechanism should be made more available to citizens, and is one of the commitments listed in the Jordan's National Plan.
Currently, Jordanian citizens cannot file complaints either by mail or online, as happens through the UK Electoral Commission and the Canada's electoral management body. These elections represent a step forward in Jordan's commitment to opening government: initiating a process in which citizens themselves examine their own system, reinforcing the OGP value of civic participation. In order for the Hashemite Kingdom to fully implement its commitments and advance through home-grown reforms on its journey to consolidating democratic institutions, peer exchange and learning across OGP countries should be strengthened to ensure that the procedures in use are in line with international best practices.