An Eventful Year as Co-Chair
Last year, when I heard I had been nominated to serve as lead civil society co-chair of OGP's Steering CommitteeThe Steering Committee is OGP's executive decision-making body. Its role is to develop, promote and safeguard OGP's values, principles and interests; establish OGP's core ideas, policies, and ru..., I remember my initial pride and excitement giving way to some niggling doubts. How, I asked myself, with all the ideas I had for strengthening OGP's direction (the best of them inspired from colleagues!) and with the need to keep delivering on the great vision laid down before me, would I have the time and wriggle room to really make a mark? And that is to say nothing about the pandemic and all its challenges.
Well, spool forward to the present, and while I will leave it to others to judge my mark-making, I hope I fared decently enough under the circumstances. Certainly it was a joy from start to finish. And now that I'm soon to pass on the baton, I thought it would be good to draw out a few highlights from my time in the role, to which I suspect I will look back fondly in years to come!
Let's begin with the review of OGP's Legislative Engagement Policy – an obvious enough starting point for anyone familiar with my pet interests. Coming into the co-chair role, I wanted to do all I could not just to expand the Partnership but to infuse it with fresh ideas and participants. And having a background in legislative affairs, there was little surprise I saw parliaments as central to this. Ahead of me, then, tasked as I now was with helping to overhaul the existing OGP guidelines for legislatures, was a golden chance to at once make it easier for parliaments to engage in OGP in future, and to do so a lot more broadly and ambitiously than before. I and others set about this revamp with relish. While the impact of the new policy, recently approved, remains to be seen, I am hopeful it will make a difference on both these counts.
Also special was being part of strengthening OGP as a bastion of civic space. (Sadly, there was ample opportunity for it to be one). With respect to El Salvador, in particular, and its shackling of non-governmental organizations (NGOs) all throughout 2021, it was striking how OGP and its allies reacted so nimbly to drum up resistance across sectors and borders. True, its statement of concern did not prompt a government u-turn. But, arguably more important, it helped make the world sit up and listen. And it gave vital grist to domestic civil society organizations (CSOs) and activists who are now clearly galvanizing against further encroachment.
Another highlight is the follow-up work on OGP's global call to action. Here, we targeted six countries that we saw as especially ripe for or in need of a strong forward jolt on open government. Numerous calls and meetings were held with stakeholders from each. Out of this came, on the one hand, a set of individually adapted lobbyingLobbying transparency allows the public to ensure that there is diversity of participation and contribution to public decision-making. Technical specifications: Policies and actions affecting lobbying... roadmaps offering more clarity on gaps and priorities, entry points, and objectives; and on the other, national CSOs far better equipped, cognizant and joined-up to engage and support the process. Looking back, the gains made in Kenya and Nigeria were especially key since, among other things, this valuable process allowed for more African actors to be drawn into the global openness fold.
So all in all, an eventful if blistering 12 months. Hugely personally enriching. And of benefit, too, I'd like to think, for OGP. Finally, my thanks to everyone in the Partnership for their unstinting patience and support, and to fellow co-chair the Government of South Korea. My successor, Aidan Eyakuze, will find no bigger ally than in that camaraderie.
El año pasado, cuando me enteré de que había sido nominada para ocupar la copresidencia del Comité Directivo de OGP en representación de la sociedad civil, recuerdo que mi orgullo y emoción iniciales dieron paso a algunas dudas. Me preguntaba cómo, con todas las ideas que tenía para reforzar la dirección de OGP (las mejores de ellas inspiradas por colegas) y con la necesidad de seguir cumpliendo la visión que se me había planteado, tendría tiempo y margen de acción para dejar mi huella. Y eso por no hablar de la pandemia y todos los retos que conlleva.  
Si miramos el presente espero haber hecho un buen trabajo dadas las circunstancias – aunque dejaré que sean otros los que juzguen mi labor-. Ciertamente, fue un placer para mí de principio a fin. Y ahora que me toca cederle el rol a otra persona, creo que sería bueno destacar algunos hitos del mandato, que recordaré con cariño en los próximos años.  
Me gustaría comenzar con la revisión de la Guía de Participación Parlamentaria de OGP, un punto de partida evidente para quienes conozcan mis intereses. Al asumir la copresidencia, busqué hacer todo lo posible no sólo para ampliar la Alianza, sino también para dotarla de nuevas ideas y participantes. Y, dada mi experiencia en asuntos legislativos, no es de extrañar que considerara a los parlamentos como una pieza fundamental. En este sentido, al ayudar a revisar las directrices de OGP para las legislaturas, se me presentó una oportunidad única para facilitar la participación de los parlamentos en OGP en el futuro, y para hacerlo de forma mucho más abarcativa y ambiciosa que antes. Por este motivo, junto a colegas nos pusimos a trabajar en esta renovación con mucho entusiasmo. Aunque el impacto de la nueva guía, recientemente aprobada, no es aún visible, espero que marque la diferencia en estos dos aspectos. 
También considero que fue muy especial para mí participar en el fortalecimiento de OGP como bastión del espacio cívico. Lamentablemente, hubo muchas oportunidades para que lo fuera. Con respecto a El Salvador, en particular, y su hostigamiento contra ONGs a lo largo de 2021, fue sorprendente cómo OGP y sus aliados reaccionaron tan ágilmente para suscitar la resistencia, traspasando sectores y fronteras. Si bien es cierto que su declaración no generó un cambio de opinión en el gobierno, sí contribuyó a que el mundo escuchara. Y dio un impulso vital a las organizaciones de la sociedad civil y a los activistas nacionales, quienes se están movilizando de forma contundente contra nuevas violaciones de derechos.
Otro aspecto destacado es el trabajo de seguimiento que realizamos en el marco de la Llamada Global a la Acción de OGP. En este caso, nos centramos en seis países que, a nuestro juicio, eran especialmente fértiles o necesitaban un fuerte impulso en materia de gobierno abierto. Celebramos numerosas llamadas y reuniones con las partes interesadas de cada uno de ellos. De todo esto surgió, por un lado, un conjunto de hojas de ruta para la incidencia diseñadas acorde a cada caso que ofrecían más claridad sobre las carencias y las prioridades, los puntos de entrada y los objetivos; y por otro, OSC nacionales mucho mejor equipadas, conscientes y unidas para participar y apoyar el proceso. En retrospectiva, se puede considerar a los logros alcanzados en Kenia y Nigeria de especial relevancia ya que, entre otras cosas, este valioso proceso permitió atraer a más actores africanos al escenario de la apertura global.
En resumen, fueron 12 meses intensos llenos de acontecimientos. De mucho enriquecimiento a nivel personal. Y me gustaría pensar que también han sido beneficiosos para OGP. Por último, quiero expresar mi agradecimiento a todos los miembros de la Alianza por su paciencia y apoyo constantes, y a mi colega, el Gobierno de Corea del Sur, por su copresidencia. Aidan Eyakuze, mi sucesor, encontrará en esa camaradería a sus mayores aliados en el camino que le aguarda.
Related Content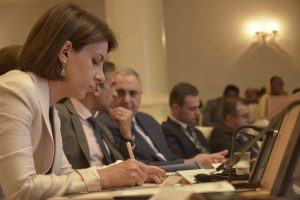 Challenges and Solutions
Introducing OGP's Way Forward on Parliamentary Engagement
Over the course of 2021, the OGP Support Unit has conducted a review of its objectives, policy and practice on parliamentary engagement.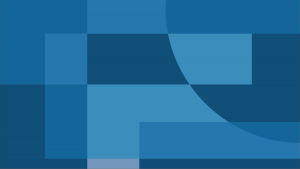 Co-Chair Global Call-to-Action for All OGP Members
In support of Open Renewal, the Co-Chairs of OGP, the Republic of Korea and Maria Baron of Directorio Legislativo, have launched a global call-to-action for all OGP members in 2021…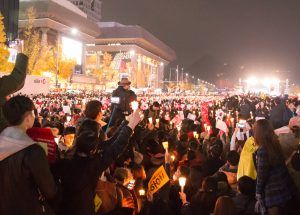 Challenges and Solutions
Protecting Civic Space: Lessons Learned and Actions to Take