Faces of Open Government: Malick Lingani
Francophone countries and local governments in Africa are joining OGP at a fast pace, creating an opportunity to join efforts and advance open government reforms in the region. Malick Lingani tells us how organizations and international partners are helping French-speaking OGP members strengthen their open government efforts and other countries in the region get closer to joining OGP. 
1. Recently, PAGOF launched a call for proposals for civil society organizations in Francophone Africa to receive support in creating more open and inclusive governments. What opportunities do you see for Francophone Africa to advance the open government agenda regionally, especially around issues like a transparent recovery from COVID-19, civic space, and tackling inequalities?
The Francophone Open Government Support Program (PAGOF in French) is a commitmentOGP commitments are promises for reform co-created by governments and civil society and submitted as part of an action plan. Commitments typically include a description of the problem, concrete action... by the Government of France to support public action at the international level, in particular, to support Francophone countries to join OGP and support current OGP members implement their action plans.
In addition to supporting Burkina Faso, Côte d'Ivoire and Tunisia in their OGP journeys, PAGOF hosts several webinars and activities like the Seminaire-PAGOF where actors from government and civil society in French-speaking countries share their experiences to stimulate regional dynamics to advance open government principles.
The recent call for projects of PAGOF is an opportunity for civil society actors to address the common challenges identified during these various activities, fulfill the eligibility criteria for OGP and ensure safe, responsible and inclusive citizen participationAccording to OGP's Articles of Governance, citizen participation occurs when "governments seek to mobilize citizens to engage in public debate, provide input, and make contributions that lead to m... More. This is reflected by the subdivision of the call for projects into two lots:
Lot 1: "Towards membership in OGP: support for initiatives working to contribute to the accession of a non-member country to the OGP by strengthening one of the eligibility criteria for OGP "; and

Lot 2: "Towards an inclusive open government: support for initiatives working to increase the role and voice of women in open government".
This call for projects, intended only for civil society organizations (CSOs) in Francophone Africa countries, is no small feat. Indeed, it is an advantage that relieves the difficulties of mobilizing CSO resources, especially now.
It also reinforces the idea of ​​organizing CSOs in the region to work better together, which is why my team and I are working to create the Network of Francophone African CSOs for Open Government. Currently, only five countries (Tunisia, Côte d'Ivoire, Burkina Faso, Morocco, Senegal) and three local governments (Tangier-Tétouan-Al-Hoceima, Morocco, and El Kef and Regueb, Tunisia) from French-speaking Africa are members of OGP. Combined, they've submitted nine action plans with 131 commitments that address civic space, transparencyAccording to OGP's Articles of Governance, transparency occurs when "government-held information (including on activities and decisions) is open, comprehensive, timely, freely available to the pub... More in the extractive industriesApplying open government values of transparency, participation, and accountability to extractive industries can decrease corruption, safeguard community interests and needs, and support environmental ..., open public procurementTransparency in the procurement process can help combat corruption and waste that plagues a significant portion of public procurement budgets globally. Technical specifications: Commitments enhancing ..., genderOGP participating governments are bringing gender perspectives to popular policy areas, ensuring diversity in participatory processes, and specifically targeting gender gaps in policies to address gov... equality, access to justiceAccessible justice systems – both formal and informal – ensure that individuals and communities with legal needs know where to go for help, obtain the help they need, and move through a system tha... More, services delivery, and more.
But only 34% of these commitments are considered ambitious and 11% have achieved solid preliminary results. Which is well below the global average.
The CSO Network could be a platform that can help boost OGP membership but also lead to more inclusive co-creation processes and more transformative commitments.
2. International Open DataBy opening up data and making it sharable and reusable, governments can enable informed debate, better decision making, and the development of innovative new services. Technical specifications: Polici... Day was held earlier this month to celebrate open data, to show the benefits of open data and encourage the adoption of open data policies in government, business and civil society. Why is open data so important in ensuring an open response and open recovery from COVID-19 and what can OGP members do to contribute to that?
Open Data Day is even more important now as the world continues to grapple with the COVID-19 pandemic. African CSOs have been hard at work  monitoring response efforts from governments across the region. CSOs in Burkina Faso, for example, worked with activists and the media to reorganize the response, changing the national response management team and co-creating an open response plan. This unprecedented monitoring work was carried out because the data on the new and active COVID-19 cases was made available on a daily basis, prompting all stakeholders to act quickly. 
The pandemic has shown us that opacity, in all its forms, could have irreversible consequences. The fight against corruption and ensuring transparency  in the management of public funds, procurement, and decision-making processes are just as urgent as responding to COVID-9. To do this, open data, access to information and a free civic space are the entry points to foster transparency and more constructive citizen participation.
We can only reach a post-COVID era if vaccine management, data, and strategies  are open by default. OGP countries that are currently in their co-creation processCollaboration between government, civil society and other stakeholders (e.g., citizens, academics, private sector) is at the heart of the OGP process. Participating governments must ensure that a dive... must seize the opportunity to advance open data initiatives on COVID-19 vaccines, co-create post-COVID-19 economic recovery plans and implement these reforms with transparency.
3. Africa has one of the youngest populations in the world. What do you think governments and civil society organizations can do to include more voices in open government processes, especially those of underrepresented groups like the youthRecognizing that investing in youth means investing in a better future, OGP participating governments are creating meaningful opportunities for youth to participate in government processes. Technical ..., women, people with disabilitiesA government is not open unless it is accessible to all, and governments are working to ensure people with disabilities are afforded equitable services and opportunities to participate. Technical spec... and more?
This is a crucial question, especially at a time when the rule of law is being challenged in Africa and older democracies. For me, OGP  can be leveraged to challenge the current crises and others crises to come. The future of OGP is bound to the future of young people because sustainability matters and we have not done enough yet. Organizations in the open government community have decided to grab the bull by the horns and Accountability Lab is one of them. In fact, I salute their OpenGov Youth Collective initiative, which is creating local and regional champions who are the future of OGP.
These young champions have defined a charter for inclusionOGP participating governments are working to create governments that truly serve all people. This includes many historically oppressed groups such as persons with disabilities, women, lesbian, gay, bi..., accountability and sustainability that should inspire all member countries. As the Youth Collective has pointed out in the charter, young people must be stakeholders from beginning to end and not just as a token. The key to this is building coalitions with reputable youth organizations.
In Burkina Faso, with the support of the OGP Multi-Donor Trust FundWith the support of development partners and working together with the World Bank, OGP established the Multi-Donor Trust Fund (MDTF) to support World Bank client countries and local entities that part... and PAGOF, we were able to implement these recommendations and included two youth organizations in our Multi-Stakeholder ForumRegular dialogue between government and civil society is a core element of OGP participation. It builds trust, promotes joint problem-solving, and empowers civil society to influence the design, imple..., including a women's organization.
All these experiences are to be shared in the future CSOs Network and beyond. I firmly believe that it is through our shared collective efforts that we will achieve our ambitious goals, renew democracy, and rebuild a better world.
Los países francófonos y los gobiernos locales en África se están uniendo a OGP rápidamente, creando una oportunidad para unir esfuerzos y avanzar en las reformas de gobierno abierto en la región. Malick Lingani nos cuenta cómo organizaciones y socios internacionales están ayudando a los miembros francófonos de OGP a fortalecer sus esfuerzos de gobierno abierto y a otros países en la región a unirse a OGP.
 

Recientemente, PAGOF lanzó una convocatoria para organizaciones de la sociedad civil de la África francófona para recibir apoyo para la creación de gobiernos más abiertos e incluyentes. ¿Qué oportunidades ves para la África francófona para impulsar la agenda de gobierno abierto a nivel regional, en particular en temas como la recuperación post COVID-19 transparente, espacio cívico y la lucha contra la desigualdad?
El Programa de Apoyo de Gobierno Abierto Francófono (PAGOF por sus siglas en francés) es un compromiso establecido por el Gobierno de Francia para apoyar la acción pública a nivel internacional, en particular para apoyar a los países francófonos a incorporarse a OGP y a los miembros actuales a implementar sus planes de acción de OGP.
Además de apoyar a Burkina Faso, Costa de Marfil y a Túnez en sus procesos de OGP, la PAGOF organiza webinars y actividades como el Seminaire-PAGOF, en donde actores de gobierno y la sociedad civil en países de habla francesa comparten sus experiencias para estimular una dinámica regional en favor de los impulsos de gobierno abierto.
La nueva convocatoria para proyectos que lanzó PAGOF es una oportunidad para actores de la sociedad civil para atender los retos comunes identificados durante diversas reuniones cumpliendo con los criterios de OGP y asegurando una participación ciudadana segura, responsable e incluyente. Lo anterior se ve reflejado en la subdivisión de la convocatoria en dos categorías:
 

Categoría 1: "Hacia la incorporación: apoyo a iniciativas para contribuir a la adhesión a países no miembros de OGP, fortaleciendo uno de los criterios de elegibilidad" y

 

Categoría 2: "Hacia un gobierno abierto incluyente: apoyo a iniciativas trabajando para incrementar el papel y la voz de las mujeres en le gobierno abierto".
Esta convocatoria, dirigida únicamente a organizaciones de la sociedad civil (OSC) de países de la África francófona, no es poca cosa. Es una ventaja que mitiga las dificultades de movilizar recursos para las OSC, especialmente en el contexto actual.
Además, refuerza la idea de organizar a las OSC de la región a trabajar mejor de forma coordinada, razón por la cual nuestro equipo está trabajando en la Red de OSC de la África Francófona para Gobierno Abierto. Actualmente, solamente cinco países (Túnez, Costa de Marfil, Burkina Faso, Marruecos y Senegal) de los países francófonos de África son miembros de OGP. En conjunto han presentado nueve planes de acción con 131 compromisos que atienden temas como espacio cívico, transparencia en las industrias extractivas, adquisiciones abiertas, equidad de género, acceso a la justicia, provisión de servicios y más.
Sin embargo, solamente el 34 % de los compromisos son considerados ambiciosos y 11 % han logrado resultados preliminares sólidos, lo cual se encuentra por debajo del promedio global.
La red de OSC podría aumentar la incorporación de países a OGP, pero también podría llevar a más procesos de cocreación incluyentes y más compromisos transformadores.
El Día Internacional de Datos Abiertos se llevó a cabo este mes para celebrar los datos abiertos, mostrar sus beneficios y promover la adopción de políticas sobre este tema en el gobierno, empresas y sociedad civil. ¿Por qué son tan importantes los datos abiertos para asegurar una respuesta y recuperación post COVID-19 abierta y qué pueden hacer los miembros de OGP para contribuir a ello?
El Día de los Datos Abiertos es aun más importante en este contexto en el que el mundo sigue luchando contra la pandemia del COVID-19. Las OSC han estado trabajando en el monitoreo de los esfuerzo de respuesta de los gobiernos de la región. Las OSC de Burkina Faso, por ejemplo, trabajan con activistas y con los medios para reorganizar la respuesta, cambiando el equipo nacional de respuesta y cocreando un plan de respuesta abierto. Este trabajo de monitoreo sin precedentes se llevó a cabo porque los datos sobre los casos de COVID-19 se publicaron todos los días, incitando a los actores a actuar con rapidez.
 La pandemia ha demostrado que la opacidad, en todas sus formas, podría tener consecuencias irreversibles. La lucha contra la corrupción y a favor de la transparencia en el manejo de fondos públicos, adquisiciones y procesos de toma de decisiones son igualmente importantes para la respuesta al COVID-19. Para ello, los datos abiertos, el acceso a la información y el espacio cívico son puntos de entrada para promover la transparencia y una participación ciudadana más constructiva.
Solamente llegaremos a la era post-COVID si el manejo de las vacunas, los datos y las estrategias son abiertos por defecto. Los países de OGP que actualmente se encuentran en sus procesos de cocreación deben aprovechar la oportunidad de impulsar iniciativas de datos abiertos para las vacunas contra el COVID-19, crear planes de recuperación económica e implementar estas reformas de forma transparente.
África tiene una de las poblaciones más jóvenes del mundo. ¿Qué crees que los gobiernos y la sociedad civil pueden hacer para incluir a más voces en los procesos de gobierno abierto, especialmente grupos subrepresentados como los jóvenes, las mujeres, personas con discapacidades y más?
Esta es una pregunta fundamental, en particular en un contexto en el que el estado de Derecho se encuentra amenazado en África y en democracias más establecidas. En mi opinión, OGP puede aprovecharse para luchar contra esta crisis y las que se presenten más adelante. El futuro de OGP está atado al futuro de los jóvenes porque la sustentabilidad es importante y no hemos hecho lo suficiente. Las organizaciones de la comunidad de gobierno abierto han decidido tomar el toro por los cuernos y Accountability Lab es uno de ellos. De hecho, reconozco a la Iniciativa OpenGov Youth Collective (Colectivo de Jóvenes de Gobierno Abierto), que está creando líderes locales y regionales, que son el futuro de OGP.
Estos jóvenes líderes han definido un estatuto de inclusión, rendición de cuentas y sustentabilidad que debe inspirar a todos los miembros de OGP. Como lo señaló el Colectivo en su estatuto, los jóvenes deben ser actores desde el inicio hasta el fin, no solo como valor simbólico. La clave es crear coaliciones con organizaciones jóvenes confiables.
En Burkina Faso, con apoyo del Fideicomiso de OGP y PAGOF, pudimos implementar estas recomendaciones e incorporar a dos organizaciones de jóvenes en nuestro foro multisectorial, incluyendo a organizaciones de mujeres.
Todas estas experiencias se compartirán en el futuro con la red de OSC y más allá. Creo firmemente que solo a través de nuestros esfuerzos colectivos lograremos nuestros objetivos ambiciosos, renovaremos la democracia y reconstruiremos un mundo mejor.
Related Content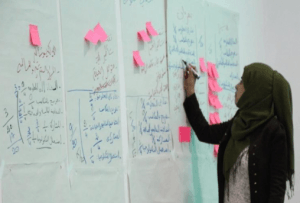 Challenges and Solutions
Bringing Democracy to the People, One Municipality at a Time – Tunisia
Bringing Democracy to the People, One Municipality at a Time – Tunisia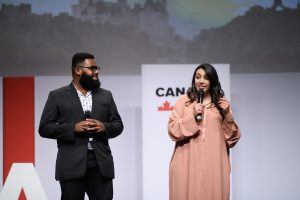 Five Ideas We Heard from 1,000+ Young Open Government Reformers
Read reflections from the Open Gov Digital Youth Summit and how young people are playing a critical role in pushing for a more transparent, fair and equitable response and recovery…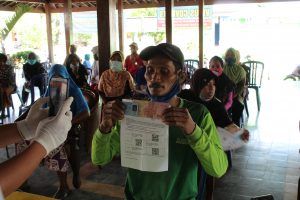 Challenges and Solutions
Making Trillion Dollar Stimulus and Safety Nets Work for All: The Essential Steps We Can Take Now
OGP CEO Sanjay Pradhan calls on governments, citizens, civil society, businesses and others to join together to shape COVID-19 stimulus and safety nets and follow the money to save millions…