Faces of Open Government: Shyamala Gomez
Shyamala Gomez is the Executive Director at the Centre for Equality and Justice.
How have gender commitments in Sri Lanka's action plans contributed to inclusion and gender equality?
Sri Lanka's first OGP national action plan had two commitments on women. One commitment dealt with reform of land laws so that women are not discriminated against in-state land allocation and the need for women's participation in the process of law reform. The same commitment also called for reform of the Muslim personal laws that discriminate against Muslim women through consultations with Muslim women, thereby including them in the process of law reform. Another component of the commitment related to discrimination against women in the formal and informal labour sectors. The aim of the commitment was to have a transparent and accountable process in the implementation of selected CEDAW Concluding Observations. The second commitment on women called for strengthening women's participation in political decision making at the local level.
The women commitment in Sri Lanka's second national action plan specifically includes female heads of households (FHHs) and the need to ensure full implementation of the FHHs national action plan. This deliberate inclusion of FHHs in the national action plan is to encourage the government and civil society to include this marginalized group in the design of national and local level initiatives. The women commitments in the first and second national action plans intrinsically contribute to gender equality through their focus on CEDAW Concluding Observations and the need for an accountable and transparent process to their implementation.
The implementation of the women commitment in the second national action plan needs to be systematically carried out in order to assess whether inclusion of a gender commitment in the national action plan has effectively contributed to inclusion and gender equality.
Why is it important to include gender perspectives or new groups in the process of co-creation?
As civil society, we need to keep reminding our government counterparts that such groups exist. It is also important to keep reminding ourselves as civil society that the principles of OGP impact everyone, including marginalized communities, such as women and sexual minorities. Gender must also necessarily be a cross-cutting issue in other commitments in the co-creation of national action plans. Additionally, a separate commitment on women in an OGP national action plan would be a constant reminder to government officials and civil society that women need to be taken into consideration in the making of national action plans. Additionally, disability should be cross-cutting. OGP principles cut across these groups and must influence the implementation of national action plans that incorporate the concerns of these marginalized groups. The process of co-creation and inclusion of gender in this process would also impact positively on other national action plan making processes by giving visibility to gender.
How can OGP be used as an implementation mechanism for SDG5 and pledges made under platforms like CEDAW?
OGP principles run like a thread through the SDGs and articles in CEDAW. For example, open data portals are a useful means of accessing data to monitor implementation of the SDGs, especially the promotion of gender equality, in order to track the achievement of indicators under SDG5 and other SDGs. OGP can also be a useful implementation mechanism to track implementation of CEDAW Concluding Observations by states that have ratified the Convention. For example, OGP principles of transparency, accountability and civic participation are important processes that bring in women's voices to law and policy reform commitments made under CEDAW by member states. Successful implementation also requires that civil society organizations have access to necessary data. Additionally, civic participation, a cornerstone of OGP, is critical for bringing about reform to discriminatory laws and policies against women. Women's participation in these processes promotes good governance, democracy and adherence to the rule of law and provides women with a platform to voice their opinions and participate in decision making at national and policy levels.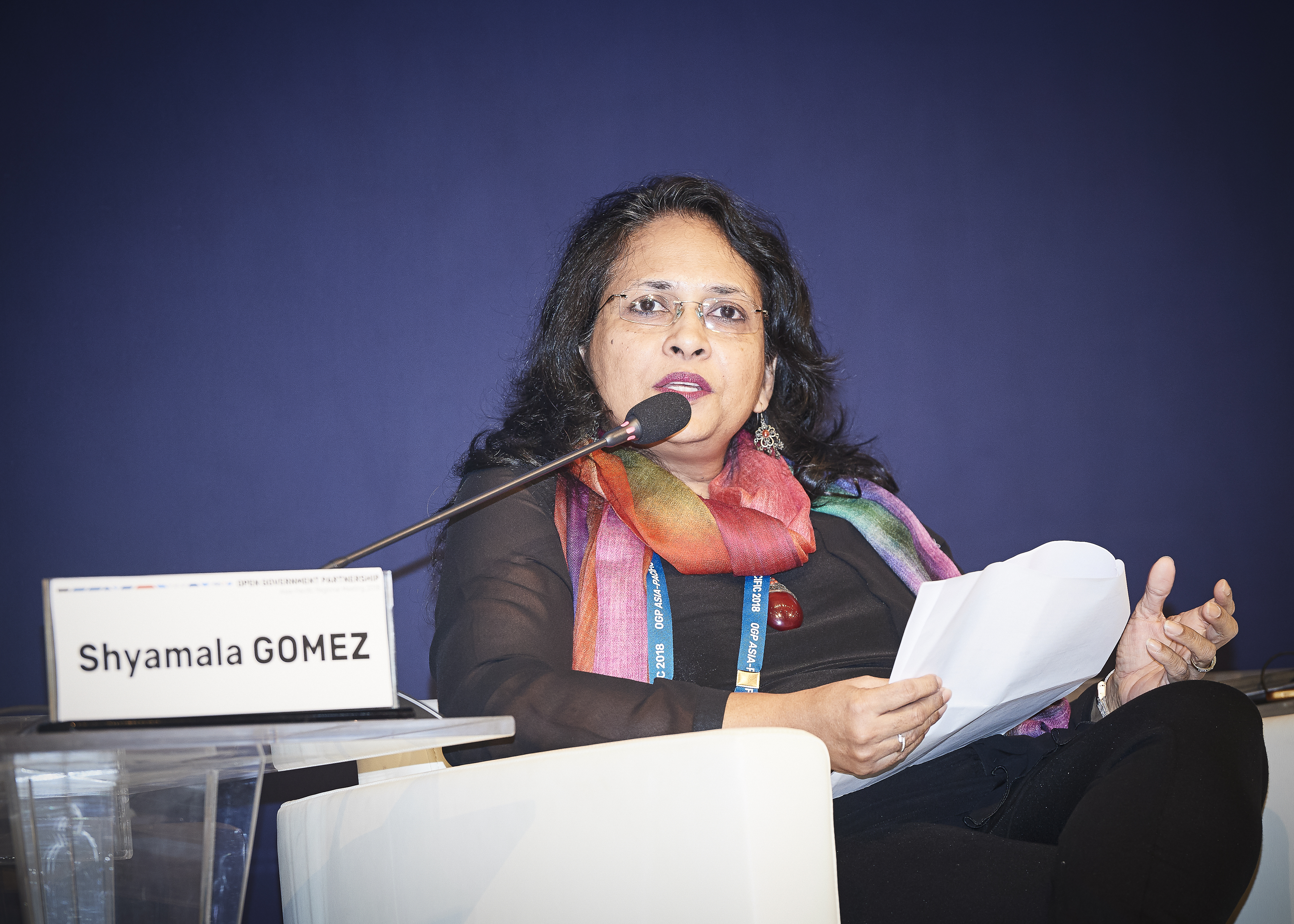 Shyamala Gomez es la Directora Ejecutiva en el Centro Para Igualdad y Justicia.
¿Cómo han contribuido los compromisos de género de los planes de acción de Sri Lanka a la inclusión y a la equidad de género?
El primer plan de acción de OGP de Sri Lanka incluyó dos compromisos sobre mujeres. Uno de ellos se relacionaba con reformas sobre legislación agraria, buscando que las mujeres no fueran discriminadas en los procesos de asignación de tierras  y que las mujeres se involucraran en los procesos de reformas agrarias. Ese mismo compromiso planteaba una reforma a las leyes musulmanas que discriminaban a las mujeres musulmanas, a través de consultas con mujeres musulmanas, con lo que se incluyó a las mujeres en los procesos de reforma. Otro componente del compromiso estaba enfocado en la discriminación de las mujeres en los sectores de trabajo formal e informal. El objetivo del compromiso era contar con procesos transparentes para la implementación de las conclusiones de CEDAW. El segundo compromiso de mujeres buscaba fortalecer la participación política de las mujeres a nivel local.
El compromiso sobre mujeres del segundo plan de acción de Sri Lanka involucra específicamente a las mujeres cabezas de familia y la necesidad de contar con su participación para asegurar la implementación del plan. La inclusión de estas mujeres en el plan de acción tiene el objetivo de impulsar al gobierno y a la sociedad civil a incluir a este grupo marginado en el diseño de iniciativas nacionales y locales. Los compromisos sobre mujeres que se incluyeron en el primer y segundo planes de acción contribuyeron de manera intrínseca a la equidad de género a través de su enfoque en las conclusiones de CEDAW y de asegurar la rendición de cuentas y transparencia en la implementación.
La implementación del compromiso sobre mujeres en el segundo plan de acción debe ser aplicada de manera sistemática y evaluar si la incorporación de un compromiso de género en el plan de acción contribuyó de manera efectiva a la inclusión y a la equidad de género.
¿Por qué es importante incorporar la perspectiva de género o de grupos nuevos en el proceso de cocreación?
Como sociedad civil, debemos recordar constantemente a nuestras contrapartes de gobierno la existencia de dichos grupos. Además, es importante recordarnos a nosotros mismos, como sociedad civil, que los principios de OGP afectan a todos, incluyendo a las comunidades marginadas como las mujeres o las minorías sexuales. El tema de género debe incorporarse de manera transversal en otros compromisos y en la cocreación de los planes de acción. Además, el incorporar compromisos sobre género en los planes de acción podría ser un recordatorio a los funcionarios de gobierno y a la sociedad civil que las mujeres deben ser tomadas en cuenta para el desarrollo de los planes de acción. De la misma manera, el enfoque en las personas con discapacidad también debe incorporarse de manera transversal. Los principios de OGP afectan de manera transversal a estos grupos, por lo que ellos deben influir en la implementación de los planes de acción y éstos deben incorporar las necesidades de los grupos marginados. El proceso de cocreación e inclusión de género en el proceso podría impactar de manera positiva otros procesos relacionados con el plan de acción, dando visibilidad al tema de género.
¿Cómo puede aprovecharse a OGP como un mecanismo de implementación del ODS 5 y los compromisos establecidos en plataformas como CEDAW?
Los principios de OGP son transversales a los ODS y a los artículos de CEDAW. Por ejemplo, los portales de datos abiertos son un medio para acceder a datos que permitan dar seguimiento a la implementación de los ODS, especialmente la promoción de la equidad de género y para dar seguimiento a los indicadores del ODS 5 y otros. Además, OGP puede ser un mecanismo de implementación para dar seguimiento a las conclusiones de los estados que ratificaron la convención CEDAW. Para lograr su implementación, será necesario que las organizaciones de la sociedad civil tengan acceso a los datos necesarios. Por otro lado, la participación de la sociedad civil, piedra angular de OGP, es fundamental para impulsar reformas a las leyes y políticas que discriminan a las mujeres. La participación de las mujeres en estos procesos promueve la buena gobernanza, democracia y el estado de derecho y ofrecen a las mujeres una plataforma para expresar su opinión y participar en la toma de decisiones de política.