Using Data on Women-Owned Businesses in Albania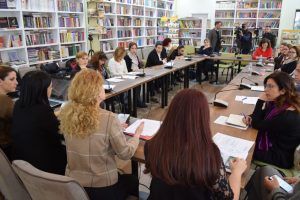 This case study was originally posted in the OGP Global Report.
In 2016, the Albanian Institute of Science (AIS)–one of the CSOs engaged in the OGP process in Albania–conducted a study using data on women-owned businesses. The study revealed that:
women-owned businesses in Albania receive 5% of municipal contracts, which accounts for only 3.2% of total municipal procurement;
contracts awarded to women entrepreneurs tend to be more cost-effective;
larger municipalities award mostly lower-value contracts to women-owned businesses; and
11 municipalities did not award any contracts to women entrepreneurs.
In March 2017, AIS hosted a public discussion with experts from government and civil society on how to overcome the challenges faced by women-owned businesses and to debate a series of new government initiatives focused on supporting women entrepreneurs. As a result, the analysis of publicly available data on women-owned businesses set important baselines, enabled stakeholders to track the performance of individual government institutions, and facilitated a more-informed discussion on how to increase women's participation in public procurement.
Photo Credit: Albanian Institute of Science
Este caso de estudio se publicó originalmente en el OGP Informe Global.
En el año 2016, el Instituto de Ciencias de Albania (AIS por sus siglas en inglés) – OSC que participa en los procesos de OGP en Albania- llevó a cabo un análisis de los datos disponibles sobre las empresas de mujeres. El estudio reveló lo siguiente:
Las empresas de mujeres en Albania reciben el 5% de los contratos municipales, lo cual representa solo el 3,2% del total de las adquisiciones municipales;
los contratos otorgados a mujeres empresarias tienden a ser más rentables;
en general, los municipios más grandes tienden a otorgar contratos de menor valor a las empresas de mujeres;
11 municipios no otorgaron ningún contrato a mujeres empresarias.
En marzo de 2017, AIS organizó una discusión pública con expertos del Gobierno y la sociedad civil sobre cómo superar los retos que las empresas propiedad de mujeres enfrentan y debatir una serie de nuevas iniciativas del Gobierno enfocadas en apoyar a mujeres empresarias. Gracias al análisis de datos disponibles públicamente sobre empresas propiedad de mujeres, se estableció una línea base, los actores tuvieron la oportunidad de dar seguimiento al desempeño de las instituciones de gobierno y facilitó una discusión más informada sobre cómo mejorar la participación de las mujeres en las contrataciones públicas.
Cette étude de cas a été initialement publié dans le OGP Rapport Mondial.
En 2016, l'Institut albanais des sciences (AIS), l'une des organisations de la société civile mobilisées dans le processus du PGO en Albanie, a mené une étude utilisant des données sur les entreprises appartenant à des femmes. D'après cette étude :
Les entreprises appartenant à des femmes en Albanie reçoivent 5 % des contrats municipaux, soit seulement 3,2 % de l'ensemble de l'approvisionnement municipal;
Les contrats attribués aux entrepreneuses ont tendance à être plus rentables;
Les grandes municipalités attribuent principalement des contrats de moindre valeur à des entreprises appartenant à des femmes;
Onze municipalités n'ont octroyé aucun contrat à des entrepreneuses.
En mars 2017, l'AIS a organisé un débat public avec la participation des experts des gouvernements et de la société civile sur les moyens de relever les défis auxquels sont confrontées les entreprises appartenant à des femmes et de débattre d'une série de nouvelles initiatives gouvernementales axées sur le soutien aux entrepreneuses. Ainsi, l'analyse des données accessibles au public sur les entreprises appartenant à des femmes a établi des bases de référence importantes, permis aux parties prenantes de suivre le rendement des institutions gouvernementales individuelles et faciliter une discussion plus éclairée sur les moyens d'accroître la participation des femmes aux marchés publics.
Related Content

Global Report
The promise of democracy is often defined by the ballot box, where citizens determine who will represent their interests in government. That promise, however, too often fails to translate to…