Making Waves: Improving Water Governance through Open Government Approaches
According to the WHO and UNICEF, 785 million people worldwide don't have clean water close to home. Clean and readily available water for all is a human right. That's why improving accessibility, transparency and government accountability over this precious natural resource is so vital. The Open Government Partnership (OGP) offers an opportunity to turn the tide and ensure clean water for all.
Commitments around water, sanitation and hygiene (WASH) are relatively small within the open government space, with 37 OGP members having made 65 commitments. Over the years, we've seen reformers inclusively design a national water plan in Uruguay, collaborate between tenants and landlords in expanding sanitation systems in Sekondi-Takoradi, Ghana and create a digital platform for sharing information on rural water and sanitation services in Paraguay. These reforms have created opportunities that have led to vast improvements in basic quality of life for citizens.
"
Clean and readily available water for all is a human right. That's why improving accessibility, transparency and government accountability over this precious natural resource is so vital. 
An important contributor to the development of commitments on WASH in OGP is the Community of Practice on Water and Open Government. This group of organizations is working hard to promote fairer, more reliable and more efficient water and sanitation delivery by connecting the WASH and OGP networks and developing valuable recommendations for OGP action plans.
As OGP celebrates its 10th anniversary this year, the Community of Practice is looking ahead to the future of WASH commitments in the Partnership. Through a co-creative process, they've launched the Open Government and Water and Sanitation Declaration, a set of recommendations and an international call to bring together water and open government reformers and mobilize ambitious and impactful WASH reforms. Reformers can pair these recommendations with in-country advocacy and use their domestic OGP dialogue to trigger concrete action. With the addition of 56 new OGP Local members, we're looking forward to more opportunities to improve people's access to water and sanitation at the local level.
The Declaration's sections on participation and accountability especially resonate with our research based on 10 years of OGP data, which shows two important things. First, that strong and inclusive co-creation process leads to well-designed and more ambitious commitments. Second, that if the collaboration continues during implementation, we get better results. Simply put, if done well, participation delivers better results.  
While most OGP members focus on the transparency side of water and open government, commitments around participation and accountability offer the most promise. Ensuring underserved and marginalized communities are included in the co-creation and implementation of reforms is essential. But participation processes are not just about giving citizens a role in shaping policy, it's also a key accountability mechanism. Some OGP WASH commitments include processes for citizens to give input on services, but no commitments include an additional accountability step of authorities giving citizens feedback on how their input was used. This is where OGP members can be ambitious and raise the bar.
"
While most OGP members focus on the transparency side of water and open government, commitments around participation and accountability offer the most promise.
We are keen to continue working closely with the WASH community, encouraging our members to use the Declaration as a guidepost and jointly pushing to get more ambitious commitments that are better delivered and that put citizens – and their needs – back at the heart of government. 
If you are interested in supporting the uptake of the Declaration and sending a clear message on the importance of addressing WASH through an open government lens, please fill out the form in English or Spanish. Please contact Elizabeth.Moses@wri.org or WaterOpenGovernment@siwi.org with any questions about the Declaration.
Según datos de la OMS y la UNICEF, 785 millones de personas en el mundo no tienen acceso a fuentes de agua limpia cercanas a su casa. El agua limpia y accesible para todos es un derecho humano. Es por ello que es tan importante mejorar la accesibilidad, transparencia y rendición de gobiernas de los gobiernos sobre este preciado recurso natural. En ese contexto, la Alianza para el Gobierno Abierto (OGP por sus siglas en inglés) ofrece una oportunidad para revertir esta tendencia y asegurar el acceso al agua para todos.
 Los compromisos en el tema de agua, saneamiento e higiene (WASH por sus siglas en inglés) son relativamente poco comunes en el espacio de gobierno abierto. Hasta ahora, 37 miembros de OGP han establecido 65 compromisos en este tema. En los últimos años, ejemplos de ello han sido el diseño incluyente del Plan Nacional de guas de Uruguay, la colaboración entre inquilinos y caseros para ampliar el sistema de saneamiento de Sekondi-Takoradi en Ghana y la creación de una plataforma digital para compartir información sobre servicios rurales de agua y saneamiento en Paraguay. Estas reformas han creado oportunidades que han llevado a mejoras significativas en la calidad de vida para la gente.
Un actor que ha contribuido de forma importante a los compromisos de WASH en OGP es la Comunidad de Práctica de Agua y Gobierno Abierto. Este grupo de organizaciones está trabajando en promover un sistema más justo, confiable y eficiente para la provisión de agua y saneamiento, poniendo en contacto a las redes de WASH y OGP y desarrollando recomendaciones valiosas para los planes de acción de OGP.
OGP estará celebrando su décimo aniversario este año y la Comunidad de Práctica está planeando el futuro de los compromisos de WASH en la Alianza. A través de un proceso de cocreación, lanzaron la Declaración de Gobierno Abierto y Agua y Saneamiento, una serie de recomendaciones y un llamado internacional para reunir a reformadores de agua y gobierno abierto y promover reformas ambiciosas y de alto impacto en el sector WASH. Los reformadores pueden acompañar estas recomendaciones con acciones nacionales y promover diálogos internos para detonar acciones concretas. Con la incorporación de 56 nuevos miembros de OGP Local, esperamos que haya más oportunidades de mejorar el acceso a agua y saneamiento a nivel local.
Las secciones de la Declaración sobre participación y rendición de cuentas son especialmente relevantes a nuestra investigación basada en 10 años de datos de OGP que demuestra dos puntos importantes. Primero, que un proceso sólido e incluyente de cocreación lleva a compromisos bien diseñados y más ambiciosos. Segundo, que si la colaboración continua durante la implementación, obtenemos mejores resultados. En pocas palabras, la participación lleva a mejores resultados. 
Mientras que la mayoría de los miembros de OGP se han enfocado en los principios de transparencia para el agua y gobierno abierto, los compromisos de participación y rendición de cuentas son los más prometedores. Asegurar que las poblaciones marginadas participen en la cocreación e implementación de reformas es fundamental, pero los procesos de participación no solo implican dar a la ciudadanía voz en cómo diseñar políticas, sino que también son un mecanismo de rendición de cuentas fundamental. Algunos compromisos de WASH de OGP incluyen procesos que permiten a la ciudadanía opinar sobre los servicios, pero ninguno incluye un elemento de rendición de cuentas en el que las autoridades respondan a la ciudadanía cómo fue que sus aportes fueron incorporados. Aquí, los miembros de OGP pueden elevar su nivel de ambición.
Queremos seguir trabajando con la comunidad WASH, impulsando a nuestros miembros a utilizar la declaración como una guía y avanzar juntos hacia la creación de compromisos más ambiciosos, mejor implementados y con las necesidades de la ciudadanía en el centro del gobierno. 
Si te interesa apoyar la adopción de la Declaración y dejar clara la postura sobre la importancia de atender el sector WASH a través del gobierno abierto, por favor llena este formulario en inglés o español. Si tienes preguntas sobre la Declaración, puedes contactar a Elizabeth.Moses@wri.org o a WaterOpenGovernment@siwi.org.
Related Content
Community of Practice on Water and Open Government
The Community of Practice on Water and Open Government brings together water and open government experts from around the world to facilitate knowledge sharing and the development of innovative, cross-sector…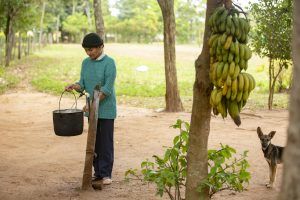 Water and Sanitation in OGP
OGP members tackle disparity and safety issues in water and sanitation through commitments ranging from improving access to fighting corruption.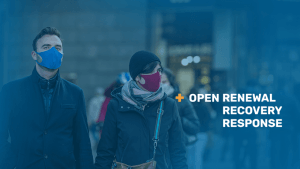 Open Response + Recovery + Renewal
The pandemic has shown just how easily things can break down. But it also offers the opportunity to build them back up, better and stronger.