One Month to Make 2021 Democracy and Open Government Summits Count
There is just one month to go before two back-to-back summits focused on open government and democracy close out 2021. The Open Government Partnership (OGP) tenth anniversary Global Summit hosted by the Republic of Korea takes place December 15-17, and the Summit for Democracy hosted by the United States takes place December 9-10. The trends on democracy and open government over the past decade are well established. Despite some incredible bright spots and brave reformers who have shown the power of open societies to transform lives, the overall picture has been one of fifteen consecutive years of declining civil liberties and democratic backsliding.
Summits alone will certainly not be enough to make 2021 the year where these trends reverse, but they can play an important role. Both summits will involve heads of state and government, ministers, civil society leaders, private sector representatives and local leaders in a discussion on how to strengthen global democracy. Both summits also involve making commitments, whether as part of OGP action plans or as statements of intent from the 108 countries invited to the U.S. Summit for Democracy. In recent years it has been rare for these issues to be at the top of the international agenda. This political opportunity must be taken.
So with one month to go, where should energy and attention be focused to ensure these summits deliver results? That was the topic of a recent webinar hosted by OGP with a group of reformers in government and civil society from around the world, who discussed recommendations for their peers around the world to maximise the summits including these concrete steps that can be taken in the next month:
1. Influence your leader's speech
Over 100 heads of state and government have been invited to speak at the U.S. Summit for Democracy. Many of them will also be speaking at the OGP Global Summit. It's rare that political leaders are asked to give dedicated remarks on the health of democracy in their country, so this opportunity should not be wasted. Rather than the usual platitudes about the importance of open government and democracy, reformers in and outside of government should advocate for their leaders to face up to the genuine challenges many democracies are facing and to lay out a plan for how those challenges will be addressed.
2. Ensure commitments are co-created with civil society
No host of any global summit wants to be accused of hosting a "talking shop" – a place where leaders give speeches with no accountability for follow up or implementation. OGP ensures commitments made on the global stage are grounded in implementation strategies through the OGP action plan process. At the U.S. Summit for Democracy, invited governments have also been asked to bring commitments, but given the tight timeline many have not managed to consult civil society on them. This is a missed opportunity. In the next four weeks, all invited governments should ensure they discuss whatever commitments they are considering for the Summit for Democracy with civil society, and plan consultations in the first half of 2022 to ensure high-level commitments in speeches actually translate into actionable plans, whether through OGP or other platforms.
3. Focus on reforms that build democratic resilience at home and respond to external threats
Strengthening open government and democracy will never come down to one policy alone. It takes a whole of society approach and a concerted effort across government to ensure that citizen voices are being heard and accountability is being enforced. The OGP Global Summit and Summit for Democracy have some important thematic areas in common where progress is important. This includes tackling corruption and state capture, whether through reforming public procurement to make it more open or tackling the abuse of anonymous companies. It also includes addressing threats to civic spaces, through supporting independent media and free operations of non profit organisations, and protecting whistleblowers. These important areas of convergence must be complemented by a focus on how to make our societies more resilient to threats. This includes trust building by ensuring citizens have a voice in government decisions, making public services more responsive, and upholding ethics and standards in public life. Strengthening democracy is not only about responding to external threats from authoritarian regimes, it is about putting your own house in order to increase resilience.
Watch the recording of our community briefing from October 28 here or below.
Register for the OGP Global Summit here.
Learn how civil society is making its voice heard at the Summit for Democracy through this page created by Accountability Lab.
Featured Image: Open government reformers on stage at the 2019 OGP Global Summit in Canada |  Credit: OGP
Estamos a solo un mes de que inicien las cumbres sobre gobierno abierto y democracia con las que cerraremos el 2021: la Cumbre global del décimo aniversario de la Alianza para el Gobierno Abierto (OGP por sus siglas en inglés) de la cual la República de Corea será la sede del 15 al 17 de diciembre y la Cumbre por la Democracia con sede en Estados Unidos el 9 y 10 de diciembre. Ya hemos descrito las tendencias de democracia y gobierno abierto que se han registrado en la última década. A pesar de algunos grandes logros y reformadores audaces que han demostrado el poder que tienen las sociedades abiertas para transformar vidas, en general, han sido quince años consecutivos de debilitamiento de las libertades cívicas y de la democracia.
Claramente, las cumbres por sí mismas no lograrán hacer que el 2021 sea el año que revierta estas tendencias, pero sí pueden desempeñar un papel importante. En ambas cumbres jefes de Estado y de gobierno, ministros, líderes de la sociedad civil, representantes del sector privado y líderes locales discutirán cómo fortalecer la democracia global. Además, ambas cumbres implican el establecimiento de compromisos, ya sea como parte de los planes de acción de OGP o como declaraciones de intenciones de los 108 países que están invitados a la Cumbre por la democracia de Estados Unidos. En los últimos años, estos temas rara vez han sido prioridad en la agenda internacional. Debemos aprovechar esta oportunidad política.
A un mes de los eventos, ¿en dónde debemos enfocar la energía y la atención para asegurar que las cumbres den resultados? Este tema se discutió en un seminario en línea que OGP recientemente organizó con un grupo de reformadores y reformadoras del gobierno y la sociedad civil de todo el mundo, en donde se discutieron recomendaciones para maximizar el potencial de las cumbres, incluyendo algunas medidas concretas que se deben tomar este mes:
1. Influir en los discurso de los dirigentes
Más de 100 jefes de Estado y gobierno están invitados a dar discursos durante la Cumbre por la Democracia de Estados Unidos. No es común que a los líderes políticos se les pida hablar específicamente sobre la salud de la democracia en su país, por lo que no se debe desaprovechar esta oportunidad. Más allá de los lugares comunes sobre la importancia del gobierno abierto y la democracia, los reformadores de dentro y fuera del gobierno deben pedir a sus líderes hablar sobre los retos que enfrentan las democracias y definir un plan para atender dichos retos.
2. Asegurar que los compromisos sean cocreados con la sociedad civil
Los anfitriones de las cumbres globales nunca quieren ser acusados de ser espacios en los que los líderes den discursos sin rendición de cuentas o seguimiento. OGP asegura que los compromisos establecidos planteados en espacios globales estén fundamentados en estrategias de implementación a través de los procesos de los planes de acción. Durante la Cumbre por la democracia de Estados Unidos, los gobiernos invitados deben presentar compromisos, pero tomando en cuenta los tiempos, probablemente no pueden consultar a la sociedad civil. Esto es una oportunidad desperdiciada. En las próximas cuatro semanas, todos los gobiernos invitados deben asegurarse de discutir sus compromisos con la sociedad civil y planear consultas durante la primera mitad de 2022 para asegurar que sus compromisos de alto nivel se traduzcan en planes concretos, ya sea a través de OGP o de otras plataformas.
3. Enfocarse en las reformas que pueden fortalecer la resiliencia democrática a nivel nacional además de responder a las amenazas externas.
El fortalecimiento del gobierno abierto y la democracia no se lograrán con una sola política. Para ello, será necesario incluir a toda la sociedad y llevar a cabo esfuerzos coordinados para asegurar que las voces de la ciudadanía sean escuchadas y que se incorpore la rendición de cuentas. La Cumbre global de OGP y la Cumbre de la democracia tienen áreas temáticas en común que son importantes impulsar, incluyendo la lucha contra la corrupción y la captura de Estado, ya sea a través de reformas en los procesos de adquisiciones públicas para lograr una mayor apertura o deteniendo los avisos de las empresas anónimas. Otro tema es reducir las amenazas al espacio cívico a través del fortalecimiento de los medios independientes y la operación de las organizaciones sin fines de lucro y la protección a denunciantes. Estas áreas de convergencia deben ser complementadas con trabajo enfocado en cómo fortalecer la resiliencia de las sociedades, por ejemplo asegurando que la ciudadanía tenga una voz en las decisiones de gobierno, mejorando la capacidad de respuesta de los servicios públicos y respetando la ética y estándares en la esfera pública. El fortalecimiento de la democracia no es solamente responder a las amenazas externas de los regímenes autoritarios, sino también poner la casa en orden para fortalecer la resiliencia.
Para inscribirte a la Cumbre global de OGP haz clic aquí.
Para saber más sobre cómo la sociedad civil se está haciendo que se escuche su voz en la Cumbre por la democracia a través de esta página creada por Accountability Lab.
Il ne reste qu'un mois avant que deux sommets consécutifs axés sur le gouvernement ouvert et la démocratie ne ferment l'année 2021. Le Sommet mondial du dixième anniversaire du Partenariat pour un gouvernement ouvert (PGO), organisé par la République de Corée, se tiendra du 15 au 17 décembre, et le Sommet pour la démocratie, organisé par les États-Unis, aura lieu les 9 et 10 décembre. Les tendances en matière de démocratie et de gouvernement ouvert au cours de la dernière décennie sont bien établies. Malgré les belles lueurs d'espoir et les courageux réformateurs qui ont démontré la puissance qu'ont les sociétés ouvertes sur la transformation des vies, le portrait global représente quinze années consécutives de déclin des libertés civiles et de recul démocratique.
Les sommets à eux seuls ne suffiront certainement pas à faire de 2021 l'année où ces tendances s'inversent, mais ils peuvent jouer un rôle important. Les deux sommets impliquent des chefs d'État et de gouvernement, des ministres, des dirigeants de la société civile, des représentants du secteur privé et des dirigeants locaux dans une discussion sur la manière de renforcer la démocratie mondiale. Les deux sommets impliquent également la prise d'engagements, que ce soit dans le cadre de plans d'action du PGO ou d'énoncés d'intention de la part des 108 pays invités au Sommet américain pour la démocratie. Ces dernières années, il a été rare que ces questions figurent en tête de l'agenda international. Cette opportunité politique doit être saisie.
Alors, à un mois de la fin, où faut-il concentrer l'énergie et l'attention pour s'assurer que ces sommets produisent des résultats ? C'était le sujet d'un récent webinaire organisé par le PGO avec un groupe de réformateurs du gouvernement et de la société civile du monde entier, qui ont discuté de recommandations pour leurs pairs autour du monde afin de tirer le maximum des sommets, y compris ces mesures concrètes qui peuvent être prises au cours du prochain mois :
1. Influencez le discours de votre leader
Plus de 100 chefs d'État et de gouvernement ont été invités à parler au Sommet américain pour la démocratie. Beaucoup d'entre eux prendront également la parole lors du Sommet mondial du PGO. Il est rare que les dirigeants politiques soient invités à exprimer des observations consacrées à la santé de la démocratie dans leur pays, cette occasion ne doit donc pas être gaspillée. Plutôt que les banalités habituelles sur l'importance d'un gouvernement ouvert et de la démocratie, les réformateurs au sein et en dehors du gouvernement devraient œuvrer pour que leurs dirigeants répondent aux véritables défis auxquels de nombreuses démocraties sont confrontées et élaborent un plan sur la manière dont ces défis seront relevés.
2. Veiller à ce que les engagements soient co-créés avec la société civile
Aucun hôte d'un sommet mondial ne veut être accusé d'héberger un « atelier de discussion » – un endroit où les dirigeants prononcent des discours sans aucune responsabilité quant au suivi ou à la mise en œuvre. Le PGO garantit que les engagements pris sur la scène mondiale sont ancrés dans des stratégies de mise en œuvre via le processus de plan d'action du PGO. Lors du Sommet américain pour la démocratie, il a été demandé aux gouvernements invités de prendre des engagements, mais étant donné le calendrier serré, beaucoup n'ont pas réussi à consulter la société civile à ce sujet; il s'agit d'une opportunité manquée. Au cours des quatre prochaines semaines, tous les gouvernements invités devraient s'assurer de discuter avec la société civile des engagements qu'ils envisagent en vue du Sommet pour la démocratie, et planifier des consultations au cours du premier semestre de 2022 pour garantir que les engagements de haut niveau au sein des discours se traduisent réellement en plans d'action, que ce soit via le PGO ou d'autres plates-formes.
3. Se concentrer sur les réformes qui renforcent la résilience démocratique au niveau national et répondent aux menaces extérieures
Le renforcement du gouvernement ouvert et de la démocratie ne se résumera jamais à une seule politique. Il faut une approche de l'ensemble de la société et un effort concerté à l'échelle du gouvernement pour s'assurer que les voix des citoyens soient entendues et que la responsabilisation soit appliquée. Le Sommet mondial du PGO et le Sommet pour la démocratie ont en commun certains domaines thématiques primordiaux où les progrès sont importants. Cela inclut la lutte contre la corruption et la captation de l'État, que ce soit en réformant la commande publique pour la rendre plus ouverte ou en s'attaquant aux abus de la part d'entreprises anonymes. Cela inclut également de lutter contre les menaces qui pèsent sur les espaces civiques, en soutenant les médias indépendants et les opérations libres des organisations à but non lucratif, et en protégeant les dénonciateurs. Ces importants domaines de convergence doivent être complétés par l'objectif de rendre nos sociétés plus résistantes aux menaces. Cela comprend le renforcement de la confiance en veillant à ce que les citoyens aient leur mot à dire quant aux décisions gouvernementales, en rendant les services publics plus réactifs et en respectant l'éthique et les normes dans la vie publique. Renforcer la démocratie ne consiste pas seulement à répondre aux menaces extérieures des régimes autoritaires, il s'agit de mettre l'ordre afin d'accroître la résilience.
Inscrivez-vous au Sommet mondial du PGO

ici.

Découvrez comment la société civile fait entendre sa voix au Sommet pour la démocratie à travers

cette page

créée par Accountability Lab.
Related Content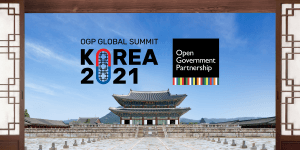 2021 OGP Global Summit: Seoul, Republic of Korea
Thanks for joining us at the 2021 OGP Global Summit. Find recordings, announcements, new publications, and more.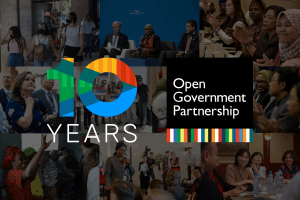 10 Years of OGP
Ten years ago reformers inside and outside government launched OGP – a simple yet distinct way to join forces to create transparent, participatory, inclusive, and accountable solutions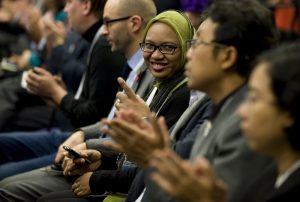 2021 OGP Academy: The Case for Open Government
Thanks for joining us! Find highlights and recordings from the week's sessions.