When Art Makes the Invisible Visible – Paraguay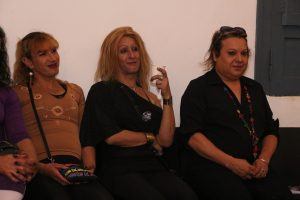 In November 2017, it was time to initiate the process of co-creating Paraguay's fourth Open Government Action Plan (PAGA). The previous action plans had come together through collaboration between government agencies and a variety of NGOs, including our organization, Fundación CIRD. However, there had never been a focus on vulnerable and discriminated-against groups. Uncomfortable with this, and determined that the process would be more inclusive this time around, I launched a project to make a difference. It could not be that indigenous people, women, rural youth and the LGBTI community would be left without a voice once again.
"If you're looking for different results, don't always do the same thing."
– A. Einstein 
Innovating through Art and Play
One thing soon became very clear. If we truly wanted to be more inclusive, the usual approach of simply talking to groups of people was not an option. The widespread skepticism towards public institutions, authorities and officials necessitated creativity in the way we tried to involve vulnerable groups. After considering a few possible approaches, we decided to try using the performing arts as a way to engage people. Using colloquial language, we created an interactive play with acting, literary, music and artistic elements to communicate key ideas and inspire people to share their own thoughts.
The work, called "Being Part," first asked audience members to identify themselves. The performance then unfolded with visual images that corresponded to the participants and their feelings, making each performance unique. For example, characters and events as simple but significant as a grandmother walking with her grandson, or neighbors being reunited, were portrayed in settings like the local market or the town square. This interactive approach with a chance for role-playing afterward made participants feel that they were inside the play, so that they could see themselves as part of it before thinking about and reflecting on the larger messages.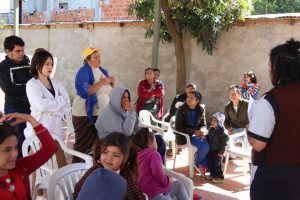 The performance art sought to tell a story about what happens when people have access to information, and about the importance of citizen participation and government accountability. Finally, it also aimed to explain in a simple manner what the open government movement is trying to accomplish. There were three main ideas that we tried to convey:
The Government is all of us. Authorities are officials elected by the people, who must watch over our interests as public servants. The goods and resources of the state come from our taxes.
If the Government is all of us, we must all collaborate, demand results, and be watchful. This means participating in policy design, and getting involved in the implementation of public policies.
The country's Open Government movement needs each of us. Through co-creation by everyone, the goal is to create an action plan based on the needs of the population.
Reaching Marginalized Groups in the Interior of the Country
We did five performances of the play, mainly in rural areas, and reached 185 audience participants, of whom roughly three-fourths were members of civil society organizations and the remainder were public officials.The fact that we targeted people who had often felt forgotten was perceived as a meaningful gesture by many of them. Having done this with a medium as distinct as social theater made it even more so, especially since we focused on communities that do not have constant access to entertainment options such as plays, concerts, or the cinema. In Yby Yaú (in Concepción), one of the people who participated commented that she was very surprised by the performance. "It is in these kinds of occasions and spaces that we can express ourselves and be listened to, since many times in gatherings such as these we are only listeners and not participants," she said.
Facilitating Open Dialogue with a Different Approach
Each theatrical performance managed to capture the participants' attention, and a sincere dialogue followed. The dramatic and unusual way of starting a conversation made it possible for participants to dare to BE PART of the magic, to put themselves in the shoes of the characters and feel important, while expressing their opinions. In this way the performance created a bridge between an imaginary world where people could feel at ease, and the real issues that they were facing in their daily lives, prompting them to look at things a bit differently.
To facilitate each post-performance discussion, we had prepared some questionnaires to help gather information about the major needs of the community. In the interest of time we had to choose central themes to organize the discussions. Based on experience, we knew that the two areas perceived as top priorities are healthcare and education. One problem in both categories that we had identified is a lack of awareness of what services public institutions offer and how to access them.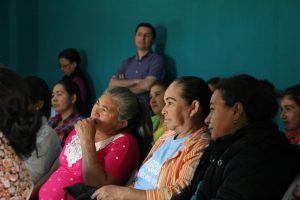 To address the information gap, we asked participants for the best way the state could communicate with the public, and the findings here were invaluable. It is generally assumed that publishing information on the web or via a mobile application (app) is sufficient, but we discovered a completely different reality. The participants far preferred receiving information through face-to-face interaction with authorities (for example, in public hearings and meetings) and through the use of text messages, community radios, and WhatsApp. "I participated in the theater and it served me a lot because I learned how the municipal and national government works, and what services and rights we have as citizens, to know for example how funds are spent in my district," Brígida Benítez said with visible enthusiasm at the end of the activity.
Some participants from the LGBTI community noted that they found the artistic intervention to be a respectful, dignified and above all innovative way of sharing information. Overall, the dialogue allowed for individuals' needs to become visible, as well as their longing to see government not as a distant entity but as an open and accessible partner that functions as a guarantor of basic rights.
Generating a New Open Government Commitment 
Since 2018 was an election year in Paraguay, we faced a challenge in building support for the program among a new group of government stakeholders. However, we had a key government ally throughout. The support of the Technical Secretariat of Planning enabled us to make progress towards adoption of a new, concrete commitment, which was then added to the action plan after its original submission. The idea is to address the state's communication deficiencies as perceived by the communities in which we worked. The Arovia Program was identified as the first volunteer program promoted by the State, which seeks to mobilize and involve citizens in processes of sociocultural community transformation.
Specifically, the objective of the commitment is to raise awareness of rights of access to health and education services for vulnerable groups in certain communities. This will be done in person through activities, meetings and events, reflecting the findings of the program.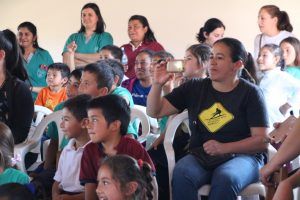 Being Informed is the First Step in Being an Active Citizen
By raising awareness of the public services that people can access, the new commitment will gradually help resolve the problem that vulnerable individuals lack awareness of their civil rights and the social services that are available to them.
In addition to building awareness, the process gave voice to vulnerable members of society who had often felt ignored in the past, turning them into allies, co-creators, and beneficiaries of open government initiatives. In betting on an arts-based approach, we took a risk that in the end was  very gratifying. Through joy, fun, and emotion we managed to capture people's attention and open a dialogue, in order to achieve the most important thing: to educate and bring about change.