Côte d'Ivoire Results Report 2020-2022
Côte d'Ivoire's third OGP action planAction plans are at the core of a government's participation in OGP. They are the product of a co-creation process in which government and civil society jointly develop commitments to open governmen... saw a high level of completionImplementers must follow through on their commitments for them to achieve impact. For each commitment, OGP's Independent Reporting Mechanism (IRM) evaluates the degree to which the activities outlin... but limited early open government results. Modest progress was made regarding civil society participation in the budget process and greater transparencyAccording to OGP's Articles of Governance, transparency occurs when "government-held information (including on activities and decisions) is open, comprehensive, timely, freely available to the pub... More of public officials' asset declarations. Administrative turnover following elections, the COVID-19 pandemic, and slow bureaucratic processes inhibited implementation of several commitments' more ambitious elements during the implementation period. Nevertheless, Côte d'Ivoire's action plan cycle was highly participatory, with the Civil Society Platform‑OGP playing a central role in public consultations and monitoring commitmentOGP commitments are promises for reform co-created by governments and civil society and submitted as part of an action plan. Commitments typically include a description of the problem, concrete action... implementation.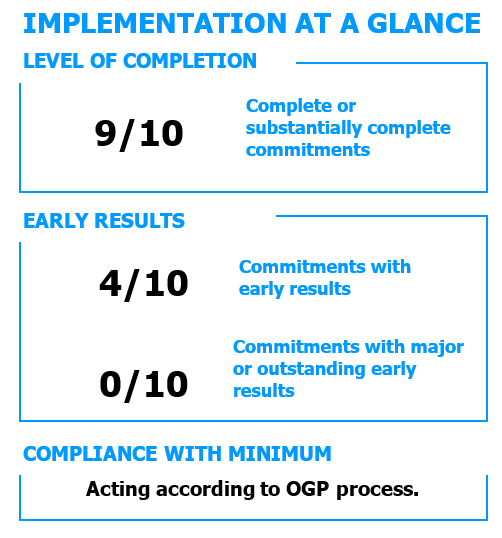 Early ResultsEarly results refer to concrete changes in government practice related to transparency, citizen participation, and/or public accountability as a result of a commitment's implementation. OGP's Inde...
Côte d'Ivoire's four promising commitments sought to open the budget process to citizens (Commitments 1 and 2) and strengthen transparency of the asset declarations system (Commitments 4 and 5). Progress was made in both reform areas but fell short of their aim to institutionalize significant changes across government. The change in administration and the process to amend or adopt laws limited implementation of key elements of these reforms. Resultantly, this action plan achieved fewer early results than the previous 2018-2020 action plan.
Early results of the action plan include civil society consultations that informed the Multi-Year Budget and Economic Programming Documents and the National Anti-Corruption Strategy. Progress was also made towards strengthening the institutional and technical framework for public officials' asset declarations. Legal amendments to standardize participatory budgeting as a practice in territorial collectives and to mandate and publish asset declarations are in progress but not yet passed into law. Côte d'Ivoire intends to continue building towards these reforms in the next action plan.
Completion
The action plan saw strong completion with four commitments completed, five substantially complete, and two with limited completion. All activities foreseen under the promising commitments were substantially or entirely complete by the end of the implementation period. This level of completion is similar to that of the previous plan.
Three key factors explain the mixed nature of the achieved results. First, Côte d'Ivoire experienced elections in 2020 and 2021, which led to staff reorganizations within the public administration. Second, the COVID-19 pandemic led to government restrictions that limited meetings and involved reprioritization in the administration. Third, the lengthy process to adopt and amend laws and regulations inhibited completion of some of the action plan's potentially impactful aims within the two-year implementation period.
Participation and Co-Creation
Côte d'Ivoire's government and civil society stakeholders undertook a highly collaborative partnership during both the co-creation and implementation of commitments. This is, in part, thanks to institutionalization of OGP in Côte d'Ivoire that establishes clear processes for civil society engagement. The OGP process is steered by a multi-stakeholder Technical Committee (CT‑OGP) supervised by an Interministerial Committee chaired by the Prime Minister. The Civil Society OGP Platform (PSCI-OGP) remains a central partner. Both government and civil society representatives reported that this process marked an improvement from previous cycles.[1]
During the implementation period, civil society was involved in both contributing to and monitoring progress. Specifically, PSCI-OGP carried out public consultations and civil society organizations (CSOs) participated in activities such as the drafting of strategy documents or proposed legislation across commitments and monitoring implementation through visits organized by CT-OGP. A PSCI-OGP member reported that the Technical Committee set up groups of three people that included a civil society representative to ensure follow-up with the commitment holders.[2] Delegations that visited commitment implementers included members of both CT‑OGP and PSCI-OGP.
Implementation in Context
The implementation of Côte d'Ivoire's third OGP action plan took place in the context of the COVID-19 health crisis and the legislative and presidential elections. These two situations slowed down or prevented the completion of some commitments. The first cases of COVID-19 were detected in Côte d'Ivoire in March 2020,[3] leading to strong restrictions,[4] including a ban on gatherings and lockdown. From then, Technical Committee meetings were held with difficulty until 2021,[5] as most of these meetings were online. The pandemic also inhibited planned public consultations in various localities. Regarding elections, the presidential[6] elections on 31 October 2020 and the parliamentary[7] elections on 6 March 2021 led to a change of government on 6 April 2021[8] and 20 April 2022.[9] These changes in administration impacted some commitment holders and the Technical Committee, including the representatives of ministries in charge of security, public service, and the digital economy. The OGP Focal Point Minister signs a decree each year to legalize CT-OGP membership. During the third action plan, two decrees were issued with the latest being Order No. 0484 MCIPPME/CAB of 2 November 2022 appointing the members of the CT-OGP.[10] Beyond slowing down the process, the elections also led to modifications in some commitments, such as Commitment 1 on participatory budgeting.[11]
[1] Chantal ANGOUA, resource person in the CT-OGP, interviewed by the IRM researcher by WhatsApp call and email on 22 September 2022; Civil society member of PSCI-OGP platform, interview/email exchange with IRM researcher, September-October 2022.
[2] Kouassi Edmond BLA, Member of REJECI, the PSCI-PGO and the Technical Committee, WhatsApp call on 12 November 2022.
[3] WHO Côte d'Ivoire website: https://www.afro.who.int/fr/countries/cote-divoire/news/deux-ans-apres-le-premier-cas-de-covid-19-la-cote-divoire-travaille-batir-une-communaute-resiliente. 
[4] CIV government website: http://info-covid19.gouv.ci/welcome/mesure/pandemie-de-la-maladie-a-coronavirus-2019-covid-19-messages-a-la-nation-de-s-e-m-le-president-de-la-republique-lundi-23-mars-2020514 and http://info-covid19.gouv.ci/welcome/mesure/conseil-national-de-securite-jeudi-11-juin-202084.
[5] Mariama KONÉ, representative of the ministerial focal point for OGP and Chair of the Technical Committee, and Chantal ANGOUA, resource person in the CT-OGP, interviewed by the IRM researcher by WhatsApp call and email on 22 and 29 September 2022.
[6]https://news.abidjan.net/articles/683008/election-presidentielle-2020-fermeture-des-bureaux-de-votes-et-debut-du-depouillement.
[7]https://www.gouv.ci/_actualite-article.php?recordID=11856&d=3.
[8]https://www.gouv.ci/_actualite-article.php?recordID=12106.
[9]https://www.gouv.ci/_actualite-article.php?recordID=13419.
[10] Comments submitted to the IRM by the Government of Côte d'Ivoire during the prepublication comment period, 27 February 2023.
[11] Donald BEUGRE KOFFI (Head of Office) and Raïssa N'CHO (Head of studies), from the General Directorate of Decentralization and Local Development, interviewed by the IRM researcher by phone and email on 7 October 2022.